Jurassic World: Dominion Dominates Fandom Wikis - The Loop
Play Sound
Usage
"London's Burning" was a political and media epithet relating to the inner London's near social anarchy from the mid 1970s to the mid 1980s. It is not related in any way whatsoever to the UK's 1990s TV show about London's firefighters.
Left wingers, ethnic minorities, squatters, gays, hippies, druggies, punks, the TUC, anti-Vietnam War protests, bent cops, crooks, communist agitators, bizzar "Loony Left" councilors, dictatorial Conservative councilors and Neo-nazi rioters all got involved in the crisis at various times.
Background
The Euston Station Strike of 1948.
The Euston Rail Strike occurred on 13/12/1948.
Racism and Anti-Sematisum in the East End
Also see: Racial conflict in London (1959-1982).
Anti-sematisum, sino-phobia and Polonophobia were common place since late Victorian times. Some of the then Jack the Ripper theories were wholly Anti-Semitic in nature and Sir Oswald Mosley's fascist Black Shirts held sway parts of in the East End from the mid 1930s to the early 1950s.
The 'Windrush Boys' arrive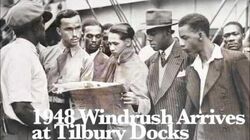 Also see: Racial conflict in London (1959-1982).
The British Nationality Act 1948 gave British citizenship to all people living in Commonwealth countries, and full rights of entry and settlement in Britain. Many West Indians were attracted by better prospects in what was often referred to as the mother country, which was short of manpower due to the heavy losses incurred in World War 2. Northampton and Reading welcomed them, but London and Nottingham hated them. The traditional Labour voting parts of the East End basically hated any one, who weren't native Londoner/East End Whites. Sir Oswald Mosley had once held much support in parts of it due to his Anti-Semitic views.
In 1958, attacks in the London area of Notting Hill by white youths marred relations with West Indian residents, leading to the creation of the annual Notting Hill Carnival, which was initiated in 1959 as a positive response by the Caribbean community. The continue to celebrate their cultural heritage at the festival to the resent day.
The Kray twins
Twin brothers Ronald "Ronnie" Kray (24 October 1933 – 17 March 1995) and Reginald "Reggie" Kray (24 October 1933 – 1 October 2000) were English gangsters who were the foremost perpetrators of organised crimes including armed robberies, arson, protection rackets, assaults, intimidation and the murders in London's East End of during the 1950s and 1960s.  They were non-political and, as far as I know non-raciest, gangsters, but they helped destabilise London all the same and vote chasing politicians even exploited the Kray's criminal acts for there electoral gain. 
Harrow and Wealdstone rail crash of 1952
The Harrow and Wealdstone rail crash was a three-train collision at Harrow and Wealdstone station in London during the morning rush hour of 8 October 1952. 112 people were killed and 340 injured (88 of these being detained in hospital); it remains the worst peacetime rail crash in the United Kingdom.
An overnight express train from Perth crashed at speed into the rear of a local passenger train standing at a platform at the station. The wreckage blocked adjacent lines and was struck within seconds by a "double-headed" express train travelling north at 60 mph (97 km/h). A subsequent Ministry of Transport report on the crash found that the driver of the Perth train had passed a caution signal and two danger signals before colliding with the local train. The accident accelerated the introduction of Automatic Warning System – by the time the report had been published British Railways had agreed to a five-year plan to install the system that warned drivers that they had passed an adverse signal.
The 1954 Newspaper Dispute
The walk out disrupted the news papers, including Fleet Street in London.
The street was named in Medieval times after a river that was later culverted in to a Victorian era drainage pipe.
The 1955 Rail Strike
The walk out disrupted the railways, including those in London. Apparently one of the unions was more militant than the other and fell out with the TUC, who are the trades union's collective national organising comity. A communist plot may have been behind the strike.
LUL rolling stock, stations and services
The planned new Walworth station on the Bakerloo line was abandoned in 1950, Wendover was handed over British Rail surface services in 1961 and the exsistant and lightly used South Acton station on the District line closed on the 28th of February, 1959, as LUL began to decay due to falling usership, a unimaginative management and poor investment.
The T Stock was originally built in various batches by Metropolitan-Vickers and the Birmingham Railway Carriage and Wagon Company for the Metropolitan Railway in 1927-31 for use on electric services from Baker Street and the City to Watford and Rickmansworth, though rarely some worked on the Uxbridge branch. They worked between traks between 1927 and 1962.
The 1959 Tube Stock was a type of London Underground tube train constructed in the late 1950s. They were intended for use on the Piccadilly line, but also saw use on several other tube lines. It was the first production (not prototype) tube stock to have unpainted aluminium alloy bodywork. They worked between traks between 1959 and 2000.
East End declines
Limehouse Basin was amongst the first docks to close in the late 1960s. Later the docks also closed at Whapping and The Isle of Dogs. Millwall Docks railway station was closed to passengers in 1926, local workers in 1927 and freight (goods) in the 1970s after the dock closed.
Other places like Whitechapple and Brick Lane were also in decline for other socio-economic reasons. By 1981, Limehouse had shared the London Docklands-wide physical, social and economic decline which led to the setting up of the London Docklands Development Corporation in these regions.
As industry continued to decline during the 1970s, Camden's population continued to decline, falling to 161,100 at the start of the 1980s.
The Camden markets, which started in 1973, when Camden Lock market proper started in a former timber-yard in 1973, and have now grown to 6 since then. The equally popular market in Inverness Steet is over 100 years old. Camden has now begun to rise again with new housing developments on brownfield sites and the release of railway and gas work lands around Kings Cross.
Other places like Whitechapple, Shadwell, the Isle of Dogs, Wapping, Beckton and the Greenwich Peninsular have been revitalised since the late 1970s.
The Docklands Light Railway (DLR) is an automated light metro system opened in 1987 to serve the redeveloped Docklands area of London and has grown vastly ever since.
The 2001 census gave Camden a population of 198,000, an accidental under count that was later revised to 202,600. The projected 2006 figure is 227,500.
Similar stories of decline and renewal hit other places like Manchester, Cardiff, Belfast and Glasgow at the same time.
The life stories of Millwall Docks railway station and Millwall Junction railway station are both emblematic of the rise and fall of the East End!
Early events
CND marches
CND organised the Aldermaston March which went from the Atomic Weapons Establishment near Aldermaston to Trafalgar Square in London every Easter weekend Between 1959 and 1965. Many Labour MPs and councilors, alonf with a few Conservatives and Liberals, supported CND's ideals and joined in their rallies and maches.
The Special Patrol Group
Also see: Racial conflict in London (1959-1982).
Also see: London's covert kinky and illegal sex life.
The Metropolitan Police's Special Patrol Group (SPG) was a often violent special police squad analogues to the other forces' more law abiding Special/Flying Squad and was active from 1961 to 12 January 1987, then being replaced by  the Territorial Support Group. The SPG was accused of racism and abuse of the UK's sus laws.
The official equerry and police disciplinary inquiry after the death of Blair Peach found variety of unauthorised weapons were either used by and/or found in the possession of SPG officers, including baseball bats, crowbars and sledgehammers.
Sir Oswald Mosley gets punched in 1962
Also see: Racial conflict in London (1959-1982).
Anti-Nazi violence flared at Union Movement Mosley rally lead by Former fascist leader, Sir Oswald Mosley, he is punched on Kingsland High Road.
1961 anti-Lumumba rally
Clashes with Mounted police during a demonstration against the murder of ex-Prime Minister of the Democratic Republic of the Congo, Patrice Lumumba.
1962 Tube Strike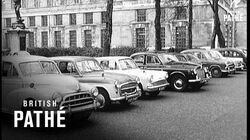 Packed cars, "hopelessly inadequate" buses, traffic jams hit London during the LTE (now TfL) 1 day tube strike.
The July 3rd, 1966, Anti-Vietnam War London protests
At least 31 people Were arrested in central London after their 4,000 strong protest outside the American Embassy against the Vietnam War turned violent and mounted police were sent in.
Ronan Point collapses
Also see:Ronan Point.
The 22-story tower block in Newham LB, partly collapsed on 16th of May, 1968 when a small gas stove explosion demolished a critical load-bearing wall, removing the structural supports to the four flats above, causing the cascading causing the progressive collapse of the south-east corner of the building in which 4 were killed and 17 were injured.
The caused was found to be by both poor design and poor construction, such as the strengthening brackets which had been fitted during the post-blast rebuilding were in many cases were not properly attached. This and the initial structural weaknesses led to complete loss of public confidence in high rise residential buildings due to fears about wide spread corporate malfeasance and corner cutting, so the government chose to bring in several major changes in UK building regulations with in a few years of the event.
Some speculation still swirls around the idea it was an IRA and\or Italian Red Brigades bomb, but it is officially denied and both the IRA and the Italian Red Brigades have made no clam of responsibility for it either.
The 17th of March, 1968, Anti-Vietnam War London protests
A 10,000 held a rally in Trafalgar Square in London and later 8,000 mainly youthful protesters marched on Grosvenor Square, where Vanessa Redgrave delivered a letter of protest to the American embassy.
The crowd, though, refused to disperse, and a fierce battle ensued between demonstrators and riot police. Protesters hurled mud, stones, firecrackers and smoke bombs; mounted police responded with charges.
The violence of the struggle, in the heart of Mayfair, shocked everyone. By the end of the afternoon, more than 200 people had been arrested, a police horse injured and 21 people from both sides also injured during the event.
Their was rumor amongst the protesters that US Marines guarding the embassy were hiding behind the doors, armed with machine guns filled with live ammunition, and under a licence to kill. Some protesters also felt sorry for the police horses as they threw ball-bearings under their hooves.
Other such rallies had also occurred at about the same period of time in Tokyo, Paris, Prague, Chicago, Mexico City, but not all of them were violent.
The National Rail Strike of June 24th, 1968
The walk out disrupted the railways, including those in London. 
The 1969 miners strike
Unofficial strike by mineworkers over pay of surface workers caused chaos as coal supplies ran low.
The Bangladeshis arrive
Also see: Racial conflict in London (1959-1982).
They fist came over as a result of the 1969-1972 Bangladeshi was of independence against Pakistan. 5 March 1971 saw a demonstration in front Pakistan High Commission in London with a flag burning and memorandum handover to high commissioner for liberation. Similar anti-Pakistan events occurred at this time in both Birmingham and other parts of London, such as Spitalfields. They were later encouraged to move to Britain on mass due to changes in immigration UK laws, natural disasters such as the Bhola cyclone, the aftermath of the Bangladesh Liberation War against Pakistan, to escape poverty and on the Sylhet region's perception of a better living led Sylheti men bringing their families in the UK.
A mixed White/Asian/Black demonstration against the National Front took place in Brick Lane, during the June of 1978.
1970 Southall peace and unity march
Also see: Racial conflict in London (1959-1982).
A 25-30 strong Afro-Caribbean and Asian rally occurred near Ealing Broadway station in first week of May.
Clerkenwell squatter's camp
A disused tenement building in Clerkenwell Road was taken over by hippy squatters and daubed with graffiti in 17 August 1971. They tried to promote anarchist-leftism, liberal-leftism, dope, peace, anti-capitalism, multi-multiculturalism and personal freedom. Left-wingers had be active in the district since at leas 1933 and there were quite a few pro-Soviet elements and individuals in the district.
Later events
The Bricklayers' Arms Flyover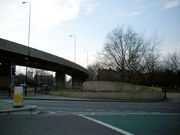 A flyover of the Bricklayers' Arms roundabout was built in the 1970s to cope with the increase in traffic in the area. Initially it consisted of two lanes for traffic, one into and one out of London; however, the London-bound lane was later closed after a number of head-on collisions on the flyover, which was hence reduced to east bound only route.
In the 1970s there was a plan by the Greater London Council for a road to go between the Bricklayers Arms roundabout and the northern entrance of the Blackwall Tunnel, crossing the Thames in two tunnels (one adjacent to Tower Bridge and providing a link to London Docklands.
The rather over generous proportions of the roundabout which includes pedestrian underpasses from the adjacent roads onto it was a result of London Underground route safeguarding for future proposals of an extension of the Bakerloo Line from its terminus at Elephant and Castle Tube Station along and under the main road route and thence underneath the trackways of the old main line station to join surface services at South Bermondsey station. The roundabout would have been the site of a station, similar in layout to that at Old Street. The route is still safeguarded but has no prominence in current proposals. The pedestrian underpasses were not attractive and involved quite circuitous walks via the island, surfacing and descending again to the various entrances; in 2009 these were supplemented by Pelican Crossings at the junctions with New Kent and Old Kent Roads, introduced because pedestrians preferring to cross there were causing more accidents. In 2013 the underpasses were filled in and levelled becoming wider pavements at these points.
Early 1970s and early 1980`s Football Hooligan Riots
London matches were also devastated on a daily basis by this UK wide phenomena.
1974 Red Lion Square race rally clashes
Also see: Racial conflict in London (1959-1982).
A march through central London, that went trough Red Lion Square turned in to a riot a 1 person was killed in Red Lion Square. 39 policemen and several demonstrators received treatment for cuts and other injuries.
The National Front was marching to protest against the government's amnesty for illegal immigrants and Members of the International Marxist Group (IMG), marching with Liberation, clashed with police at Red Lion Square when they both attempted to continue on their pre-planned and intersecting route.
The miners' strikes of 1972 and 1974.
The 2 miners' strikes were to last for several weeks in 1972 and 1974.
The British government imposed a 3-day working week in early 1974 for commercial and industrial users of electricity after industrial action by miners caused most power stations to run out of coal. The steel, dock, power station, automotive, electrical, BBC, ITV, bus and rail workers also struck at times across the nation to. Many dockers were jailed in both strikes for treason, but were soon released after the strike was over, since they did break strike and trades union activity laws in several cases, but were not traitors or in league with a hostile outside power and/or organised crime as some claimed at the time.
1974 Tube strike
It was a partly effective 1 day tube strike in the May of 1974 which was meant to back up the NUM's long running strike  with local action within London.
East India Dock closed in about 1976
Also See:How 6 East London railway stations are an analogy of London's East End!
East India Dock closed in about 1976 and many became both jobless and poor. The goods trains to Blackwall end from 14/11/27, although freight continued to East India Dock until about 1976); the line curving right served the Midland Railway Dock. The Docklands Light Railway (Beckton and Woolwich branches) has been built since 1987 over part of this formation and this is now the site of Blackwall DLR station.
Pedophile Information Exchange (PIE)
Also see: London's covert kinky and illegal sex life.
Paedophile Action for Liberation had developed as a breakaway group from South London Gay Liberation Front. The Paedophile Information Exchange (PIE) pedophile advocacy was founded in October 1974 and officially discriminated and disbanded in 1984. Vague media and purported eye witness accusations that it was in league with the 'Loony Left', if not the London branch of the Labour Party as a whole continue to this day.
Also see: Racial conflict in London (1959-1982). The 1959 event, held indoors and televised by the BBC, was organised by Trinidadian Claudia Jones
Emslie Horniman's Pleasance (in the nearby Ladbroke Grove area, with Westbourne Park its closest tube station), has been the carnival's traditional starting point.
There was major trouble in 1976 and 1975 with pickpockets in the crowd and police's heavy-handed approach against the large congregation of blacks and it became "no-man's land". The 1,600 strong police force violently broke up the 1976 carnival, resulting in the arrest of 60 people. The mostly white police then understandably bullied, got paranoid about, lied about and racial smeared it for many years. A change of policy came after a confrontation with mostly Jamaican 'Steamers' (crowds off professional muggers, mugging entire clouds of spectators on mass) in 1987. There were a few other muggings, lesser steaming in later years.
The Brick Lane anti-National Front demonstration of June 1978
Also see: Racial conflict in London (1959-1982).
A mixed White/Asian/Black demonstration against the National Front took place in Brick Lane, during the June of 1978.
The murdered Altab Ali
A protest march by Bangladeshis passes through Downing Street with murdered Altab Ali's coffin, 1978.
The new National Front HQ
Also see: Racial conflict in London (1959-1982).
The National Front moved its headquarters from Teddington in West London to Great Eastern Street, a few minutes' walk from Brick Lane in the September of 1978.
The 'Winter of Discontent' in London
The phrase "Winter of Discontent" refers to the British winter of 1978-1979, when widespread strikes marked the largest stoppage of labour since the 1926 General Strike, as the working classes and the Trade Unions rebelled against the hapless Labour Party government of James Callaghan, due to the declining economically. Most of the strikes were  over by the February of 1979, but the Conservatives fed on it and proto-spin-doctored there way to victory in the 1979 general election and then inevitably passed legislation to restrict unions.
Public sector employee strike actions included an unofficial strike by gravediggers working in Liverpool and Tameside, and strikes by refuse collectors. Additionally, NHS ancillary workers formed picket lines to blockade hospital entrances with the result that many hospitals were reduced to taking emergency patients only.
The U.K.'s dustmen (a.k.a. garbage collectors) went on strike trough out most of the strike and caused much chaos in the nation. Feb. 1, 1979, during a strike by dustmen in the London borough of Westminster; Leicester Square, Soho, and a 3/4 mile backlog of rotting garage in London's Finsbury Park became notoriuse across the Western World. LUL and the buses went on strike at times as well.
The death of Blair Peach
Also see: Racial conflict in London (1959-1982).
lair Peach was an active member of the East London Teachers' Association, a branch of the National Union of Teachers, and became its president in the last year of his life. He was also allegedly a member of the Socialist Workers' Party at the time of his death.
He was a campaigner and activist against far right and neo-Nazi organisations and a member of Anti-Nazi League.
Soho's illegal sex industry
Also see: London's covert kinky and illegal sex life.
Between 1965 and 1982, the number of sex shops had over doubled from 31 to 65 and had disturbed the local populous with their activities by the late 1970s. In 1982 Porter became Chairman of the General Purposes Committee and set to work in alleviating the issue. Only 13 shops remained in Soho by the February of 1983.
The porn shops and squatters in Clerkenwell incident
Also see: London's covert kinky and illegal sex life.
In the late 1970s and early 1980s several suattre camps/illegal porn shops ran there covert trade in and around Ashmount Road, Hornsey Rise until the Police's SPG unit violently raided them and arrested/beat up the people behind them.
Mile End Hospital rallies
There were intermittent rallies against planned cuts and changes in services at the hospital throughout the 1980s.
The 1980 Britsh Movement's London rallies
Also see: Racial conflict in London (1959-1982).
They held a roudy rally that ran from Paddington and Marble Arch. London, 1980. there were scuffles with police and some arrests. A couple also occered at a similar time in the East End.  
Nicky Crane,Crane was jailed in 1981 for his part in an ambush on black youths at Woolwich Arsenal station. An old bailey judge described Nicky Crane as "worse than an animal" after his part in the May 1978 bus stop attack that involved assault on a unsuspecting black family in Bishopsgate.
The 1981 Brixton riot
Also see: Racial conflict in London (1959-1982).
Both April and July 1981 saw a series of major riots in London, Birmingham, Manchester, Sheffield, Leeds and Liverpool by poor and jobless people, most of whom were Black. London's political 'Loony Left', the National Front and the National Newspapers soon took sides and started to stoke the flames of discontent.
1981 Brixton Riots, or "Bloody Saturday"/Brixton uprising, was a confrontation between the Metropolitan Police and protesters in Lambeth, South London, England, between 10 and 11 April 1981.
The death of PC Kieth Blakelock
Also see: Racial conflict in London (1959-1982). PC Blakelock was killed in 1985 and became first constable to be slain a riot in Britain since 1833, when PC Robert Culley was stabbed to death in Clerkenwell, London.
1985 Putney gas blast
8 people were been killed in an explosion in a prestigious block of flats in Putney. The blast was caused by a ruptured gas main igniting and has been compared to a 50lb bomb going off and has caused an estimated £250m worth of damage.
The 1984/85 British Miners Strike/Miners' Strike of 1984-85
The strike by mine workers was over the very future of there industry. It was on issues concerning heavy job cuts, falling mine output, new technology, falling profitability and recently imported cheep coal flooding the UK's market caused chaos as power station coal supplies ran low. The NUM held a large and for the most part peaceable Hyde Park Corner to Trafalgar Square protest march towards the middle of the strike. Various Eastern Bloc nations watched with concern and wondered if the NUM's hard-left-wing leader, Arthur Scargill, really was going to successfully cause a working class rebellion and ultimately Bolshevise the UK.
After the strike the much reduced coal industry was privatised in December 1994, ultimately becoming UK Coal. While in 1983 Britain had 174 working mines, by 2009, the number had decreased to six.
Poverty increased in former coal mining areas, and an EU study on deprivation in 1994 found that Grimethorpe in South Yorkshire was the poorest settlement in the country.
In 2013, the UK consumed 60 million tons of coal, of which 50 million tons were imported.
The Wapping dispute 
The 1986-1987 Wapping print workers' dispute was, along with the miners' strike of 1984-5, a significant turning point in the history of the trade union movement and of UK industrial relations. 
Mostly power mad boss and mostly lazy print workers fell out over new working practices, new technology and staff cuts. This lead to a strike and picket of the News International printing presses at Wapping. 
The Manxman and the Soho gay/porn cinema incident
Also see: London's covert kinky and illegal sex life.
In the early 1980s a morally conservatively minded bloke from the Isle of Man was jailed for chucking a petrol bomb in to a then well known and popular illegal night time gay/porn cinema in a Soho basement, leading to a 5 deaths and several injures as a result of the fire and the subsequent struggle to escape the burning room.
The 1989 Wildcat Strikes
Through the 1980s, LUL extended OPO to more and more lines. Initially, OPO drivers were paid higher rates than drivers on crew-operated lines (those that still had guards). Then, in 1989, LUL equalised their pay. OPO drivers walked out on unofficial strike in 1989.
Politics in the 1970s and 1980s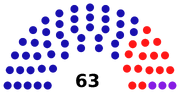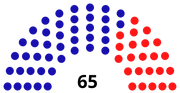 The up-swing
There was an Afro-Caribbean and urban-poor upswing in the inner London Labour vote during the 1970s and 1980s, especially in favor those labour members who were seen as hard left, pro-feminist, anti-racist, gay-rights supporters, pro-disabled rights, lawless and felt upset over the issue of PLO camps; at the exspence of Labour's traditional working class roots, such as trades unionism and worker's rights.
Labours' 'Loony Left'
See: London's political 'Loony Left'
While academics have depicted the era as of the "new urban left" (such as with the rate-capping rebellion) as a throwback to earlier municipal militancy and poplarism, but wider media coverage tended to focus on the personalities of city leaders such as the Greater London Council's Ken Livingstone and Liverpool's Derek Hatton. The Lambeth Borough leader 'Red' Ted night is often regarded as there spiritual founder.
The Conservatives and Dame Shirley Porter
The Conservatives were narrowly re-elected to Westminster City Council in the 1986 local council elections, with their majority reduced from 26 to just a majority of 4. The Conservatives in total only held onto control of the council by 106 votes after Labour failed to gain the marginal Cavendish Ward which was needed to give Labour the majority to take control of the council.
Now fearing that they would eventually lose control unless there was a permanent change in the social composition of the borough, Dame Shirly Porter instituted a secret policy known as 'Building Stable Communities'. The most marginal in the City Council elections of 1986. Bayswater, Maida Vale and Millbank, had been narrowly won by Labour, whilst St. James's, Victoria and Cavendish had been narrowly lost by them, in West End ward an Independent had split the two seats with the Conservatives while in Hamilton Terrace the Conservatives were threatened by the SDP.
As a result every thing from who could get a council house to what streets were cleaned became politically skewed to promoting, rewarding and creating more Conservative held wards. Those most likley to vote Concervative (A.K.A. Tory) got the majority of council houses in marginal seats. This fatally subverted democracy between 1986 and 1990. He antics helped prove to many that the Conservatives were as anti-democratic as labour, thus raising the Liberal and SDP vote in Greater London as a whole.
Westminster City (borough) Council is currently composed of 48 Conservative Party members and 12 Labour Party members. Voteing in the borough is a lot fairer these days.
The Liberal Democrats and the SDP/Liberal Alliance
They made major inroads in to both labour and Conservative heartlands as this went on. They controlled the London Borough of Richmond upon Thames from 1986 to 1998, ant Tower Hamlets from 1986 to 1990. The Greens, SWP, One London, BNP, UKIP and Respect, The Unit Coalition have all made in roads since. 
The Greens, BNP, SWP, Respect and UKIP
They began getting political support and a few councilors since the 1990s.
Nuclear-free zones
By the late 1980s, Greater Manchester, Greater London, The moderate Labour London Borough Hounslow and the 'Loony Left' London boroughs in London, like the London Borough Lambeth; along with a few other rural counties (of which a few were Liberal, Independent and Conservative run) and rural boughs had declared them selves nuclear zones.
End game at the The London Poll Tax Riot
The London Poll Tax Riot was a protests-come-riot against the poll tax (officially known as the "Community Charge"), that occurred on Saturday, 31 March 1990, shortly before the tax was due to come into force in England and Wales. It involved a Central London riot in which Metropolitan Police Service (MPS), some squads from Hertfordshire police, protesters and other activist demonstrators, which ended in rampaging and looting stated at ~2.30pm that day and lasted until ~3 a.m. the next day.
On 31 March 1990, people began gathering in Kennington Park from 12.00pm. It was set up by both the All Britain Anti-Poll Tax Federation (The Fed), Labour's Trotskyist Militant tendency and the Anti-Poll Tax Unions. Turnout was and between 180,000 and 250,000 arrived. Good weather and a recently abandoned anti-government rally by the operation Labour Party may also have contributed to the number of protesters. As the rally wound up, about 2,000 to 2,500 healy armed left wing thugs, most of whom were connected to hard leftist groups like SWP, CW or the Loony Left of the British Labour Party, went on the rampage and then the terrified police the panicked and attacked anyone who was at the rally regardless of whether they were rioting or not.
The demonstrators mixed in with the general public and hid amongst them to confuse police. By midnight, released figures claimed 113 were injured, mostly members of the public, but also police officers; and 339 people had been arrested over the 9 1/2 hours of Urban warfare. Scuffles between rioters and police continued until 3am.
The rioters attacked numerous shops including a Stringfellow's nightclub, a branch of Garfunkel's, a branch of Tie Rack, electrical retailers, a branch of Aquertums, a jewelry shop, a McDonald's restaurant, a branch of M&S, a Labooks betting shop and handfull car showrooms; as Covent Garden cafés and wine bars were set ablaze, along with motor vehicles. The S. African embassy and a near by building site were also set ablaze. Published accounts detail shop windows being broken, goods looted, and cars being overturned in Piccadilly Circus, Oxford Street, Regent Street, Whitehall, Leicester Square, Charing Cross Road, and Covent Garden. Police ordered pubs and LUL tube stations to close as a riot controle messure.
The offical responses given by the London police, the government, Westminster London Borough Council, the Labour Party and some Union officials and some of the Marxist and Trotskyist left, notably "The Militant Tendency", was to condemn the riot as senseless and to blame anarchists. Tommy Sheridan of The Scottish Socialist Party, who had lead a simultaneous and mostly peacefully Glaswegian poll tax march, condemned the protesters. The next day, a concerned Steve Nally, also a Socialist Party member and Secretary of the All Britain Anti-Poll Tax Federation, said that they would "hold an inquiry and name names."
Some anarchists, especially the high-profile Class War organisation and those from the Anarchist 121 Bookshop in Brixton, were happy to defend the actions of the crowd in response to the police. They were joined by other sections of the libertarian left in condoning the riot as legitimate self-defence against police attack. According to Danny Burns: "Often attack is the only effective form of defence and, as a movement, we should not be ashamed or defensive about these actions, we should be proud of those who did fight back."
It was also backed by the UK Socialist Workers' Party (SWP), which was blamed for most of the violence by some in the media. Labour MP George Galloway also refused to condemn protesters, calling the events a "police riot." Pat Stack, then a member of the SWP's Central Committee, told The Times: "We did not go on the demonstration with any intention of fighting with the police, but we understand why people are angry and we will not condemn that anger."
Simultaneous Glaswegian, Mancunian, Liverpudlian, Shefildian, Bristolian, Exiterian, Pymouthian, Southaptonite, Doverian and Brummie relies all remained peacefully except for the occasional drunken brawl along the way! 
Life today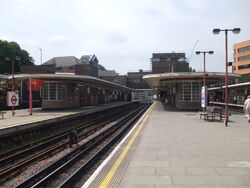 There have been LUL and bus strikes since, and a mixture of anti-capitalists, ecologists, Reclaim the Streets, anti-Iraq war protesters, El Majaroon (a pro-Taliband lot) , the Countryside Alliance and ethnic minorities have rallied, marched, protested and rioted since, but is has never been as constant or bad as in the 1970s and 1980s.
The Camden markets, which started in 1973, when Camden Lock market proper started in a former timber-yard in 1973, and have now grown to 6 since then. The equily popular market in Inverness Steet is over 100 years old. Camden has now begun to rise again with new housing developments on brownfield sites and the release of railway and gas work lands around Kings Cross.
By 1981, Limehouse had shared the London Docklands-wide physical, social and economic decline which led to the setting up of the London Docklands Development Corporation in these regions. Other places like Whitechapple, Shadwell, the Isle of Dogs, Wapping, Beckton and the Greenwich Peninsular have been revitalised since the late 1970s. Sadly, most of the better property is now in the hands of rich incomers and not the locals.
The Docklands Light Railway (DLR) is an automated light metro system opened in 1987 to serve the redeveloped Docklands area of London and has grown vastly ever since.
The 2001 census gave Camden a population of 198,000, an accidental under count that was later revised to 202,600. The projected 2006 figure was 227,500 and the 2014 estimate was at 234,846.
In 2002, the Countryside Alliance organised the Liberty & Livelihood March, then the largest ever demonstration in British history, with almost half a million people marching through London to demonstrate against the proposed ban on fox hunting with hounds.
There were the horrific 7 July 2005 London bombings (AKA- The 7/7 attacks).
The scale of 10 Nov 2010 the London protest defied expectations, with as angry students rioted over tuition fees on the city's streets. 1 Dec 2010 was also chaotic as police arrested 153 people during clashes in London on the third day of protests against plans to raise student tuition fees. Several fires were lit, graffiti daubed on statues and missiles thrown at riot police.
The 6th to 16th of August 2011 UK wide riots started in Tottenham after a protest over the shooting of Mark Duggan protest turned ugly. Violence and looting spread across London and to other cities in England. Hackney to Croydon lay in ruins.
Whilst every one involved dose not fully know what happened and are not unwilling to let on, it is true that the shooting was controversial! Afro-Caribbeans were angry with the police enquiery. They were concerned about a possible cover-up and held a rally outside the local police station turned ugly.
Gangs began attacking any one who was not Black in Hackney LB, eastern Enfield LB and Hertfordshire's Broxtowe District. Wood Green's Tamils and Turks defended their shops. Soon, a multi-ethnic mayhem plundered and destroyed Central London and final burnt most of Croydon to the ground!
The Police did a good job as did the variose local malitias (Siekh, Moslim, Chinese, Surrymen, Jewish, Somali, French, American, Aussie, Turkish, Irish, Indian, Sinhales, Tamils, football fans, Essexians, Hertfordians, native East Enders, Berkshiremen, the staff of a south London leasure center and the staff of an Ealing LB industrial park).
Some major places like Newcatel-upon-Tyne, Exiter, Carliels, Belfast, Norwich, Hounslow LB, Sutton LB and Hillingdon LB were not ravished.
Minor scuffles and odd acts of vandalism and/or arson hit Glasgow and Cardiff; along with several English places, including- St. Albans, Banbury, Worcester, Portsmouth, Reading, Oxford and Milton Keynes.
Other notable armed risings were in-
Salford- Hatred of Poles.
Derby- General criminality.
Nottingham- Theft by rich youngsters.
Manchester- Peasants rebelling violently.
Birmingham- Theft by rich youngsters.
Liverpool- N/A.
Toxtdith and near by places in the Liverpool Urban Area- N/A.
Bristol- Hatred of a particular local Tesco shop. There was longstanding opposition to a Tesco Express store in Cheltenham Road, Stokes Croft, Bristol.
West Bromwich and near by parts of the Black Country- Peasants rebelling violently.
Coventry- General criminality.
Wolverhampton- N/A.
Lincoln- N/A.
Gloucester- N/A.
Gillingham- N/A.
West Yorkshire County- N/A.
5 Nov 2014 saw officers in riot gear at a number of points later drew batons and clashed with various localised protests in the city.
1 November 2015 saw a band of 'Scumoween' ravers clash with London riot police.
Historic data for Camden, Newham, Hackney and Tower Hamlets LB
Population
Camden and Tower Hamlets LB population 1801-2011.

| Year | Hackney. | Tower Hamlets | Newham | Camden |
| --- | --- | --- | --- | --- |
| 1801 | 14,609 | 130,871 | 8,875 | 96,795 |
| 1811 | 19,523 | . | 11,166 | 124,741 |
| 1821 | 25,342 | . | 13,005 | 158,077 |
| 1831 | 35,482 | . | 15,553 | 1922,28 |
| 1841 | 68,246 | . | 17,758 | 228,950 |
| 1851 | 94,961 | 330,548 | 24,875 | 270,197 |
| 1861 | 172,385 | . | 69,355 | 301,408 |
| 1871 | 249,810 | . | 113,835 | 332,619 |
| 1881 | 327,234 | . | 158,314 | 363830 |
| 1891 | 369,209 | . | 259,155 | 337,500 |
| 1901 | 374,132 | 578,143 | 338,506 | 362,581 |
| 1911 | 379,120 | 571,438 | 442,158 | 349,184 |
| 1921 | 368,469 | 529,114 | 448,081 | 335,408 |
| 1931 | 358,117 | 489,956 | 454,096 | 322,212 |
| 1941 | 305,501 | 337,774 | 377,508 | 286,956 |
| 1951 | 260,626 | 232,860 | 313,837 | 255558 |
| 1961 | 240,521 | 195,833 | 271,858 | 231,143 |
| 1971 | 221,975 | 164,699 | 235,496 | 209,097 |
| 1981 | 179,536 | 139,989 | 209,131 | 161,100 |
| 1991 | 187,792 | 167,985 | 221,146 | 181,489 |
| 2001 | 202,819 | 196,121 | 243,737 | 198,027 |
| 2011 | 213,573 | 254,096 | 307,984 | . |
Birth of Tower Hamlets
The earliest apparent use of the name "Tower Hamlets" was in the sixteenth century, when the Constable of the Tower of London commanded the Tower Hamlet Militia as the Lord Lieutenant of Tower Hamlets.
Diversity of Tower Hamlets
Tower Hamlets has one of the smallest indigenous populations of the boroughs in Britain. No ethnic group forms a majority of the population; a plurality of residents are of White ethnicity (45%) of which 31% are White British. Asians form 41% of the population, of which 32% are Bangladeshi which is the largest ethnic minority in the borough. A small proportion are of Black African and Caribbean descent (7%), with Somalis representing the second largest minority ethnic group. Those of mixed ethnic backgrounds form 4%, while other ethnic groups form 2%. The White British proportion was 31.2% in the 2011 census, falling from 42.9% in 2001.
As Tower Hamlets is considered as one of the world's most racially diverse zones, it holds various places of worship. According to the 2011 census, 34.5% of the population was Muslim, 27.1% Christian, 1.7% Hindu, 1.1% Buddhist, 1.1% followed other religions, 19.1% were not affiliated to a religion and 15.4% did not state their religion.
Hackney's demographics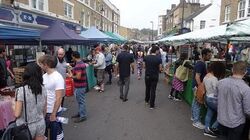 In 1801, the civil parishes that form the modern borough had a total population of 14,609. This rose steadily throughout the 19th century, as the district became built up; reaching 95,000 in the middle of that century. When the railways arrived the rate of population growth increased — reaching nearly 374,000 by the turn of the century. This increase in population peaked before World War I, falling slowly in the aftermath until World War II began an exodus from London towards the new towns under the Abercrombie Plan for London (1944). The population is now rising again, and the 2001 census gives Hackney a population of 202,824.
The population is ethnically diverse. Of the resident population, 89,490 (41%) people describe themselves as White British. 30,978 (14%) are in other White ethnic groups, 63,009 (29%) are Black or Black British, 20,000 (9%) are Asian or Asian British, 8,501 (4%) describe themselves as 'Mixed', and 6,432 (3%) as Chinese or Other.
There is also a large Turkish and Kurdish population resident in Hackney. Turkish and Kurdish communities are located in all parts of the borough, though there is a greater concentration in north and central Hackney.
132,931 (66%) of the resident population were British born. A further 10,095 (5%) were born in other parts of Europe, and the remaining 59,798 (29%) born elsewhere in the world.
The 2001 census also shows Christianity is the biggest religion in Hackney, with 44% of residents identifying Christian; 18% identified as Muslim, 4% Jewish, and 3% belonged to other religions. A further 19% stated no religion, and 12% did not state a response. By the 2011 census, residents identifying themselves as Christian fell to 38.6%, whilst those with no religion rose to 28.2%. Judaism had a modest increase, Islam had a small increase, and Hinduism made a slight drop.
The largest rise of ethnic groups between 2001 and 2011 was 'Other', which increased by 222%. This was followed by 'Mixed', which rose by 84%. At the 2011 census, 6.3% of the population was Jewish, making it the third biggest in England after London Borough of Barnet and the Hertsmere borough of Hertfordshire.
32% of households are owner–occupied.
The 2012 Summer Olympics and the 2012 Summer Paralympics
Queen Elizabeth Olympic Park, in London, United Kingdom, is a sporting complex built for the 2012 Summer Olympics and the 2012 Summer Paralympics, situated to the east of the city adjacent to the Stratford City development. It contains the athletes' Olympic Village and several of the sporting venues including the Olympic Stadium and London Aquatics Centre, besides the London Olympics Media Centre.
The park is overlooked by the ArcelorMittal Orbit, an observation tower and Britain's largest piece of public art. It was simply called Olympic Park during the Games but was later renamed to commemorate the Diamond Jubilee of Elizabeth II, (though it is not an official Royal Park of London). The park occupies an area straddling four east London boroughs; Newham, Tower Hamlets, Hackney and Waltham Forest. Part of the park reopened in July 2013, with a large majority of the rest (including the Aquatics Centre, Velopark and Orbit observation tower) reopening in April 2014.
Imaginary of the East End and environs
Videos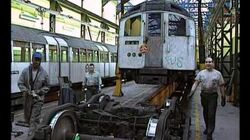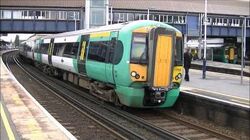 Also see
Hippies

Harlem- 1950-1990

Italy's Years of Lead

The Paris riots of the 1960s

March on Washington for Jobs and Freedom
Outside sources
http://www.visionofbritain.org.uk/data_cube_table_page.jsp?data_theme=T_POP&data_cube=N_TPop&u_id=10064028&c_id=10001043&add=N
http://www.huffingtonpost.co.uk/2014/01/10/london-underground-tube-1970s-1980s-bob-mazzer-pictures_n_4576007.html
http://www.spiked-online.com/newsite/article/two-cheers-for-the-london-tube-strike/14626#.VwkuIZwrLcs
http://www.independent.co.uk/news/uk/london-tube-strike-live-what-has-industrial-action-ever-achieved-10437118.html
http://www.spiked-online.com/newsite/article/two-cheers-for-the-london-tube-strike/14626#.VwkuIZwrLcs
http://www.foxnews.com/world/2017/06/04/london-attacks-6-civilians-killed-3-attackers-dead-in-hit-and-run-stabbings-police-say.html
http://www.independent.co.uk/news/uk/london-tube-strike-live-what-has-industrial-action-ever-achieved-10437118.html
http://www.ibtimes.co.uk/tube-strike-archive-footage-1962-london-underground-tube-strike-video-1435235
http://www.newsshopper.co.uk/news/14717265.Police_hunt_driver_who__fled_scene__of_Welling_crash_as_woman_is_taken_to_hospital/?ref=mr&lp=1
http://www.newsshopper.co.uk/news/14718321._We_could_see_his_insides_hanging_out___Beloved_dog_dies_after_gruesome_attack_in_Horton_Kirby/?ref=mac
http://www.newsshopper.co.uk/news/14716900.Tributes_to__beautiful_boy__and_aunt_killed_in_police_car_chase_crash_in_Penge/?ref=mac
http://www.newsshopper.co.uk/news/14718301.Lewisham_councillors_push_for_publication_of__secret__NHS_plans_for_healthcare_in_south_east_London/?ref=rl&lp=4
http://www.newsshopper.co.uk/news/14715399.Crayford_brothers_charged_with_murder_of_man_in_Eltham/?ref=rl&lp=2
http://www.theguardian.com/commentisfree/2015/mar/31/poll-tax-riots-25-years-ago-political-awakening-carnage-trafalgar-square
http://www.corbisimages.com/stock-photo/rights-managed/HU007879/british-movement-march-through-london
http://www.magnumphotos.com/Catalogue/David-Hurn/1968/GB-London-Anti-Vietnam-War-Riots-1968-NN162836.html
https://uk.news.yahoo.com/on-this-day--thousands-of-anti-vietnam-protesters-clash-with-police-in-london-161217942.html
http://www.telegraph.co.uk/news/uknews/road-and-rail-transport/10794806/Tube-strike-London-Underground-live.html
www.bbc.co.uk/news/uk-14436499
www.bbc.co.uk/news/uk-england-london-14434318
http://www.theguardian.com/commentisfree/2015/mar/11/london-rioters-2011-anger-inequality-distrust-police
http://www.dailymail.co.uk/news/article-2023949/London-riots-2011-Hackney-Croydon-violence-shows-sign-abating.html
http://www.theguardian.com/uk-news/2015/nov/01/london-rave-party-turns-into-chaos-as-halloween-revellers-bombard-riot-squad
www.bbc.co.uk/news/education-11877034
http://www.huffingtonpost.co.uk/2014/01/10/london-underground-tube-1970s-1980s-bob-mazzer-pictures_n_4576007.html
http://www.spiked-online.com/newsite/article/two-cheers-for-the-london-tube-strike/14626#.VwkuIZwrLcs
http://www.independent.co.uk/news/uk/london-tube-strike-live-what-has-industrial-action-ever-achieved-10437118.html
http://www.spiked-online.com/newsite/article/two-cheers-for-the-london-tube-strike/14626#.VwkuIZwrLcs
http://www.independent.co.uk/news/uk/london-tube-strike-live-what-has-industrial-action-ever-achieved-10437118.html
http://www.visionofbritain.org.uk/data_cube_table_page.jsp?data_theme=T_POP&data_cube=N_TPop&u_id=10057346&c_id=10001043&add=N
http://www.visionofbritain.org.uk/data_cube_table_page.jsp?data_theme=T_POP&data_cube=N_TPop&u_id=10099651&c_id=10001043&add=N
http://www.towerhamlets.gov.uk/Documents/Borough_statistics/Ward_profiles/Census-2011/RB-Census2011-Ethnicity-2013-01.pdf
http://www.audit-commission.gov.uk/Products/BVIR/ECC85820-A585-11d7-B311-0060085F8572/TowerHamletsMajorWorks.pdf%7C
http://www.neighbourhood.statistics.gov.uk/dissemination/LeadTableView.do?a=7&b=6275287&c=tower+hamlets&d=13&e=61&g=6337981&i=1001x1003x1032x1004&m=0&r=1&s=1365285707760&enc=1&dsFamilyId=2579