Date- 17 January 1966.
Cause of accident- A mid-air collision.
Site- Mediterranean Sea near Palomares, Almería, Spain 37°14′57″N 1°47′49″W.
Total fatalities- 7.
First aircraft type- B-52G.
Operator- Strategic Air Command, United States Air Force.
Registration- 58-0256.
Flight origin- Seymour Johnson Air Force Base, North Carolina, United States.
Destination- Seymour Johnson Air Force Base.
Victim nation- Spain.
---
Crew- 7.
Fatalities- 3.
Survivors- 4.
Second aircraft type- KC-135 Stratotanker.
Operator- United States Air Force.
Registration- 61-0273.
Flight origin- Morón Air Base.
Destination- Morón Air Base.
Crew- 4.
Fatalities- 4.
The crash
Edit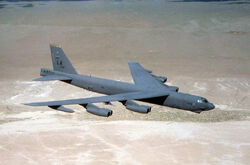 It was a Cold War era B-52 Stratofortress bomber and Boeing KC-135 Stratotanker mid air collision that destroyed both aircraft and almost caused a nuclear accident.
It happened when a B-52G bomber of the USAF Strategic Air Command collided with a KC-135 tanker during mid-air refuelling operation at 31,000 feet (9,450 m) over the Mediterranean Sea, off the coast of Spain. The tanker's flue ignited in the crash, blowing it up, while the bomber broke in to 3 sections before hitting the sea.
The aftermath
Edit
The 2 lost B28 atomic bombs had a maximum yield of 1.45 megatons. They were damaged, but din not go off.
In the USSR 
Edit
Claims persist to this day that a similar incident occurred in Arkhangelsk Oblast during the early 1970s. They have never been officially acknowledged, but dissident's reports and intelligence work suggest they did.
Community content is available under
CC-BY-SA
unless otherwise noted.