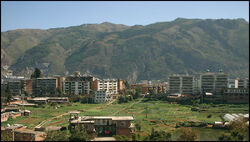 The event
[
]
It was a major earthquake that hit Tonghai in China on 4 January 1970 in Tonghai County, Yunnan province, China. The rupture originated on the Red River fault, which had not experienced an earthquake above magnitude 7 since 1700, so no one was fully prepared for such an event.
It struck Yuxi, south west of Kunming. The city of Gejiu was 97km/60mi from the epicentre.
The earthquake had a magnitude of 7.7 and killed at least 15,000 people, caused between US$5 to $25 million in damage and was felt over an area of 8,781 km2. It was even felt in Hanoi, North Vietnam, almost 483 km from the epicentre, victims left their homes as the fault line's rupture rumbled through the city.
The earthquakes was studies by the more enlightened parts of the government. This was the first of such investigations and is one of the reasons behind creating the largest local earthquake monitoring system in China, 25 years later.
A second, less powerful earthquake, occurred in 1973.
The aftermath
[
]
It struck during the hellish years of the Chinese Cultural Revolution. The survivors were sent only a small amount of "spiritual" aid, including Mao Zedong slogan badges and condolence letters.
Also see
[
]
Link
[
]