| | |
| --- | --- |
| | This page is under construction. and is still being written! Any major unauthorized edits will be reverted. |
| | |
| --- | --- |
| | IMPORTANT:This page has used Creative Commons Licensed content from Wikipedia in either a refactored, modified, abridged, expanded, built on or 'strait from' text content! |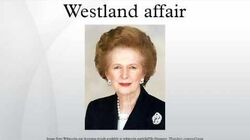 Overview
[
]
Westland Helicopters was economically dieing in the 1980s and was the victim of the 1985–86 Westland affair. Italy's Agusta Helicopters finally bought Westland Helicopters and was it's self later bought out by Italy's Leonardo-Finmeccanica. Bristow Helicopters and Sikorsky were also intrested in buying Westland.
Background
[
]
Westland was in major ecanomic difficult in the early 1980s. The Westland affair originated with Alan Bristow's bid for the company in April 1985.
The event
[
]
By June 1985, Alan Bristow was threatening to end his bid unless the Government assured him that there would be future orders for the company from the Ministry of Defence and that the repayment of over £40 million of launch aid for Westland's newest helicopter from the Department of Trade and Industry was waived.
At a Government meeting it was decided that Norman Tebbit, the then Trade and Industry Secretary, should persuade the Bank of England to co-operate with the main creditors in the hope that a recovery plan and new management would end the threat of receivership. Bristow withdrew his bid and Sir John Cuckney became chairman of Westland.
November 1985 saw Tebbit and Heseltine denounce the takeover bid. Cuckney opposed this particular bid Cuckney proposed that a new minority shareholder of 29.9% be introduced. Sikorsky, was interested, unlike UK firms and made a . bid Heseltine, who adored Europe, was opposed to the offer from Sikorsky and called a conference of the National Armaments Directors (NAD) of Britain, France, Italy and West Germany to sign a document which would commit each country to only purchase helicopters designed and manufactured in Europe, so as to ban the governments from bung Westlnds stuff after a Sikorsky buy ot. Thatcher's and Leon Brittan's wanted Westland to decide for it's self.
By
Aftermath
[
]
.
Also see
[
]
Westland Wessex

Westland Dragonfly

Agusta A129 Mangusta

AgustaWestland AW109

Westland Helicopters Ltd.
Sources
[
]