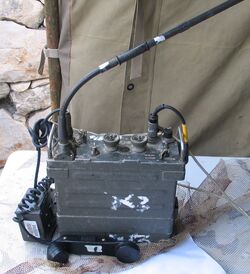 The device
[
]
The AN/PRC 77 Radio Set is made in a manpack format. It is a portable VHF FM combat-net radio transceiver manufactured by Associated Industries. It is used used to provide short-range, two-way radio-telephone voice communication over 920 channels across two bands using 50 kHz steps.
The device entered service in 1968 during the Vietnam War as an upgrade to the earlier AN/PRC 25.
In the Joint Electronics Type Designation System (JETDS), AN/PRC translates to "Army/Navy, Portable, Radio, Communication."
It's electronics differ from its predecessor, the AN/PRC 25, mainly due to the fact that its final power amplifier stage is made up of solid state components (integrated circuits and transistors) and does not use vacuum tubes/valves.
The AN/PRC 77 consists of the RT-841 transceiver, plus some other minor components. It is compatible with Norway's Multi Rolle Radio and can provide secure communication with the TSEC/KY-57 voice encryption device, but is not compatible with the SINCGARS class frequency hopping mode.
AEG Telefunken do Brasil S/A, makes the under licece.
It is powered by a rechargeable Nickel-Cadmium NiCd type battery and the weight is 13.75 lb (6.2 kg).
Users
[
]
Australian Army Cadets
Australian Air Force Cadets
Australian Army
Norwegian Army
Austrian Army
Brazilian Army
Swedish Army
Swiss Army
The Pakistani Army
Finnish Army
Bangladeshi Army
Philippine Army uses
6941st Guard Battalion-Berlin (US forces)
Also see
[
]
Links
[
]