| | |
| --- | --- |
| | IMPORTANT:This page has used Creative Commons Licensed content from Wikipedia in either a refactored, modified, abridged, expanded, built on or 'strait from' text content! |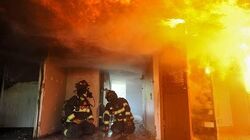 Overview
[
]
Types of fire
[
]
structure fire
[
]
A structure fire, structural fire or building fire is a fire involving the structural components of various types of residential, commercial or industrial buildings. Residential buildings range from single-family detached homes and townhouses to apartments and tower blocks, or various commercial buildings ranging from offices to shopping malls. This is in contrast to "room and contents" fires, chimney fires, vehicle fires, wildfires or other outdoor fires.
Structure fires typically have a similar response from the fire department that include pump-engines, ladder trucks, rescue squads, chief officers, fire investigating teams (major UK cases) and a NHS ambulance (UK)\an EMS unit (USA), each of which will have specific initial assignments. The actual response and assignments will vary between fire departments.
It is not unusual for some fire departments to have a pre-determined mobilisation plan for when a fire incident is reported in certain structures in their area. This plan may include mobilising the nearest aerial firefighting vehicle to a tower block, or a foam-carrying vehicle to structures known to contain certain hazardous chemicals.
December and early January are a top time for domestic fires due to the cold and the festive season, but this year seems to be going crazy as individuals may be 'torching' places in the UK, Kenya, New Jersey and New York State. For that reason the page is logging the cases here out of curiosity and the need to get to the bottom of it all.
Vehicle fire
[
]
A vehicle fire is an undesired conflagration (uncontrolled burning) involving a motor vehicle. Also termed car fire or auto fire, it is one of the most common causes of fire-related property damage.
Fire class is a term used to denote the type of fire, in relation to the combustion materials which have (or could be) ignited. This has onward impacts on the type of suppression or extinguishing materials which can be used. Class letters are often assigned to the different types of fire, but these differ between territories. There are separate standards in the United States, Europe, and Australia.
Ordinary combustibles
[
]
Class A fires consist of ordinary combustibles such as wood, paper, fabric, and most kinds of trash.
Flammable liquid and gas
[
]
A carbon dioxide fire extinguisher rated for flammable liquids and gas fires. These are fires whose fuel is flammable or combustible liquid or gas. The US system designates all such fires "Class B". In the European/Australian system, flammable liquids are designated "Class B" having flash point less than 100 °C, while burning gases are separately designated "Class C". These fires follow the same basic fire tetrahedron (heat, fuel, oxygen, chemical reaction) as ordinary combustible fires, except that the fuel in question is a flammable liquid such as gasoline, or gas such as natural gas. A solid stream of water should never be used to extinguish this type because it can cause the fuel to scatter, spreading the flames. The most effective way to extinguish a liquid or gas fueled fire is by inhibiting the chemical chain reaction of the fire, which is done by dry chemical and Halon extinguishing agents, although smothering with CO2 or, for liquids, foam is also effective. Halon has fallen out of favor in recent times because it is an ozone-depleting material; the Montreal Protocol declares that Halon should no longer be used. Chemicals such as FM-200 are now the recommended halogenated suppressant.
Electrical
[
]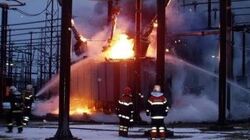 Electrical fires are fires involving potentially energized electrical equipment. The US system designates these "Class C"; the Australian system designates them "Class E". This sort of fire may be caused by short-circuiting machinery or overloaded electrical cables. These fires can be a severe hazard to firefighters using water or other conductive agents, as electricity may be conducted from the fire, through water, to the firefighter's body, and then earth. Electrical shocks have caused many firefighter deaths. Electrical fire may be fought in the same way as an ordinary combustible fire, but water, foam, and other conductive agents are not to be used. While the fire is or possibly could be electrically energized, it can be fought with any extinguishing agent rated for electrical fire. Carbon dioxide CO2, NOVEC 1230, FM-200 and dry chemical powder extinguishers such as PKP and even baking soda are especially suited to extinguishing this sort of fire. PKP should be a last resort solution to extinguishing the fire due to its corrosive tendencies. Once electricity is shut off to the equipment involved, it will generally become an ordinary combustible fire.
In Europe, "electrical fires" are no longer recognized as a separate class of fire as electricity itself cannot burn. The items around the electrical sources may burn. By turning the electrical source off, the fire can be fought by one of the other class of fire extinguishers
Metal
[
]
Class D fires involve combustible metals - especially alkali metals like lithium and potassium, alkaline earth metals such as magnesium, and group 4 elements such as titanium and zirconium.
Metal fires represent a unique hazard because people are often not aware of the characteristics of these fires and are not properly prepared to fight them. Therefore, even a small metal fire can spread and become a larger fire in the surrounding ordinary combustible materials. Certain metals burn in contact with air or water (for example, sodium), which exaggerate this risk. Generally speaking, masses of combustible metals do not represent great fire risks because heat is conducted away from hot spots so efficiently that the heat of combustion cannot be maintained. In consequence, significant heat energy is required to ignite a contiguous mass of combustible metal. Generally, metal fires are a hazard when the metal is in the form of sawdust, machine shavings or other metal "fines", which combust more rapidly than larger blocks. Metal fires can be ignited by the same ignition sources that would start other common fires.
Care must be taken when extinguishing metal fires. Water and other common firefighting agents can excite metal fires and make them worse. The National Fire Protection Association recommends that metal fires be fought with dry powder extinguishing agents that work by smothering and heat absorption. The most common agents are sodium chloride granules and graphite powder. In recent years, powdered copper has also come into use. These dry powder extinguishers should not be confused with those that contain dry chemical agents. The two are not the same, and only dry powder should be used to extinguish a metal fire. Using a dry chemical extinguisher in error, in place of dry powder, can be ineffective or actually increase the intensity of a metal fire.
Sodium is a chemical element with symbol Na (from Latin natrium) and atomic number 11. It is a soft, silvery-white, highly reactive metal. Sodium is an alkali metal, being in group 1 of the periodic table, because it has a single electron in its outer shell that it readily donates, creating a positively charged ion—the Na+ cation. Its only stable isotope is 23Na. The free metal does not occur in nature, but must be prepared from compounds. Sodium is the sixth most abundant element in the Earth's crust, and exists in numerous minerals such as feldspars, sodalite and rock salt (NaCl). Many salts of sodium are highly water-soluble: sodium ions have been leached by the action of water from the Earth's minerals over eons, and thus sodium and chlorine are the most common dissolved elements by weight in the oceans.
Sodium was first isolated by Humphry Davy in 1807 by the electrolysis of sodium hydroxide. Among many other useful sodium compounds, sodium hydroxide (lye) is used in soap manufacture, and sodium chloride (edible salt) is a de-icing agent and a nutrient for animals including humans.
Sodium is an essential element for all animals and some plants. Sodium ions are the major cation in the extracellular fluid (ECF) and as such are the major contributor to the ECF osmotic pressure and ECF compartment volume. Loss of water from the ECF compartment increases the sodium concentration, a condition called hypernatremia. Isotonic loss of water and sodium from the ECF compartment decreases the size of that compartment in a condition called ECF hypovolemia.
By means of the sodium-potassium pump, living human cells pump three sodium ions out of the cell in exchange for two potassium ions pumped in; comparing ion concentrations across the cell membrane, inside to outside, potassium measures about 40:1, and sodium, about 1:10. In nerve cells, the electrical charge across the cell membrane enables transmission of the nerve impulse—an action potential—when the charge is dissipated; sodium plays a key role in that activity.
Sodium is highly fllamible (like magnisium, calcium, potasium and lithium) forms flammable hydrogen and caustic sodium hydroxide on contact with water; ingestion and contact with moisture on skin, eyes or mucous membranes can cause severe burns.[ Sodium spontaneously explodes in the presence of water due to the formation of hydrogen (highly explosive) and sodium hydroxide (which dissolves in the water, liberating more surface). However, sodium exposed to air and ignited or reaching autoignition (reported to occur when a molten pool of sodium reaches about 290 °C) displays a relatively mild fire. In the case of massive (non-molten) pieces of sodium the reaction with oxygen eventually becomes slow due to formation of a protective layer. Fire extinguishers based on water accelerate sodium fires; those based on carbon dioxide and bromochlorodifluoromethane should not be used on sodium fire. Metal fires are Class D, but not all Class D extinguishers are workable with sodium. An effective extinguishing agent for sodium fires is Met-L-X.Other effective agents include Lith-X, which has graphite powder and an organophosphate flame retardant, and dry sand.[104] Sodium fires are prevented in nuclear reactors by isolating sodium from oxygen by surrounding sodium pipes with inert gas.Pool-type sodium fires are prevented using different design measures called catch pan systems. They collect leaking sodium into a leak-recovery tank where it is isolated from oxygen.
Chemical fire
[
]
A chemical fire is a
Benzene is an important organic chemical compound with the chemical formula C6H6. The benzene molecule is composed of six carbon atoms joined in a ring with one hydrogen atom attached to each. As it contains only carbon and hydrogen atoms, benzene is classed as a hydrocarbon.
Benzene is a natural constituent of crude oil and is one of the elementary petrochemicals. Due to the cyclic continuous pi bond between the carbon atoms, benzene is classed as an aromatic hydrocarbon, the second [n]-annulene ([6]-annulene). It is sometimes abbreviated Ph–H. Benzene is a colorless and highly flammable liquid with a sweet smell, and is responsible for the aroma around petrol stations. It is used primarily as a precursor to the manufacture of chemicals with more complex structure, such as ethylbenzene and cumene, of which billions of kilograms are produced. As benzene has a high octane number, it is an important component of gasoline.
As benzene is a human carcinogen, most non-industrial applications have been limited.
Toluene /ˈtɒljuːiːn/, also known as toluol /ˈtɒljuːɒl/, is an aromatic hydrocarbon. It is a colorless, water-insoluble liquid with the smell associated with paint thinners. It is a mono-substituted benzene derivative, consisting of a CH3 group attached to a phenyl group. As such, its IUPAC systematic name is methylbenzene. Toluene is predominantly used as an industrial feedstock and a solvent.
As the solvent in some types of paint thinner, contact cement and model airplane glue, toluene is sometimes used as a recreational inhalant and has the potential of causing severe neurological harm.
Phosphorus is a chemical element with symbol P and atomic number 15. As an element, phosphorus exists in two major forms—white phosphorus and red phosphorus—but because it is highly reactive, phosphorus is never found as a free element on Earth. At 0.099%, phosphorus is the most abundant pnictogen in the Earth's crust. With few exceptions, minerals containing phosphorus are in the maximally oxidized state as inorganic phosphate rocks.
The first form of elemental phosphorus to be produced (white phosphorus, in 1669) emits a faint glow when exposed to oxygen – hence the name, taken from Greek mythology, Φωσφόρος meaning "light-bearer" (Latin Lucifer), referring to the "Morning Star", the planet Venus (or Mercury). The term "phosphorescence", meaning glow after illumination, originally derives from this property of phosphorus, although this word has since been used for a different physical process that produces a glow. The glow of phosphorus itself originates from oxidation of the white (but not red) phosphorus — a process now termed chemiluminescence. Together with nitrogen, arsenic, antimony, and bismuth, phosphorus is classified as a pnictogen.
Phosphorus is essential for life. Phosphates (compounds containing the phosphate ion, PO43−) are a component of DNA, RNA, ATP, and the phospholipids, which form all cell membranes. Demonstrating the link between phosphorus and life, elemental phosphorus was first isolated from human urine, and bone ash was an important early phosphate source. Phosphate mines contain fossils, especially marine fossils, because phosphate is present in the fossilized deposits of animal remains and excreta. Low phosphate levels are an important limit to growth in some aquatic systems. The vast majority of phosphorus compounds produced are consumed as fertilisers. Phosphate is needed to replace the phosphorus that plants remove from the soil, and its annual demand is rising nearly twice as fast as the growth of the human population. Other applications include the role of organophosphorus compounds in detergents, pesticides, and nerve agents.
Elemental phosphorus can exist in several allotropes, the most common of which are white and red solids. Solid violet and black allotropes are also known. Gaseous phosphorus exists as diphosphorus and atomic phosphorus.
White phosphorus, yellow phosphorus or simply tetraphosphorus (P4) exists as molecules made up of four atoms in a tetrahedral structure. The tetrahedral arrangement results in ring strain and instability. The molecule is described as consisting of six single P–P bonds. Two different crystalline forms are known. The α form is defined as the standard state of the element, but is actually metastable under standard conditions. It has a body-centered cubic crystal structure, and transforms reversibly into the β form at 195.2 K. The β form is believed to have a hexagonal crystal structure.
White phosphorus is a translucent waxy solid that quickly becomes yellow when exposed to light. For this reason it is also called yellow phosphorus. It glows greenish in the dark (when exposed to oxygen) and is highly flammable and pyrophoric (self-igniting) upon contact with air. It is toxic, causing severe liver damage on ingestion and phossy jaw from chronic ingestion or inhalation. The odour of combustion of this form has a characteristic garlic smell, and samples are commonly coated with white "diphosphorus pentoxide", which consists of P4O10 tetrahedral with oxygen inserted between the phosphorus atoms and at their vertices. White phosphorus is only slightly soluble in water and can be stored under water. Indeed, white phosphorus is safe from self-igniting only when it is submerged in water. It is soluble in benzene, oils, carbon disulfide, and disulfur dichloride.
It ignites spontaneously in air at about 50 °C (122 °F), and at much lower temperatures if finely divided. This combustion gives phosphorus (V) oxide:
P 4 + 5 O 2 → P 4O 10
Because of this property, white phosphorus is used as a horrific weapon!
Cooking oils and fats (kitchen fires or chip pan fires)
[
]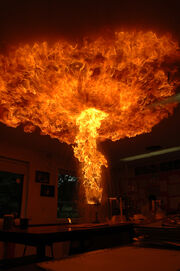 A chip pan fire is one type of fire that involve cooking oils or fats are designated "Class K" under the American system, and "Class F" under the European/Australian systems. Though such fires are technically a subclass of the flammable liquid/gas class, the special characteristics of these types of fires, namely the higher flash point, are considered important enough to recognize separately. Water mist can be used to extinguish such fires. Appropriate fire extinguishers may also have hoods over them that help extinguish the fire. Sometimes fire blankets are used to stop a fire in a kitchen or on a stove.
The phrase "like a house on fire".
[
]
The phrase "like a house on fire" [1] means "very well", as it: "The two children got on with each other like a house on fire" and "I'm getting through this job like a house on fire".
British cases.
[
]
British cases.

| Location. | Date. | Building type. | Dead. | Wounded. |
| --- | --- | --- | --- | --- |
| Dumfries, Dumfiees and Galoway | Jan 3 | House | 1 | 0 |
| Harwick, Scottish Borders | Jan 4 | House | 1 | 0 |
| Great Yarmouth, Norfolk | Jan7 | House | 0 | 0 |
| Camperdown, Norfolk | Jan 7 | A hoax call about a house fire | 0 | 0 |
| Hopton, Norfolk | Jan 8 | A car | 0 | 0 |
| Northern Quarter, City of Manchester, Greater Manchester | December 30th | A 12-storey apartment building  | 0 | 1 |
| Slaidburn, Lanks | December 30th | Old stone cottage | 0 | 0 |
| Basingstoke, Hamps | December 10th | Closed pub | 0 | 0 |
| East Ardsley, W. Yorks | December 31st  | House | 0 | 0 |
| Nelson, Lancashire | December 29th | The 10 flats above Pendle Hair Centre Barbers | 0 | 0 |
| Skidbrooke, Links | December 31st | House | 0 | 0 |
| Patchway, Bristol.  | December 28th | 2 ajasent derelict houses in Little Stoke. | 0 | 0 |
| Middleham, Richmondshire, N. Yorks. | 31st | House | 0 | 0 |
| Rickinghall, Suffolk | December 31st | House | 0 | 0 |
| Raploch, Stirlingshire | December 29th  | House | 1 | 0 |
| Liverpool, Merseyside  | December 31st | The Liverpool Echo Arena's car park building | 0 | 0 |
| Gatehead, Tyne and Wear. | December 28th | A residential tower block's communal bins  | 0 | 0 |
| Yeovil, Somerset | December 30th | House | 0 | 0 |
| London zoo, Camden LB, Greater London | December 23rd | Zoo | Aardvarks and meerkats | o |
| Salford, Greater Manchester | December 11th | House | 4 | 1 |
| Worsley, Greater Manchester | December 12th | House | 2 | 2 |
| Woburn Safari Park, Bedfordshire | January 2nd | Safari park | Monkeys | 0 |
| Staples Corner, Barnet LB, Greater London | January 8th | A paint factory and the paint factory's warehouse. | 0 | 3 |
| Aylesbury, Bukinghamshire | 8th January | House | 0 | 0 |
| | | | | |
| | | | | |
| | | | | |
Irish cases.
[
]
Irish cases.

| Location. | Date. | Building type. | Dead. | Wounded. |
| --- | --- | --- | --- | --- |
| North Strand, Dublin | December 23th | House | 1 | 0 |
| Inishowen, Co Donegal. | December 18th | House | 1 | 0 |
| | | | | |
| | | | | |
Taiwanese cases.
[
]
Taiwanese cases.

| Location. | Date. | Building type. | Dead. | Wounded. |
| --- | --- | --- | --- | --- |
| Taoyuan's Luzhu District, Taiwan | Just before Dec 15 | A factory dormitory | 6 | 1 |
| Taoyuan's Luzhu District, Taiwan | Dec 14 | A factory | 11 | 1 |
| | | | | |
| | | | | |
American cases.
[
]
American casese.

| Location. | Date. | Building type. | Dead. | Wounded. |
| --- | --- | --- | --- | --- |
| The Bronx, NYC, NY. | January 2nd | Furniture store | 9-12 | 19-32 |
| The Bronx, NYC, NY. | December 28th | A 100 year old brick 4-storey apartment building. | 12 | 3 |
| Brooklyn, NYC, NY.  | December 12th | A derelict house. | 0 | 0 |
| Irish Channel, New Orleans, Louisiana | December 2nd | A derelict house. | 0 | 0 |
| Brazil, Indiana  | January 2nd | House. | 1 | 0 |
| Mount Airy, Maryland | Jan 8 | House | 0 | 0 |
| Edgewood, Maryland | Jan 8 | House | 0 | 0 |
| Green Way, Maryland | Jan 8 | House | 0 | 0 |
| Carnie Hedgepeth, N. Carolina | Jan 8 | 1st house | 0 | 0 |
| Carnie Hedgepeth, N. Carolina | Jan 8 | 2nd house | 0 | 0 |
| Manhattan, NYC, NY. | Jan 8 | Office block (Trump Tower) | 0 | 3 |
| Bond Brook, New Jersey | Jan 8 | Communal housing block | 1 | 0 |
| South Bond Brook, New Jersey | Jan 7 | House | A dog | 0 |
| Aurora, New Jersey | Dec 27 | House | 0 | 0 |
| Hillsborough, New Jersey | Jan 7 | House | Several pets | 0 |
| N\A, Martin County, N. Carolina | Jan 9 | House | 0 | 0 |
| South Pearl Street, N. Carolina | Jan 9 | House | 0 | 0 |
| Kansas City, Kansas. | Dec 13 | House | 3 | 0 |
| Chappaqua, NY | Jan 3 | Home of former President Bill Clinton | 0 | 0 |
| Indian hill, Ohio | Dec 8 | A pickup truck | 0 | 0 |
| Virginia Beach, Virginia | Dec 13 | House | 1 | 0 |
| Stratford, Connecticut | Dec 3 | A pickup truck | 0 | 0 |
| I-65 have reopened in Jackson County, Indiana. | Jan 10 | Semi-truck | 0 | 0 |
| Nalas, Essex, Connecticut | Jan 15 | Chemical plant | 0 | 0 |
| Mobile, Alabama | Dec 1 | House | 1 | 0 |
| Fowler, California | Jan 30 | House | 0 | 0 |
| Riverdale, Fresno county, California | Jan 19 | Abandoned house | 0 | 0 |
| Fresno, California | Jan 13 | House | 0 | 0 |
| South Valley, Tulare County, California | Jan 21 | House | 0 | 0 |
| Fresno, California | Jan 21 | House | 0 | 0 |
| Fresno, California | Jan 29 | House | 0 | 0 |
| Elsinore, California | Jan 29 | House | 2 | 0 |
| Riverside, California | Jan 12 | House | 0 | 0 |
| The hills east of Oakland, California | Dec 12 | 2-story house under construction | 0 | 0 |
| | | | | |
| | | | | |
| | | | | |
| | | | | |
| | | | | |
| | | | | |
| | | | | |
Australian cases
[
]
Australian cases.

| Location. | Date. | Building type. | Dead. | Wounded. |
| --- | --- | --- | --- | --- |
| Buchfield, S. Australia, Australia. | January 2nd | House | 0 | 1 |
| Brookdale, S. Australia, Australia. | December 22nd | House | 0 | 1 |
| Murray Bridge, Queensland, Australia. | January 4th | Abittour | 0 | 0 |
| | | | | |
| | | | | |
| | | | | |
Kenyan cases
[
]
Kenyan cases.

| Location. | Date. | Building type. | Dead. | Wounded. |
| --- | --- | --- | --- | --- |
| Nyeri Town, Kenya | Jan 8 | House | 1 | 0 |
| Nyeri County, Kenya | December 2017 | 25 houses | "Several" | Several |
| Nyeri Town, Kenya | Between Jan 1 and 7 inclusive | 2 houses | 3 in total | 0 |
| Nairobi, Kenya | Jan 1 | 1 car | 0 | 0 |
| | | | | |
Canadian cases
[
]
Canadian cases.

| Location. | Date. | Building type. | Dead. | Wounded. |
| --- | --- | --- | --- | --- |
| Oshawa, Ontario, Canada | Jan 9 | House | 4 | 3 |
| Pubnico Head, NS, Canada | Jan 7 | House | 4 | 1 |
| | | | | |
| | | | | |
Russian cases
[
]
Russian cases.

| Location. | Date. | Building type. | Dead. | Wounded. |
| --- | --- | --- | --- | --- |
| Kaluga, Kaluga Region, Russia | December 2nd | House | 7 | 0 |
| A village in Russia's Novosibirsk Region, Russia | December 28th | Shoe factory | 10 | 0 |
| Omsk, Omsk Region, Russia | Deccember 5th | A car | 0 | 0 |
| Novosibrisk Region, Russia | January 5th | Shoe factory | 10 | |
| | | | | |
Filipino cases
[
]
Filipino cases.

| Location. | Date. | Building type. | Dead. | Wounded. |
| --- | --- | --- | --- | --- |
| Pasay, Metro-Manila, Philippines. | Decmber 6th | A car | 0 | 0 |
| Pasay, Metro-Manila, Philippines. | Decmber 6th | A pickup truck | 0 | 0 |
| Manila, Metro-Manila, Philippines. | Decmber 6th | A pickup truck | 0 | 0 |
| Quezon City, Metro-Manila, Philippines. | Decmber 6th | A pickup truck | 0 | 0 |
| | | | | |
| | | | | |
S. Korean cases
[
]
S. Korean cases.

| Location. | Date. | Building type. | Dead. | Wounded. |
| --- | --- | --- | --- | --- |
| Jecheon, North Chungcheong province, S. Korea | December 26 | 8 story residential or office building | 29 | 0 |
| Jecheon, S. Korea | December 30th | 5 floor Sauner parlor | 29 | 18-29 |
| City of Miryang, S. Korea | January 26 | Large city hospital | 39 | 70 |
| | | | | |
Ukrainian cases
[
]
Ukrainian cases.

| Location. | Date. | Building type. | Dead. | Wounded. |
| --- | --- | --- | --- | --- |
| Kiev, Ukraine | December 16th | House | 0 | 0 |
| Kiev, Ukraine | December 3rd | Car | 0 | 0 |
| | | | | |
| | | | | |
All other known overseas cases
[
]
All other known overseas cases.

| Location. | Date. | Building type. | Dead. | Wounded. |
| --- | --- | --- | --- | --- |
| Thingangyun Township, Yangon, Myanmar. | December 14 | Factory | 0 | 1 |
| Rostock, Meklenigaburg, Germany | Dec 5 | A car | 0 | 0 |
| Downtown Dubai, UAE. | December 20th | A 10th story, 21st and 39th story cleaner's closet in a 65-storey residential tower block. | 0 | 0 |
| Bang Bon Tai, Bangkok, Thailand | December 12th | A derelict house. | 0 | 0 |
| Mumbai, India | December 29th | An upscale rooftop restaurant, reportedly illegally built, on the top of a converted brick colonial era mill. | 15 | 50 |
| Ningbo of Zhejiang Province, China | December 11 | Factory | 1 | 1 |
| SOWETO, Johannesburg in Gauteng, South Africa. | Dec 8 | A car | 0 | 0 |
| Muscat, Oman. | Dec 9 | A car | 0 | 0 |
| Caracas, Venezuela. | Dec 3 | A mini-van | 0 | 0 |
| Vila Nova da Rainha, Tondela, Portugal. | Jan 14 | 2 floor leisure centre | 8 | 35 |
| Prague, Czech Republic | Jan 21 | A hotel | 2 | "dozens" |
| | | | | |
| | | | | |
| | | | | |
| | | | | |
| | | | | |
Also see
[
]
Sources
[
]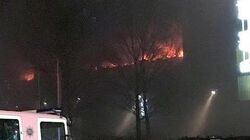 http://news.abs-cbn.com/global-filipino/12/10/15/pinay-dies-in-house-fire-in-qatar
http://www.chicagotribune.com/news/chicagoinc/ct-dmitry-firtash-0727-chicago-inc-20170726-story.html