| | |
| --- | --- |
| | IMPORTANT:This page has used Creative Commons Licensed content from Wikipedia in either a refactored, modified, abridged, expanded, built on or 'strait from' text content! |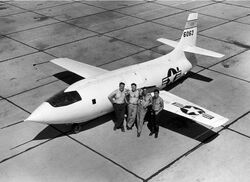 The X-planes are a series of experimental United States aircraft and rockets, used to test and evaluate new technologies and aerodynamic concepts. They have an X-designator, which indicates the research mission within the US system of aircraft designations.
Most of the X-planes have been operated by the National Advisory Committee for Aeronautics (NACA) or, later, the National Aeronautics and Space Administration (NASA), often in conjunction with the United States Air Force. The majority of X-plane testing has occurred at Edwards Air Force Base.
Some of the X-planes have been well publicised, while others, such as the Bell X-16, have been developed in secrecy for security concerns. The first, the Bell X-1, became well known after it became, in 1947, the first aircraft to break the sound barrier in level flight.
Most X-planes are not expected to go into full-scale production; one exception was the Lockheed Martin X-35, which competed against the Boeing X-32 during the Joint Strike Fighter Program and has entered production as the F-35.
Not all US experimental aircraft have been designated as X-planes; some received US Navy designations before 1962, while others have been known only by manufacturers' designations, non-'X'-series designations, or still classified codenames.
Notable American X-aircraft
Edit
Outside links
Edit
Community content is available under
CC-BY-SA
unless otherwise noted.