| | |
| --- | --- |
| | This page is under construction. and is still being written! Any major unauthorized edits will be reverted. |
| | |
| --- | --- |
| | IMPORTANT:This page has used Creative Commons Licensed content from Wikipedia in either a refactored, modified, abridged, expanded, built on or 'strait from' text content! |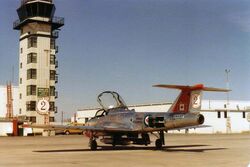 Data
[
]
Overview
[
]
Canadian Forces Base Moose Jaw (IATA: YMJ, ICAO: CYMJ), or CFB Moose Jaw, is a Canadian Forces Base located 4 nautical miles (7.4 km; 4.6 mi) south of Moose Jaw, Saskatchewan. It is operated as an air force base by the Royal Canadian Air Force and is home to flight training conducted by the Canadian Forces. Its primary RCAF lodger unit is 15 Wing, commonly referred to as 15 Wing Moose Jaw.
The base's airfield is named after Air Vice-Marshal Clifford McEwen and is one of only three military aerodromes in Canada to be named after an individual, Valcartier (W/C J.H.L. (Joe) Lecomte) Heliport and Cold Lake/Group Captain R.W. McNair Airport being the others.
CFB Moose Jaw's airfield is also used by civilian aircraft, with civilian operations at the base referring to the facility as Moose Jaw/Air Vice Marshal C.M. McEwen Airport.
The airport is classified as an airport of entry by Nav Canada and is staffed by the Canada Border Services Agency (CBSA). The customs service is restricted to 15 Wing - Moose Jaw aircraft only
History
[
]
A civilian flying club aerodrome was established on the site south-southwest of Moose Jaw in 1928 by the Moose Jaw Flying Club. Its location surrounded by flat open prairie proved to be an ideal training site.
1920s flying club
[
]
.
RCAF Station Moose Jaw
[
]
.
CFB Moose Jaw
[
]
.
Current operations
[
]
.
See also
[
]