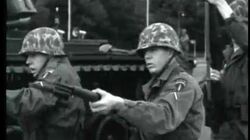 Checkpoint Charlie (or "Checkpoint C") was the name given by the Western Allies to the best-known Berlin Wall crossing point between East Berlin and West Berlin, during the Cold War.
It was made as a Allied border post in one of the few permitted places after the increased security measures in the divided city of Berlin as the Berlin Wall was erected.
Soviet and American tanks briefly faced each other at the location during the Berlin Crisis of 1961.
After the Cold War
Edit
After the dissolution of the Eastern Bloc and the reunification of Germany, the building at Checkpoint Charlie became a tourist attraction. It is now located in the Allied Museum in the Dahlem neighborhood of Berlin.
Many spy exstanges took place here during the Cold War.
It's physical size
Edit
A large, 1 floor port-a-cabin with an 15% bi-angled roof, a small exterior supply locker and a checkpoint road barrier.
Community content is available under
CC-BY-SA
unless otherwise noted.