| | |
| --- | --- |
| | IMPORTANT:This page has used Creative Commons Licensed content from Wikipedia in either a refactored, modified, abridged, expanded, built on or 'strait from' text content! |
What is femininity
[
]
Femininity (also called girlishness, womanliness or womanhood) is a set of attributes, behaviors, and roles generally associated with girls and women. Femininity is socially constructed, but made up of both socially-defined and biologically-created factors. This makes it distinct from the definition of the biological female sex, as both males and females can exhibit feminine traits.
People who exhibit a combination of both masculine and feminine characteristics are considered androgynous, and feminist philosophers have argued that gender ambiguity may blur gender classification. Modern conceptualizations of femininity also rely not just upon social constructions, but upon the individualized choices made by women.
Traits traditionally cited as feminine include gentleness, empathy, and sensitivity, though traits associated with femininity vary depending on location and context, and are influenced by a variety of social and cultural factors. In some non-English speaking cultures, certain concepts or inanimate objects are considered feminine or masculine (the counterpart to feminine).
These various items of clothing did and still have many normal uses and were part of normal and sporting fashions around the world, but these garments had also become the outfits warn by many of the Hippies, sexed-up teens, rebelliose teens and related groups in their era.
Whilst rebellious and rude teens naturally gravitated to wards rude and sexed-up stuff like miniskirts, Hippies chose new era stuff like caftans. The new-era idea was to promote these pretty items evoke a spirit of a long lost care-free, happy, bountyfull, peaceful, peasant cultured, environmentally friendly, non-capitalist and pre-modern working class world utopia; but sadly this image was generally a idealised myth constructed in a marijuana/LSD induced dope haze. Such people relay lived in poverty, got ill often, suffered a lot and were often discriminated against by rich people.
Overview
[
]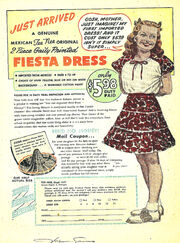 General issues
[
]
Due to the baby boom, there was a high demand for clothing for children. Children's clothing began to be made to a higher quality, and some even adopted trends popular with teenagers; many boys started wearing jeans to Elementary school. Many girls' and young women's dresses were styled after those of the older women.
Hats
[
]
With the New Look, and hats were essential for all but the most casual occasions. Wide-brimmed saucer hats were shown with the earliest New Look suits, but smaller hats soon predominated. Very short cropped hairstyles were fashionable in the early 1950s. By the mid-decade hats were worn less frequently.
Girl's 1930s and 1950s vintage dresses
[
]
Their origins
[
]
It was the marriage of a posh frock, prairie skirt\full skirt\1950's vintage full skirt and girly child fashions as one garment, who's roots go back to some combined girls' skirt and blouse styles of the 1890s.
1930s
[
]
There was the need for a smart dress for girls that did not have a military (navy) connection in the Interwar Years.
1930s vintage girls' dress
[
]
It was a colored garment formed of a loosely fitted A-line knee skirt, white belt, 1/4 length balloon sleeves, kick-up shoulders, fitted bodice and a peter pan or shirt style collar. A colored bow may be under the white collar to. The bodice may have an embroidered front and always buttoned up the back. Toddlers had full length puffed sleeves with white cuffs and a white frill or lacy band around the hemline of the skirt. It was a major Western European, American, Canadian, Australian, New Zealand, S. African and Irish fashion trend, which eventually got as far as parts of the the USSR, Poland and Japan. 
White, matching and contrasting lightly decorated aprons were common since it looked more grown up, protected toddler clothes during play and older children's clothes from dirt accrued whilst helping their parents in their household duties. This version die out in WW2.
1930s vintage Shirley Temple dress
[
]
It had a large square embroidered collar, no belt, no apron and buttoned up the front. It became popular in the UK and America along with the child movie starlets, Shirley Temple, who wore it often. Toddlers had full length puffed sleeves with white cuffs and a white frill or lacy band around the hemline of the skirt. It died out in the UK during WW2, but continued in the USA in to the mid 1950s.
1930s vintage Alice dress
[
]
Macmillan's Little Folks book of 1903 portrayed Alice in the blue and white proto-1950s vintage girls' dress with a white apron. The outfit was worn by some girls in the UK and USA during the 1930s. It was declined by 1939 and died out in the UK during WW2, but some continued in to the mid 1950s in the USA.
A 1907 edition of Alice in Wonderland portrayed her in a sailor dress and not her usual blue and white 'Alice dress'.
1940s
[
]
UK war time shortages meant that the frills, lace, aprons, embroideries and long toddler sleeves were removed. The waist bands contracted noticeably, as did the girls' waist bands under food rationing. For ease of access in an emergency situation involving children old enough to dress them selves, all new back fastening children dresses were redesigned to button up at the front or slip on like normal childrens' dresses did.
1950-1959
[
]
While the standard 1930s vintage Alice dress came back to a degree in the 1950s, a modified form would come forth with a vengeance and became a cult thing in the early to mid 1950s, especially for younger children in the UK. It had also added rickrack to it's decorations, the skirt was less A-shaped and the waist line had widened out like the girls' waist bands had due to more food.
The fitted nature of the dress was often abandoned for younger children and the back fastening was mostly changed from buttons to a zip for all ages. Cloth was of various colours and patterns. The skirts were now just below the knee length to. Aprons were now very rare and American versions were baggier round the waist than UK and Irish versions since they were plumper and also liked a looser fit. The front was on many occasions smock-stitched as a decoration and some had embroidery on the collar.
It was a major British fashion trend and popular in the USA, but also occurred as lesser Dutch, French, W. German, Canadian, Australian, New Zealand, S. African and Irish fashion trends.
Some style of the teens' and young adults' 1950's vintage dresses had very full skirts, some of which were shaped more like a wearing a Romantic tutu than a normal skirt, due to the massive petticoat below. This trend only occurred in the west during the mid 1950s and is now laughed at (as of 2017).
1950s vintage girls' smock-stitched dress
[
]
It had smock-stitched on it as a decoration and embroidery on the collar.
1950s vintage girls' rikrack dress
[
]
It had rickrack on it as a decoration and embroidery on the collar.
Rickrack (sometimes spelled ricrac) is a "flat narrow braid woven in zigzag form, used as a trimming for clothing or curtains." Before the prevalence of sewing machines and sergers, rickrack was used to provide a finished edge to fabric.
Made of cotton or polyester, rickrack is stitched or glued to the edges of an item. Its zig-zag configuration repeats every third of an inch (about one centimeter) and is sold in multiple colors and textures. Rickrack's popularity peaked in the 1970s and is associated with the Little House on the Prairie TV show and the pioneer sentiment brought about by the 1976 American bicentennial.
1950s vintage girls' non rickrack dress
[
]
It was the direct 'non-Alice' descendant of the 1930s version of the dress.
1950s patio and squaw rickrack dresses
[
]
1960-1970
[
]
The traditional fitted nature of the dress and some times the back fastening was dropped as the bodice and collar were elasticated. The front was on many occasions had smock-stitched as a decoration, that was now elasticated. Both the rickrack and coloured embroideries thread made the bodice look very decorative, but was deceptive, since the stretchy decoration pulled in a baggier bodice, thus making it very tightly fitting whilst also allowing room both to move and to get in it with out fastenings. The waste band and collar were made of elastic cloth as a norm on the non-fastening types and at times on fastening types to. It's popularity had imploded outside the UK by 1970.
1975-1985
[
]
It still held some sway as posh clothing for special occasions and for small children. .
1980s girls' vintage party dress
[
]
.
1985-1995
[
]
It was to be mainly associated with dresses for babies and toddlers and younger children no longer wore them by the mid 1990s. The skirts were made like Prairie skirts at this time.
2000-2005
[
]
They were worn by a few babies in the UK, Ireland, Australia and the USA.
1980s school acceptance note
[
]
Allowed providing it was longer than knee length and was in school colours.
Women's cloth bonnets and caps
[
]
Overview
[
]
They were various tie-on head coverings made of cloth created at various times before 1900 for both decoration, modesty and head protection. They had a mini-revival in the early 1950s, late 1960s and early 1970s, especially for young girls.
Their origins
[
]
A Dutch cap or Dutch bonnet is a style of woman's hat associated with the various traditional Dutch woman's costumes. Usually made of white cotton or lace, it is sometimes characterised by triangular flaps or wings that turn up on either side. It can resemble some styles of nurse's cloth\paper uniform hat. It is now part of the traditional costumes of the Netherlands. Many parts of the Netherlands have their own traditional costumes and other Western European nations also us similar caps. A less lacy and show-offish version was worn by agricultural workers in North America, Australasia and Western Europe. Sorbian bonnets were similar, but made out of heavy cloth and did not have the option of a back of the neck protecting flap, since their primary role was to keep heads and ears warm in the bitter weather of eastern Germany.  
The Pioneer Bonnet/Western Women's Pioneer/Prairie Sunbonnets/Children's Pioneer Prairie Sunbonnet were a versatile accessory in pioneer days of mid to late 19th century. It was the meting point of modesty, ear protection and hair protection in cloth.
A mob cap or mob-cap is a round, gathered or pleated cloth (usually linen) bonnet consisting of a caul to cover the hair, a frilled or ruffled brim, and (often) a ribbon band, with a full crown, worn by married women in the British Georgian period, when it was called a "bonnet". Originally an informal style, the bonnet became a high-fashion item as part of the adoption of simple "country" clothing in the later 18th and early 19th centuries. It was an indoor fashion, and was worn under a hat for outdoor wear. During the French Revolution, the name "Mob Cap" caught on because the poorer women who were involved in the riots (riotus mobs) wore them, but they had been in style for middle class and even aristocracy since the century began.
By the British Victorian period, mob caps lingered as the head covering of servants and nurses, and small mob caps, not covering the hair, remained part of these uniforms into the early 20th century.
All of them were common for girls and some younger teenage women in the 19th and early 20th Centuries as a way to keep their heads warm in damp and chilly houses; or as a cover for their heads after they had been shaved due to either fever, ringworm and\or fleas. Agricultural and peasent labourers wore them to protect their heads and hair.
1920-1959
[
]
The Great British Flea and Ringworm Outbreak of the mid to late 1920s and the damp, unheated housing during the Great Depression lead to them becoming a girls' dress norm and a teenage girls' common article of clothing. All bonnets became useful during WW2 as bombed out families lived in barns, basements, ruins and tents. The thinker Sorbian bonnet and knitted versions of all bonnet types were popular. This re-occurrence had fizzled out by 1955.
1960-1980
[
]
They had a mini-revival of the cloth variants in the late 1960s and early 1970s, especially for girls. They were cheep and easy made as well as ruralistic, pretty, femanine, anti-capitalist and environmentally friendly. It started to get traction in about 1962 and had taken off by about 1969. It was prey much over by 1975 and had passed out of fashion 1977.
The comeback
[
]
Today's girls' party wear may include any of them on occasion. The modern adult versions of mob caps are still worn in the pharmaceutical industry, in clean-rooms, and in other sectors where the hair has to be contained to avoid contamination of stuff. These mob caps are usually a simple circle shape with an elastic band and may be made of disposable materials such as polyethylene, spun-bound polypropylene or of nylon netting.
1980s school acceptance note
[
]
Banned.
Poodle skirt
[
]
A poodle skirt is a wide swing felt skirt of a solid color (often pink or powder blue) displaying a design appliquéed or transferred to the fabric. The design was often a coiffed poodle. Later substitutes for the poodle patch included flamingoes, flowers, and hot rod cars. Hemlines were to the knee or just below it.
The skirt originated in the 1950s in the United States, designed by Juli Lynne Charlot. It quickly became very popular with teenage girls, who wore them at sock hops (school dances), and as everyday wear.
The skirt was easy for people to make at home, since the design was simple and the materials easily available.
Movie stars commonly wore this skirt, and it featured widely in magazines and advertising, and many were eager to keep up with Hollywood's fashions, adding to its popularity.
The poodle skirt remains one of the most memorable symbols of 1950s Americana and is frequently worn as a novelty retro item, part of a nostalgic outfit. A similar design of these skirts became popular in the years 2009-2010. The skirts had been shortened, and the band had stayed.
Some style of the teens' and young adults' 1950's Poodle skirts were very full skirts, some of which were shaped more like a wearing a Romantic tutu than a normal skirt, due to the massive petticoat below. This trend only occurred in the west during the early to mid 1950s and is now laughed at (as of 2017).
1950's vintage full skirt
[
]
Some style of the teens' and young adults' 1950's regular skirts were very full skirts, some of which were shaped more like a wearing a Romantic tutu than a normal skirt, due to the massive petticoat below. This trend only occurred in the west during the early to mid 1950s and is now laughed at (as of 2017).
Sailor dresses
[
]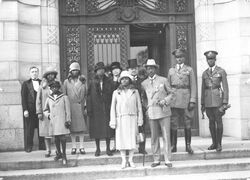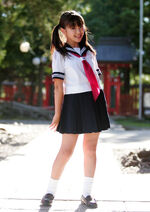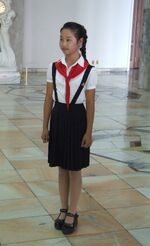 A sailor dress is a child's or woman's dress that follows the styling of the sailor suit, particularly the bodice and collar treatment. A sailor-collared blouse is called a middy blouse (middy derives from midshipman). In early 20th century America, sailor dresses were very popularly known as Peter Thomson dresses after the former naval tailor credited with creating the style.
Their origins
[
]
Dresses with sailor styling were known before the Peter Thomson design took hold. In Sweden in 1887, a 'sailor dress' with natural waist and pleated skirt was among the designs promoted by the dress reform movement as appropriate for young girls. It had got to Hawaii by about 1894.
Peter Thomson (sometimes spelled Thompson) had tailoring establishments in New York and Philadelphia in around 1900. His original sailor dresses and suits, for both women and children (including young boys) are represented in several American museum collections including the Metropolitan Museum's Costume Institute, and the Philadelphia Museum of Art. The 'Peter Thomson dress' was made from cotton or linen for summer wear, or wool in winter. It was promoted as an ideal costume or uniform for female students and schoolchildren, and was popular with those trying to establish a "standardized style" of clothing.
A 1907 edition of Alice in Wonderland portrayed her in a salor dress and not her usual blue and white 'Alice dress'.
1910-1930 
[
]
They would also become a major out of school child and adolescent fashion craze in the UK, Ireland, Australia, Canada, New Zealand and the USA between about 1910 and 1930.
By 1919, the Peter Thomson dress was regarded as a valid option for school Western uniform and was described as synonymous with "good taste for girls of 14-18 years old for many years." Peter Thomson styling was also applied to the bodices of early female bathing costumes for all ages.
Some young and middle aged British, Australian and American women also wore sailor dresses in the 1900s and 1910s.
1935-1965
[
]
They also were worn in both adolescents in Poland and older children parts of the USA during the late 1930s. They were worn often, especialy at parties, special days and to church. It bacme a major trend in the 1950s, sepecialy in the USA.
Adults wore them to varying degrees in the UK, Canada and USA between about 1930 and about 1959.
Although sailor styling is sometimes seen on women's dresses, principally the late teens and 20-somethings, since the mid-20th century it is mainly associated with dresses for babies and small children.
They took off in Japan in the 1920s as school uniform and became popular after the mid to late 1960s. A dumbed down variant occurred in parts of Thailand as school uniform at about the same time.
Sailor fuku
[
]
The sailor fuku (セーラー服 sērā fuku, Sailor outfits) is a common style of uniform worn by female middle school students, traditionally by high school students, and occasionally, elementary school students. It was introduced as a school uniform in 1920 in Heian Jogakuin (平安女学院) and 1921 by the principal of Fukuoka Jo Gakuin University (福岡女学院), Elizabeth Lee. It was modeled after the uniform used by the British Royal Navy at the time, which Lee had experienced as an exchange student in the United Kingdom.
Much like the male uniform, the gakuran, the sailor outfits bears a similarity to various military styled naval uniforms. The uniform generally consists of a blouse, with a sailor-style collar and a pleated skirt. There are seasonal variations for summer and winter: the sleeve length and fabric are adjusted accordingly. A ribbon is tied in the front and laced through a loop attached to the blouse. Several variations on the ribbon include neckties, bolo ties, neckerchiefs, and bows. Common colors are navy blue, white, grey, light green and black.
Shoes, socks, and other accessories are sometimes included as part of the uniform. These socks are typically navy or white. The shoes are typically brown or black penny loafers. Although not part of the prescribed uniform, alternate forms of legwear (such as loose socks, knee-length stockings, or similar) are also commonly matched by more fashionable girls with their sailor outfits.
The sailor uniform today is generally associated solely with junior high schools, since a majority of (though by no means all) high schools have changed to more Western-style plaid skirts or blazers.
1975-1995
[
]
During the late 20th century sailor styling became associated with maternity dresses and Japanes school girls, which has led to some negativity towards sailor styles for womenswear and the general idea of a woman dressing 'like a child'. They were also worn by children of 10 years old or less. Sailor dress were to be worn occasionally by girls in the UK during early 1980s, but was also sometimes worn by teenagers and 20-somethings. They then had a comback in the late 1980s and even more so in the early 1990s for older children to were.
It was to be mainly associated with dresses for babies and small children by 1990, but was also only occasionally worn by teenagers and 20-somethings until the mid 1990s, when they abandoned it.
The comeback
[
]
It was only baby an toddler wear after 2000. The maternity clothing designer Liz Lange declared in 2007 that "She shouldn't have to dress like a child just because she's having a child; it's one thing to put a toddler in a sailor suit but it's another thing completely to condemn a grown woman to such a fate."
1980s school acceptance
[
]
Allowed as long as it was in school colours, not too tight, longer than knee length and shorter than mid shin\mid calf length.
'Pinaforing', also called 'petticoating' boys
[
]
Cultural background
[
]
Breeching was the occasion when a small boy was first dressed in breeches or trousers. From the mid-16th century until the late 19th or early 20th century, young boys in the Western world were unbreeched and wore gowns or dresses until an age that varied between two and eight. Various forms of relatively subtle differences usually enabled others to tell little boys from little girls, in codes that modern art historians are able to understand.
Breeching was an important rite of passage in the life of a boy, looked forward to with much excitement, and often celebrated with a small party. It often marked the point at which the father became more involved with the raising of a boy.
The main reason for keeping boys in dresses was toilet training, or the lack thereof. The change was probably made once boys had reached the age when they could easily undo the rather complicated fastenings of many early modern breeches and trousers. Before roughly 1550 various styles of long robes were in any case commonly worn by adult males of various sorts, so boys wearing them could probably not be said to form a distinct phenomenon. Dresses were also easier to make with room for future growth, in an age when clothes were much more expensive than now for all classes. The "age of reason" was generally considered to be about seven, and breeching corresponded roughly with that age for much of the period.
For working-class children, about whom we know even less than their better-off contemporaries, it may well have marked the start of a working life. The debate between his parents over the breeching of the hero of Tristram Shandy (1761) suggests that the timing of the event could be rather arbitrary; in this case it is his father who suggests the time has arrived. The 17th-century French cleric and memoirist François-Timoléon de Choisy is supposed to have been dressed in girls' clothes until he was eighteen.
The phenomena
[
]
Pinaforing, also called petticoating, transvestite punishment, girly punishment and cross-dressing punishment, is a type of forced feminization that involves dressing a man or boy in girls' clothing. While the practice has come to be a rare, socially unacceptable form of humiliating punishment, it has risen up as both a subgenre of erotic literature or other expression of sexual fantasy.
There is some evidence that "petticoat punishment" has occasionally been used as a form of discipline, with credible stories of such going back at least to Victorian times. UK, Irish and American folk history and many unatested claimes sugest it was more common at times
"Petticoat punishment," as a sexual fetish interest, involves imagining or reenacting this scenario. However, as a fetish interest, these activities are usually heavily exaggerated and sexualized, including elaborate humiliation and public nudity. They often involve the male being feminized into a sissy by a powerful female presence (often a mother or aunt) in front of his cousins, sisters, or in some cases, girls of his own age whom he had offended by his boorish behavior.
Petticoating roleplay may include being forced to wear makeup and to carry dolls, purses, and other items associated with girls. Sometimes, boys were made to perform tasks that they considered to be "girls' work" and to appear in public in girls' clothing with their mothers, who occasionally dressed in matching outfits. Some people claim that for the mothers, pinaforing sometimes had a sexual context, and many mothers who disciplined their sons in this fashion either had long wanted daughters or found it erotic to feminize their sons. In addition, according to the folklore of people with this condition, this type of castigation is found in the history of some of those who later develop transvestic fetishism.
Kinky adults
[
]
Petticoat discipline also occurs in the context of some marital relationships, as a means by which a wife may exert control over her husband. This may involve various items of feminine clothing or underwear in a variety of contexts, ranging from the husband having to wear a feminine apron around the house whilst performing household chores, to the wife insisting that the husband wear a brassiere and/or panties on a full-time basis under ordinary male clothing. In all such circumstances, there is a strong reliance on the element of humiliation, whether actual or potential, should the husband's secret be discovered.
Legality
[
]
Petticoating a child is illegal in many Islamic states. It is considered highly immoral to punish a child in this fashion, but still exists in many of the Commonwealth states in a small extent as a legal practice as long as the child is not being sexually abused. The thin line between petticoating and child sexual abuse has been a serious factor in petticoating, and has at least one occasion, led to a child sexual abuse charge.
Petticoating as a sexual-roleplay activity is generally considered legal, with the exception of going into public in an obscene fashion, causing public disturbances or indecent exposure.
Girls fashions used to humiliate boys
[
]
The phenomena started in the early 18th century amongst well-to-do families and became a thing with the general public by the mid 19th century. It peaked with in the general public in the 1880s, 1900s, 1930s and the 1950s. It tailed off in the 1970s died out in the 1980s because it was considered kinky, damaging to the victim's sexuality, a form of torture and a form of child abuse.
Generally it was contemporary to the time it took place in, but some trends did occur.
All times- girl's school uniform
Whatevers stuff is in their sister's\ their neighbor's daughter's wardrobe.
1900s- If he regularly wore a sailor suit, he was given a sailor dress.
1950s and 1960s- 1950s vintage girls' smock-stitched dress.
1981-88 Berkshire feminine school uniform styles
[
]
For more see:

1981-88 Berkshire feminine school uniform styles by numbers

.
The generation factor
[
]
As far as I can tell the collapsed standard of living among older people stirred anger amongst the baby boomer generation. They thought they could rebuild build the UK not for the nation's good, but for there own long turm personal gain. Their kids were split between what could be termed as relatively normal folk and the Yuppies and or Blairites, who's reckless and semi-criminal boom soon collapsed. This was soon followed by a economically rigged come criminal insane global mess (of which the UK was a leading part of it) that led to a near fatal world collapse ~10 years later in 2008. The Millennials, who are digitally native, generally enjoy living and working in urban areas are narcissism, state\cooperate servile, obsessed with self-entitlement, politically detached, money grubbing, anti-green, ideologically void and sports mad. The non-compliant remnant of current teenagers and most kids are lost, going delinquent, dropping out of society, unwanted and without hope; since they are disowned by their parents and hated by there grand-parents (ironic realy, since this generation called their oldies trash in the 1960's and 1970s). The baby boomers now hate any one that is not them or vasselating to them, calling all change a teenage/immigrant plot against them (ironic realy, since this generation wanted to rewrite socialite's rules in the 1960's and 1970s). The new problem is that 18-45 year old men now regularly kill themselves, especially by suicide by train in the First Great Western zone of operation since ~2016!
Usefull % calculator site links
[
]
Also see
[
]
Sources
[
]
http://4.bp.blogspot.com/-vzZfT3HO88g/Uh9QYrOQFTI/AAAAAAAAVGY/6vRJfbpocB4/s1600/Sharpstein+School+Kindergarten,+1950-51.JPG
http://cdn2.bigcommerce.com/n-zfvgw8/ya1gqmao/product_images/theme_images/feltman_1__93546.jpg?t=1487001271
ttps://s-media-cache-ak0.pinimg.com/736x/47/c8/3f/47c83ffc28ce294a85e292d64661fdf2.jpg
http://www.telegraph.co.uk/news/2017/06/05/david-camerons-former-aide-steve-hilton-calls-theresa-may-resign/
https://images.search.yahoo.com/images/view;_ylt=AwrB8p_QQtNYDWAAopWJzbkF;_ylu=X3oDMTIyajJsM3A4BHNlYwNzcgRzbGsDaW1nBG9pZANkY2NmZjdmNWYwNDExM2UxOTUyMzA1MzAyNTI1MzUwOQRncG9zAzUEaXQDYmluZw--?.origin=&back=https%3A%2F%2Fimages.search.yahoo.com%2Fsearch%2Fimages%3Fp%3Dsailor%2Bdress%2Bphoto%2Bchildren%2Bold%26n%3D60%26ei%3DUTF-8%26fr%3Dyset_chr_cnewtab%26fr2%3Dsb-top-images.search.yahoo.com%26tab%3Dorganic%26ri%3D5&w=570&h=528&imgurl=img1.etsystatic.com%2F049%2F0%2F6107039%2Fil_570xN.663935977_e59p.jpg&rurl=https%3A%2F%2Fwww.etsy.com%2Flisting%2F206239048%2Fvintage-sailor-girl-nautical-dressbaby&size=23.3KB&name=%3Cb%3EVintage%3C%2Fb%3E+%3Cb%3ESAILOR%3C%2Fb%3E+GIRL+Nautical+%3Cb%3EDress%3C%2Fb%3E....baby+girl+%3Cb%3Edress%3C%2Fb%3E.+blue+%3Cb%3Edress%3C%2Fb%3E+...&p=sailor+dress+photo+children+old&oid=dccff7f5f04113e19523053025253509&fr2=sb-top-images.search.yahoo.com&fr=yset_chr_cnewtab&tt=%3Cb%3EVintage%3C%2Fb%3E+%3Cb%3ESAILOR%3C%2Fb%3E+GIRL+Nautical+%3Cb%3EDress%3C%2Fb%3E....baby+girl+%3Cb%3Edress%3C%2Fb%3E.+blue+%3Cb%3Edress%3C%2Fb%3E+...&b=0&ni=128&no=5&ts=&tab=organic&sigr=12dd6cfb3&sigb=1552nogip&sigi=11t66u3fd&sigt=138n5dn6r&sign=138n5dn6r&.crumb=TfIQHt0BuPQ&fr=yset_chr_cnewtab&fr2=sb-top-images.search.yahoo.com
https:://s-media-cache-ak0.pinimg.com/236x/46/28/41/462841f5239311cf405b65633d480136.jpg
https://images.search.yahoo.com/images/view;_ylt=AwrB8pcjQ9NYHXMAtXmJzbkF;_ylu=X3oDMTIzZWw1aTIwBHNlYwNzcgRzbGsDaW1nBG9pZANiOGI3NjI5ZjJlZTczNDI2YzQ3MTYyNjU1NTBjZmZhNQRncG9zAzI2BGl0A2Jpbmc-?.origin=&back=https%3A%2F%2Fimages.search.yahoo.com%2Fsearch%2Fimages%3Fp%3Dsailor%2Bdress%2Bphoto%2Bchildren%2Bold%2Bpinterest%26norw%3D1%26n%3D60%26ei%3DUTF-8%26fr%3Dyset_chr_cnewtab%26fr2%3Dsp-qrw-corr-top%26tab%3Dorganic%26ri%3D26&w=236&h=355&imgurl=s-media-cache-ak0.pinimg.com%2F236x%2F5a%2Fea%2Fb8%2F5aeab89d88d31a7168082201ae501bc1.jpg&rurl=https%3A%2F%2Fde.pinterest.com%2Fkhaygomez%2Fvintage%2F&size=21.1KB&name=...+favourite+%3Cb%3Esailor%3C%2Fb%3E+outfit+and+we+were+off.+%3Cb%3Evintage%3C%2Fb%3E+%3Cb%3Esailor%3C%2Fb%3E+glamour%21+Mehr&p=sailor+dress+photo+children+old+pinterest&oid=b8b7629f2ee73426c4716265550cffa5&fr2=sp-qrw-corr-top&fr=yset_chr_cnewtab&tt=...+favourite+%3Cb%3Esailor%3C%2Fb%3E+outfit+and+we+were+off.+%3Cb%3Evintage%3C%2Fb%3E+%3Cb%3Esailor%3C%2Fb%3E+glamour%21+Mehr&b=0&ni=128&no=26&ts=&tab=organic&norw=1&sigr=11bbjr2sq&sigb=158jolpib&sigi=12f70rs41&sigt=12ub4f41f&sign=12ub4f41f&.crumb=TfIQHt0BuPQ&fr=yset_chr_cnewtab&fr2=sp-qrw-corr-top&norw=1
https://images.search.yahoo.com/images/view;_ylt=AwrB8ptmQ9NYbmwALauJzbkF;_ylu=X3oDMTIzZ2Y1NjA2BHNlYwNzcgRzbGsDaW1nBG9pZAMxNDMyZmY2ZTEwN2VlN2RjYzllOTgxNWQ4NTdhMzhmYgRncG9zAzc1BGl0A2Jpbmc-?.origin=&back=https%3A%2F%2Fimages.search.yahoo.com%2Fsearch%2Fimages%3Fp%3Dsailor%2Bdress%2Bphoto%2Bold%2Bpinterest%26n%3D60%26ei%3DUTF-8%26fr%3Dyset_chr_cnewtab%26fr2%3Dsb-top-images.search.yahoo.com%26nost%3D1%26tab%3Dorganic%26ri%3D75&w=500&h=821&imgurl=3.bp.blogspot.com%2F-Z8CHxPhILRA%2FUkswmUrg0JI%2FAAAAAAAACnM%2FA3bop9Kv57Y%2Fs1600%2Fnavy%2Blaura%2Bashley%2Bsailor%2Bdress%2Bvintage.jpg&rurl=http%3A%2F%2Ffancydresscapades.blogspot.com%2F2013%2F10%2Fa-vintage-sailor-dress-by-laura-ashley.html&size=42.5KB&name=Here%26%2339%3Bs+a+look+at+the+side+of+the+%3Cb%3Edress%3C%2Fb%3E+too+and+the+back+of+my+hair+...&p=sailor+dress+photo+old+pinterest&oid=1432ff6e107ee7dcc9e9815d857a38fb&fr2=sb-top-images.search.yahoo.com&fr=yset_chr_cnewtab&tt=Here%26%2339%3Bs+a+look+at+the+side+of+the+%3Cb%3Edress%3C%2Fb%3E+too+and+the+back+of+my+hair+...&b=61&ni=160&no=75&ts=&tab=organic&sigr=12p7ggs0u&sigb=15emi718d&sigi=13j336b21&sigt=12h3r7bve&sign=12h3r7bve&.crumb=TfIQHt0BuPQ&fr=yset_chr_cnewtab&fr2=sb-top-images.search.yahoo.com
https://images.search.yahoo.com/images/view;_ylt=AwrB8ptmQ9NYbmwAL6uJzbkF;_ylu=X3oDMTIzZzJqdHU2BHNlYwNzcgRzbGsDaW1nBG9pZAM4MTUzYTJhZGJiYWJlY2FkNjQxNWE4YTFmODc1OGY2MgRncG9zAzc3BGl0A2Jpbmc-?.origin=&back=https%3A%2F%2Fimages.search.yahoo.com%2Fsearch%2Fimages%3Fp%3Dsailor%2Bdress%2Bphoto%2Bold%2Bpinterest%26n%3D60%26ei%3DUTF-8%26fr%3Dyset_chr_cnewtab%26fr2%3Dsb-top-images.search.yahoo.com%26nost%3D1%26tab%3Dorganic%26ri%3D77&w=800&h=732&imgurl=3.bp.blogspot.com%2F-k4hJl5-a-n8%2FUg_qWacnlJI%2FAAAAAAAAChM%2FULaayGlggEw%2Fs1600%2Fvintage%2Bsailor%2Bdress.jpg&rurl=http%3A%2F%2Ffancydresscapades.blogspot.com%2F2013%2F10%2Fa-vintage-sailor-dress-by-laura-ashley.html&size=95.4KB&name=...+blog%2C+check+out+this+page+for+loads+of+gorgeous+%3Cb%3Esailor%3C%2Fb%3E+%3Cb%3Edress%3C%2Fb%3E+pictures&p=sailor+dress+photo+old+pinterest&oid=8153a2adbbabecad6415a8a1f8758f62&fr2=sb-top-images.search.yahoo.com&fr=yset_chr_cnewtab&tt=...+blog%2C+check+out+this+page+for+loads+of+gorgeous+%3Cb%3Esailor%3C%2Fb%3E+%3Cb%3Edress%3C%2Fb%3E+pictures&b=61&ni=160&no=77&ts=&tab=organic&sigr=12p7ggs0u&sigb=15et784kt&sigi=131k18hq5&sigt=12ncnjfks&sign=12ncnjfks&.crumb=TfIQHt0BuPQ&fr=yset_chr_cnewtab&fr2=sb-top-images.search.yahoo.com
httpsS://s-media-cache-ak0.pinimg.com/736x/71/bc/69/71bc697c4f378ed7ebc0e9be863e75e9.jpg
https:S//s-media-cache-ak0.pinimg.com/236x/04/75/e7/0475e7c0af50d538d5bf4f70c92959b8.jpg
https:://i.stack.imgur.com/KtVsG.jpg
httpsS://s-media-cache-ak0.pinimg.com/236x/d6/08/74/d608749e5abaf7999e6ae7bcb29020e7.jpg
https:://smudgetikka.files.wordpress.com/2010/10/belle-heir-plaid-dress-3yr-1950s.jpg
https:://s-media-cache-ak0.pinimg.com/236x/e4/6e/59/e46e5971068ae9355454872dfed20d3d.jpg
https:://img1.etsystatic.com/000/0/5276264/il_fullxfull.87707353.jpg
https:://s-media-cache-ak0.pinimg.com/236x/c1/4d/b3/c14db3fe7eed115fdf04319db16c8021.jpg
https:://s-media-cache-ak0.pinimg.com/236x/a5/bb/ef/a5bbef720c177710b2494c755a130652.jpg
https:://s-media-cache-ak0.pinimg.com/236x/43/14/ef/4314ef5e99b521cfc705df345ca58428.jpg
https:://community.dur.ac.uk/4schools.resources/victoriandurham/Images/sailorsuitslg.jpg
https:://s-media-cache-ak0.pinimg.com/236x/f5/ae/4a/f5ae4aa643cdc057180117b8863a7bbf.jpg
http://4.bp.blogspot.com/-vzZfT3HO88g/Uh9QYrOQFTI/AAAAAAAAVGY/6vRJfbpocB4/s1600/Sharpstein+School+Kindergarten,+1950-51.JPG
https:://s-media-cache-ak0.pinimg.com/236x/41/54/7e/41547e2cf4927512d03a3d109db8d7f1.jpg
https://www.bing.com/images/search?view=detailV2&ccid=g3CS4PK%2f&id=AC5E2FF91AC3F5C8AE17AECD3D402DC22A35D7D0&q=1950s+girls+fashion&simid=608049065625322532&selectedIndex=66&ajaxhist=0
https://www.bing.com/images/search?view=detailV2&ccid=iEO8A2%2Bd&id=D971EF078E24FDA1C3D4167EBF603DE1AA21952D&q=1950s+girls+fashion&simid=608048176571746595&selectedindex=63&mode=overlay&first=1&thid=OIP.iEO8A2-dOZFZ8fluPyBq7QC0Es
https://images.search.yahoo.com/images/view;_ylt=AwrB8qFWZ8BY03EAqVWJzbkF;_ylu=X3oDMTIzZDZkbTkzBHNlYwNzcgRzbGsDaW1nBG9pZAMwNTRjOTVjMzhiZDhjMGU3N2Y1MDA4NWJlNWVmZjlmZQRncG9zAzE0BGl0A2Jpbmc-?.origin=&back=https%3A%2F%2Fimages.search.yahoo.com%2Fsearch%2Fimages%3Fp%3D1950s%2Bgirls%2Bfashion%26fr%3Dyset_chr_cnewtab%26fr2%3Dpiv-web%26tab%3Dorganic%26ri%3D14&w=430&h=354&imgurl=ny-image1.etsy.com%2Fil_430xN.88551337.jpg&rurl=http%3A%2F%2Fwww.keyword-suggestions.com%2FMTk1MHMgZ2lybHMgZmFzaGlvbg%2F&size=24.8KB&name=%3Cb%3E1950s+Girls+Fashion%3C%2Fb%3E+Related+Keywords+%26+Suggestions+-+%3Cb%3E1950s%3C%2Fb%3E+%3Cb%3EGirls%3C%2Fb%3E+...&p=1950s+girls+fashion&oid=054c95c38bd8c0e77f50085be5eff9fe&fr2=piv-web&fr=yset_chr_cnewtab&tt=%3Cb%3E1950s+Girls+Fashion%3C%2Fb%3E+Related+Keywords+%26+Suggestions+-+%3Cb%3E1950s%3C%2Fb%3E+%3Cb%3EGirls%3C%2Fb%3E+...&b=0&ni=21&no=14&ts=&tab=organic&sigr=11u3kbcsh&sigb=13ls4p5hm&sigi=118icd1i7&sigt=12pv3vcjb&sign=12pv3vcjb&.crumb=EX1.VMAVBOz&fr=yset_chr_cnewtab&fr2=piv-web
https:://s-media-cache-ak0.pinimg.com/236x/93/cd/04/93cd04cf9c30f33ed62327127b001d65.jpg
https://images.search.yahoo.com/images/view;_ylt=AwrB8phiZ8BYaXAAElCJzbkF;_ylu=X3oDMTIzNzY5ZjdtBHNlYwNzcgRzbGsDaW1nBG9pZAM3MjQ2NTlkZTk5MTBkY2QzZDU3MWI4NGZmYzc5MTJkNwRncG9zAzc0BGl0A2Jpbmc-?.origin=&back=https%3A%2F%2Fimages.search.yahoo.com%2Fsearch%2Fimages%3Fp%3D1950s%2Bgirls%2Bfashion%26fr%3Dyset_chr_cnewtab%26fr2%3Dpiv-web%26nost%3D1%26tab%3Dorganic%26ri%3D74&w=208&h=196&imgurl=www.thepeoplehistory.com%2Fimagesnewproject%2F52girlsdresses.jpg&rurl=http%3A%2F%2Fwww.keyword-suggestions.com%2FMTk1MHMgbGl0dGxlIGdpcmxzICBmYXNoaW9u%2F&size=+6.5KB&name=%3Cb%3E1950s%3C%2Fb%3E+Little+%3Cb%3EGirls%3C%2Fb%3E+%3Cb%3EFashion%3C%2Fb%3E+Related+Keywords+%26+Suggestions+-+%3Cb%3E1950s%3C%2Fb%3E+...&p=1950s+girls+fashion&oid=724659de9910dcd3d571b84ffc7912d7&fr2=piv-web&fr=yset_chr_cnewtab&tt=%3Cb%3E1950s%3C%2Fb%3E+Little+%3Cb%3EGirls%3C%2Fb%3E+%3Cb%3EFashion%3C%2Fb%3E+Related+Keywords+%26+Suggestions+-+%3Cb%3E1950s%3C%2Fb%3E+...&b=61&ni=21&no=74&ts=&tab=organic&sigr=128armmul&sigb=13sa8l2hh&sigi=11s83bfbg&sigt=1315n44a9&sign=1315n44a9&.crumb=EX1.VMAVBOz&fr=yset_chr_cnewtab&fr2=piv-web
http://www.edinphoto.org.uk/0_g_p/0_groups_and_outings_sciennes_school_1947-49_and_miss_clapperton.htm
https:://img1.etsystatic.com/104/1/7965113/il_570xN.1087780247_7tev.jpg
https://images.search.yahoo.com/images/view;_ylt=AwrB8pk_GrdYcEIAHx2JzbkF;_ylu=X3oDMTIzMTAybzh2BHNlYwNzcgRzbGsDaW1nBG9pZAM3NjFjZGY4MDNjOTJmNjkzNmVlMWFmMzRhNzQ1OGYyYwRncG9zAzIyBGl0A2Jpbmc-?.origin=&back=https%3A%2F%2Fimages.search.yahoo.com%2Fsearch%2Fimages%3Fp%3Dgirls%2Brickrack%2Bdress%26fr%3Ddss_yset_chr%26h%3D721%26tt%3D...%2Bat%2Bthis%2BRed%2B%2526%2BBlue%2BRickrack%2BDress%2B-%2BInfant%2B%2526%2BGirls%2Bon%2Bzulily%2Btoday%26w%3D600%26imgurl%3Dhttp%253A%252F%252Fmedia-cache-ak0.pinimg.com%252F736x%252Fcc%252Faf%252F47%252Fccaf47138dff9cdde8cc10f666f65306.jpg%26rurl%3Dhttp%253A%252F%252Fpinterest.com%252Fpin%252F43839796345860514%252F%26turl%3Dhttp%253A%252F%252Fts3.mm.bing.net%252Fth%253Fid%253DOIP.UoyPDKMyPfEZo5hNkqcUWwD5Es%2526pid%253D15.1%2526rs%253D1%2526c%253D1%2526qlt%253D95%2526w%253D95%2526h%253D116%26tw%3D95%26th%3D116%26sigr%3D11b7ft0p2%26sigi%3D12dabk2et%26sigt%3D126upqlmf%26sigit%3D12vfkmc51%26tab%3Dorganic%26ri%3D22&w=1471&h=1500&imgurl=img1.etsystatic.com%2F000%2F0%2F5473402%2Fil_fullxfull.344712925.jpg&rurl=http%3A%2F%2Fwww.etsy.com%2Flisting%2F101937451%2Fvintage-1950s-toddler-girl-dress-blue&size=214.7KB&name=Vintage+1950%26%2339%3Bs+Toddler+%3Cb%3EGirl%3C%2Fb%3E+%3Cb%3EDress%3C%2Fb%3E+Blue+%3Cb%3ERICK+RACK%3C%2Fb%3E+by+HartandSew&p=girls+rickrack+dress&oid=761cdf803c92f6936ee1af34a7458f2c&fr2=&fr=dss_yset_chr&tt=Vintage+1950%26%2339%3Bs+Toddler+%3Cb%3EGirl%3C%2Fb%3E+%3Cb%3EDress%3C%2Fb%3E+Blue+%3Cb%3ERICK+RACK%3C%2Fb%3E+by+HartandSew&b=0&ni=160&no=22&ts=&tab=organic&sigr=12bkbgc8b&sigb=1hs6508mj&sigi=11savfoac&sigt=12n6fginq&sign=12n6fginq&.crumb=MAMcYddW/NX&fr=dss_yset_chr
https://images.search.yahoo.com/search/images?p=girls+rickrack+dress&fr=dss_yset_chr&imgurl=http%3A%2F%2Fmedia-cache-ak0.pinimg.com%2F736x%2Fcc%2Faf%2F47%2Fccaf47138dff9cdde8cc10f666f65306.jpg#id=1&iurl=http%3A%2F%2Fmedia-cache-ak0.pinimg.com%2F736x%2Fcc%2Faf%2F47%2Fccaf47138dff9cdde8cc10f666f65306.jpg&action=click
https://images.search.yahoo.com/search/images?p=girls+rickrack+dress&fr=dss_yset_chr&imgurl=http%3A%2F%2Fmedia-cache-ak0.pinimg.com%2F736x%2Fcc%2Faf%2F47%2Fccaf47138dff9cdde8cc10f666f65306.jpg#id=1&iurl=http%3A%2F%2Fmedia-cache-ak0.pinimg.com%2F736x%2Fcc%2Faf%2F47%2Fccaf47138dff9cdde8cc10f666f65306.jpg&action=click
https://images.search.yahoo.com/images/view;_ylt=AwrB8pk_GrdYcEIAHx2JzbkF;_ylu=X3oDMTIzMTAybzh2BHNlYwNzcgRzbGsDaW1nBG9pZAM3NjFjZGY4MDNjOTJmNjkzNmVlMWFmMzRhNzQ1OGYyYwRncG9zAzIyBGl0A2Jpbmc-?.origin=&back=https%3A%2F%2Fimages.search.yahoo.com%2Fsearch%2Fimages%3Fp%3Dgirls%2Brickrack%2Bdress%26fr%3Ddss_yset_chr%26h%3D721%26tt%3D...%2Bat%2Bthis%2BRed%2B%2526%2BBlue%2BRickrack%2BDress%2B-%2BInfant%2B%2526%2BGirls%2Bon%2Bzulily%2Btoday%26w%3D600%26imgurl%3Dhttp%253A%252F%252Fmedia-cache-ak0.pinimg.com%252F736x%252Fcc%252Faf%252F47%252Fccaf47138dff9cdde8cc10f666f65306.jpg%26rurl%3Dhttp%253A%252F%252Fpinterest.com%252Fpin%252F43839796345860514%252F%26turl%3Dhttp%253A%252F%252Fts3.mm.bing.net%252Fth%253Fid%253DOIP.UoyPDKMyPfEZo5hNkqcUWwD5Es%2526pid%253D15.1%2526rs%253D1%2526c%253D1%2526qlt%253D95%2526w%253D95%2526h%253D116%26tw%3D95%26th%3D116%26sigr%3D11b7ft0p2%26sigi%3D12dabk2et%26sigt%3D126upqlmf%26sigit%3D12vfkmc51%26tab%3Dorganic%26ri%3D22&w=1471&h=1500&imgurl=img1.etsystatic.com%2F000%2F0%2F5473402%2Fil_fullxfull.344712925.jpg&rurl=http%3A%2F%2Fwww.etsy.com%2Flisting%2F101937451%2Fvintage-1950s-toddler-girl-dress-blue&size=214.7KB&name=Vintage+1950%26%2339%3Bs+Toddler+%3Cb%3EGirl%3C%2Fb%3E+%3Cb%3EDress%3C%2Fb%3E+Blue+%3Cb%3ERICK+RACK%3C%2Fb%3E+by+HartandSew&p=girls+rickrack+dress&oid=761cdf803c92f6936ee1af34a7458f2c&fr2=&fr=dss_yset_chr&tt=Vintage+1950%26%2339%3Bs+Toddler+%3Cb%3EGirl%3C%2Fb%3E+%3Cb%3EDress%3C%2Fb%3E+Blue+%3Cb%3ERICK+RACK%3C%2Fb%3E+by+HartandSew&b=0&ni=160&no=22&ts=&tab=organic&sigr=12bkbgc8b&sigb=1hs6508mj&sigi=11savfoac&sigt=12n6fginq&sign=12n6fginq&.crumb=MAMcYddW/NX&fr=dss_yset_chr
http://r.search.yahoo.com/_ylt=AwrB8qFMHLdYEigAclmjzbkF;_ylu=X3oDMTBxNG1oMmE2BHNlYwNmcC1hdHRyaWIEc2xrA3J1cmwEaXQD/RV=2/RE=1488424140/RO=11/RU=http%3a%2f%2fwww.etsy.com%2flisting%2f101937451%2fvintage-1950s-toddler-girl-dress-blue/RK=0/RS=SnGfu5jwDf0fVvTtKaAIUGJLqqU-
https://images.search.yahoo.com/images/view;_ylt=AwrB8pB7sLhYoQYARjGJzbkF;_ylu=X3oDMTIzMDRya3JpBHNlYwNzcgRzbGsDaW1nBG9pZAMyYjEzOGJiZmFlOGY4ZDlkYzNjNzFmYjg0ZGU5M2M5ZQRncG9zAzM3BGl0A2Jpbmc-?.origin=&back=https%3A%2F%2Fimages.search.yahoo.com%2Fsearch%2Fimages%3Fp%3Dchildren%2527s%2Bparty%2Bdresses1980%26n%3D60%26ei%3DUTF-8%26fr%3Dyset_chr_cnewtab%26fr2%3Dsb-top-images.search.yahoo.com%26tab%3Dorganic%26ri%3D37&w=416&h=500&imgurl=farm5.static.flickr.com%2F4050%2F4413841415_28aaa792c4.jpg&rurl=http%3A%2F%2Fwww.flickriver.com%2Fgroups%2F25317712%40N00%2Fpool%2Finteresting%2F&size=253.2KB&name=...+%3A+Most+interesting+photos+from+Vintage+%3Cb%3EChildren%26%2339%3Bs%3C%2Fb%3E+Patterns+pool&p=children%27s+party+dresses+1980&oid=2b138bbfae8f8d9dc3c71fb84de93c9e&fr2=sb-top-images.search.yahoo.com&fr=yset_chr_cnewtab&rw=children%27s+party+dresses+1980&tt=...+%3A+Most+interesting+photos+from+Vintage+%3Cb%3EChildren%26%2339%3Bs%3C%2Fb%3E+Patterns+pool&b=0&ni=160&no=37&ts=&tab=organic&sigr=11vg1vb4l&sigb=155nusmtt&sigi=11mcoupq3&sigt=12e4cvjd8&sign=12e4cvjd8&.crumb=NQtBVKCbtiI&fr=yset_chr_cnewtab&fr2=sb-top-images.search.yahoo.com
https://images.search.yahoo.com/images/view;_ylt=AwrB8pB7sLhYoQYAMTGJzbkF;_ylu=X3oDMTIzY2ZnZGtzBHNlYwNzcgRzbGsDaW1nBG9pZANlZTUxZTM4M2NiOTY3NTU3NDVjMDMzOTEyMjFiMzc2MgRncG9zAzE2BGl0A2Jpbmc-?.origin=&back=https%3A%2F%2Fimages.search.yahoo.com%2Fsearch%2Fimages%3Fp%3Dchildren%2527s%2Bparty%2Bdresses1980%26n%3D60%26ei%3DUTF-8%26fr%3Dyset_chr_cnewtab%26fr2%3Dsb-top-images.search.yahoo.com%26tab%3Dorganic%26ri%3D16&w=371&h=550&imgurl=cdn.shopify.com%2Fs%2Ffiles%2F1%2F0643%2F3311%2Fproducts%2Fbutterick_4102_1024x1024.jpg%3Fv%3D1411962407&rurl=http%3A%2F%2Fvintagestitching.com%2Fcollections%2F1980s-90s-childrens-sewing-patterns&size=41.0KB&name=...+%3Cb%3EDress%3C%2Fb%3E%2C+Long+Skirt%2C+PJ%26%2339%3Bs+plus+many+more+1970%26%2339%3Bs+fashions+for+%3Cb%3Echildren%3C%2Fb%3E&p=children%27s+party+dresses+1980&oid=ee51e383cb96755745c03391221b3762&fr2=sb-top-images.search.yahoo.com&fr=yset_chr_cnewtab&rw=children%27s+party+dresses+1980&tt=...+%3Cb%3EDress%3C%2Fb%3E%2C+Long+Skirt%2C+PJ%26%2339%3Bs+plus+many+more+1970%26%2339%3Bs+fashions+for+%3Cb%3Echildren%3C%2Fb%3E&b=0&ni=160&no=16&ts=&tab=organic&sigr=12blusvco&sigb=155mtl86a&sigi=12mngn03i&sigt=12tl2jnf3&sign=12tl2jnf3&.crumb=NQtBVKCbtiI&fr=yset_chr_cnewtab&fr2=sb-top-images.search.yahoo.com
https://images.search.yahoo.com/images/view;_ylt=AwrB8pHobLhYwHcAM.OJzbkF;_ylu=X3oDMTI0M21uN2lkBHNlYwNzcgRzbGsDaW1nBG9pZANiMzliNjhmMmFkYjkzYTViOWVjZWMwZmU1N2M2ZDZiZgRncG9zAzM5MwRpdANiaW5n?.origin=&back=https%3A%2F%2Fimages.search.yahoo.com%2Fsearch%2Fimages%3Fp%3D1980s%2Bgirls%2Bparty%2Bdress%26fr%3Ddss_yset_chr%26fr2%3Dpiv-web%26nost%3D1%26tab%3Dorganic%26ri%3D393&w=570&h=760&imgurl=img0.etsystatic.com%2F065%2F2%2F9875821%2Fil_570xN.773288056_kqck.jpg&rurl=https%3A%2F%2Fwww.etsy.com%2Flisting%2F233695871%2Fbaby-girl-clothestoddler-dress-blue&size=138.1KB&name=Baby+%3Cb%3EGirl%3C%2Fb%3E+Clothes%2CToddler+%3Cb%3EDress%3C%2Fb%3E%2C+Blue+%3Cb%3EDress%3C%2Fb%3E%2C+Vintage%2C+Size+2T%2C+%3Cb%3E1980%26%2339%3Bs%3C%2Fb%3E&p=1980s+girls+party+dress&oid=b39b68f2adb93a5b9ecec0fe57c6d6bf&fr2=piv-web&fr=dss_yset_chr&tt=Baby+%3Cb%3EGirl%3C%2Fb%3E+Clothes%2CToddler+%3Cb%3EDress%3C%2Fb%3E%2C+Blue+%3Cb%3EDress%3C%2Fb%3E%2C+Vintage%2C+Size+2T%2C+%3Cb%3E1980%26%2339%3Bs%3C%2Fb%3E&b=361&ni=21&no=393&ts=&tab=organic&sigr=12aj8ed8p&sigb=13titb8k7&sigi=11t8lvetr&sigt=135o4ah67&sign=135o4ah67&.crumb=MAMcYddW/NX&fr=dss_yset_chr&fr2=piv-web
https://images.search.yahoo.com/images/view;_ylt=AwrB8pHobLhYwHcAGOOJzbkF;_ylu=X3oDMTI0M2xtMjE5BHNlYwNzcgRzbGsDaW1nBG9pZANkM2ZhZDU2NWQ0OGM5YTFhZDEzOWViODBmMWUzZWQ1MQRncG9zAzM2NgRpdANiaW5n?.origin=&back=https%3A%2F%2Fimages.search.yahoo.com%2Fsearch%2Fimages%3Fp%3D1980s%2Bgirls%2Bparty%2Bdress%26fr%3Ddss_yset_chr%26fr2%3Dpiv-web%26nost%3D1%26tab%3Dorganic%26ri%3D366&w=570&h=751&imgurl=media-cache-ak0.pinimg.com%2F736x%2F45%2Fb5%2F2f%2F45b52f0a44437201b35d96f43731d745.jpg&rurl=http%3A%2F%2Fpinterest.com%2Fpin%2F417216352952927166%2F&size=90.8KB&name=%3Cb%3E1980s%3C%2Fb%3E+vintage+sewing+pattern+for+%3Cb%3Egirls%3C%2Fb%3E+ruffled+%3Cb%3Eparty%3C%2Fb%3E+%3Cb%3Edress%3C%2Fb%3E%2C+short+sle+...&p=1980s+girls+party+dress&oid=d3fad565d48c9a1ad139eb80f1e3ed51&fr2=piv-web&fr=dss_yset_chr&tt=%3Cb%3E1980s%3C%2Fb%3E+vintage+sewing+pattern+for+%3Cb%3Egirls%3C%2Fb%3E+ruffled+%3Cb%3Eparty%3C%2Fb%3E+%3Cb%3Edress%3C%2Fb%3E%2C+short+sle+...&b=361&ni=21&no=366&ts=&tab=organic&sigr=11cuhs6so&sigb=13tm9ucs5&sigi=12de445cl&sigt=1355kdl6g&sign=1355kdl6g&.crumb=MAMcYddW/NX&fr=dss_yset_chr&fr2=piv-web
https://images.search.yahoo.com/images/view;_ylt=AwrB8pzlbLhYRUwA_AyJzbkF;_ylu=X3oDMTI0ZTh1ZDU5BHNlYwNzcgRzbGsDaW1nBG9pZAMwYThmNTM2YTliZGNlYWNkZTYyYmY2OGU1ZGQ0NmRhZARncG9zAzM0OQRpdANiaW5n?.origin=&back=https%3A%2F%2Fimages.search.yahoo.com%2Fsearch%2Fimages%3Fp%3D1980s%2Bgirls%2Bparty%2Bdress%26fr%3Ddss_yset_chr%26fr2%3Dpiv-web%26nost%3D1%26tab%3Dorganic%26ri%3D349&w=570&h=857&imgurl=s-media-cache-ak0.pinimg.com%2F736x%2Ff5%2F32%2F3d%2Ff5323d2961e00c578029a0a4e1ecb5dd.jpg&rurl=https%3A%2F%2Fwww.pinterest.com%2Fsaeriellyn2%2Fembers-victorian-wardrobe%2F&size=66.3KB&name=...+Children%26%2339%3Bs+%3Cb%3EGirls%3C%2Fb%3E+Formal+%3Cb%3EParty%3C%2Fb%3E+%3Cb%3EDress%3C%2Fb%3E+with+Drop+Waist+%26+Sash+Size+3%2C4%2C5&p=1980s+girls+party+dress&oid=0a8f536a9bdceacde62bf68e5dd46dad&fr2=piv-web&fr=dss_yset_chr&tt=...+Children%26%2339%3Bs+%3Cb%3EGirls%3C%2Fb%3E+Formal+%3Cb%3EParty%3C%2Fb%3E+%3Cb%3EDress%3C%2Fb%3E+with+Drop+Waist+%26+Sash+Size+3%2C4%2C5&b=301&ni=21&no=349&ts=&tab=organic&sigr=1204mv39l&sigb=13tp4rb53&sigi=12fvr8boh&sigt=132qtt3oo&sign=132qtt3oo&.crumb=MAMcYddW/NX&fr=dss_yset_chr&fr2=piv-web
https://images.search.yahoo.com/images/view;_ylt=AwrB8pwfzrZYc1cA0PCJzbkF;_ylu=X3oDMTIydXEzbDhsBHNlYwNzcgRzbGsDaW1nBG9pZANiNWQ2ZWYxYTcxZThmNmQ3NjRjZTEzYzczM2U4MWY0ZQRncG9zAzEEaXQDYmluZw--?.origin=&back=https%3A%2F%2Fimages.search.yahoo.com%2Fsearch%2Fimages%3Fp%3D1950s%2Bstyle%2Brickrack%2Bdress%26fr%3Dyset_chr_cnewtab%26tab%3Dorganic%26ri%3D1&w=570&h=855&imgurl=img1.etsystatic.com%2F042%2F0%2F5248996%2Fil_570xN.594874875_96go.jpg&rurl=https%3A%2F%2Fwww.etsy.com%2Flisting%2F187539589%2F1950s-style-black-checked-rick-rack&size=182.8KB&name=%3Cb%3E1950%26%2339%3Bs%3C%2Fb%3E+%3Cb%3EStyle%3C%2Fb%3E+Black+Checked+%3Cb%3ERick+Rack%3C%2Fb%3E+%3Cb%3EDress%3C%2Fb%3E+children+child+girls+...&p=1950s+style+rick+rack+dress&oid=b5d6ef1a71e8f6d764ce13c733e81f4e&fr2=&fr=yset_chr_cnewtab&rw=1950s+style+rick+rack+dress&tt=%3Cb%3E1950%26%2339%3Bs%3C%2Fb%3E+%3Cb%3EStyle%3C%2Fb%3E+Black+Checked+%3Cb%3ERick+Rack%3C%2Fb%3E+%3Cb%3EDress%3C%2Fb%3E+children+child+girls+...&b=0&ni=160&no=1&ts=&tab=organic&sigr=12a578t3a&sigb=13fftlpjc&sigi=11tfuj4hs&sigt=1332u0l6s&sign=1332u0l6s&.crumb=NQtBVKCbtiI&fr=yset_chr_cnewtab
http://news.google.com/newspapers?id=cH8tAAAAIBAJ&sjid=FJkFAAAAIBAJ&pg=6893,2723999&dq=history+of+peasant+blouse&hl=en
http://news.google.com/newspapers?id=cH8tAAAAIBAJ&sjid=FJkFAAAAIBAJ&pg=6893,2723999&dq=history+of+peasant+blouse&hl=en.
http://pqasb.pqarchiver.com/smgpubs/access/60187503.html?dids=60187503:60187503&FMT=ABS&FMTS=ABS:FT&type=current&date=Apr+25%2C+1998&author=John+Davidson&pub=The+Herald&desc=gypsy+rose&pqatl=googleto
George-Warren, Holly, and Michelle Freedman: How the West Was Worn, Harry N. Abrams (2001), ISBN 0-8109-0615
https://www.amazon.co.uk/s/?ie=UTF8&keywords=polishing+bonnets&tag=mh0a9-21&index=aps&hvadid=3170742363&hvqmt=b&hvbmt=bb&hvdev=c&ref=pd_sl_4shaw3ccv_b
http://www.williamsburgmarketplace.com/webapp/wcs/stores/servlet/ProductView?catalogId=12122&storeId=10001&categoryId=14961&parentCategoryId=26107
http://www.germany.travel/en/towns-cities-culture/traditions-and-customs/arts-and-crafts/traditional-sorbian-costume.html
https://www.questia.com/newspaper/1P2-32576597/a-tiny-minority-fights-extinction-the-sorbs-germany-s
http://4.bp.blogspot.com/-vzZfT3HO88g/Uh9QYrOQFTI/AAAAAAAAVGY/6vRJfbpocB4/s1600/Sharpstein+School+Kindergarten,+1950-51.JPG
https:://img1.etsystatic.com/000/0/5276264/il_fullxfull.87707353.jpg
https:://s-media-cache-ak0.pinimg.com/236x/c1/4d/b3/c14db3fe7eed115fdf04319db16c8021.jpg
https:://smudgetikka.files.wordpress.com/2010/10/belle-heir-plaid-dress-3yr-1950s.jpg
https:://s-media-cache-ak0.pinimg.com/236x/e4/6e/59/e46e5971068ae9355454872dfed20d3d.jpg
http://4.bp.blogspot.com/-vzZfT3HO88g/Uh9QYrOQFTI/AAAAAAAAVGY/6vRJfbpocB4/s1600/Sharpstein+School+Kindergarten,+1950-51.JPG
https:://s-media-cache-ak0.pinimg.com/236x/41/54/7e/41547e2cf4927512d03a3d109db8d7f1.jpg
https://www.bing.com/images/search?view=detailV2&ccid=g3CS4PK%2f&id=AC5E2FF91AC3F5C8AE17AECD3D402DC22A35D7D0&q=1950s+girls+fashion&simid=608049065625322532&selectedIndex=66&ajaxhist=0
https://www.bing.com/images/search?view=detailV2&ccid=iEO8A2%2Bd&id=D971EF078E24FDA1C3D4167EBF603DE1AA21952D&q=1950s+girls+fashion&simid=608048176571746595&selectedindex=63&mode=overlay&first=1&thid=OIP.iEO8A2-dOZFZ8fluPyBq7QC0Es
https://images.search.yahoo.com/images/view;_ylt=AwrB8qFWZ8BY03EAqVWJzbkF;_ylu=X3oDMTIzZDZkbTkzBHNlYwNzcgRzbGsDaW1nBG9pZAMwNTRjOTVjMzhiZDhjMGU3N2Y1MDA4NWJlNWVmZjlmZQRncG9zAzE0BGl0A2Jpbmc-?.origin=&back=https%3A%2F%2Fimages.search.yahoo.com%2Fsearch%2Fimages%3Fp%3D1950s%2Bgirls%2Bfashion%26fr%3Dyset_chr_cnewtab%26fr2%3Dpiv-web%26tab%3Dorganic%26ri%3D14&w=430&h=354&imgurl=ny-image1.etsy.com%2Fil_430xN.88551337.jpg&rurl=http%3A%2F%2Fwww.keyword-suggestions.com%2FMTk1MHMgZ2lybHMgZmFzaGlvbg%2F&size=24.8KB&name=%3Cb%3E1950s+Girls+Fashion%3C%2Fb%3E+Related+Keywords+%26+Suggestions+-+%3Cb%3E1950s%3C%2Fb%3E+%3Cb%3EGirls%3C%2Fb%3E+...&p=1950s+girls+fashion&oid=054c95c38bd8c0e77f50085be5eff9fe&fr2=piv-web&fr=yset_chr_cnewtab&tt=%3Cb%3E1950s+Girls+Fashion%3C%2Fb%3E+Related+Keywords+%26+Suggestions+-+%3Cb%3E1950s%3C%2Fb%3E+%3Cb%3EGirls%3C%2Fb%3E+...&b=0&ni=21&no=14&ts=&tab=organic&sigr=11u3kbcsh&sigb=13ls4p5hm&sigi=118icd1i7&sigt=12pv3vcjb&sign=12pv3vcjb&.crumb=EX1.VMAVBOz&fr=yset_chr_cnewtab&fr2=piv-web
https:://s-media-cache-ak0.pinimg.com/236x/93/cd/04/93cd04cf9c30f33ed62327127b001d65.jpg
https://images.search.yahoo.com/images/view;_ylt=AwrB8phiZ8BYaXAAElCJzbkF;_ylu=X3oDMTIzNzY5ZjdtBHNlYwNzcgRzbGsDaW1nBG9pZAM3MjQ2NTlkZTk5MTBkY2QzZDU3MWI4NGZmYzc5MTJkNwRncG9zAzc0BGl0A2Jpbmc-?.origin=&back=https%3A%2F%2Fimages.search.yahoo.com%2Fsearch%2Fimages%3Fp%3D1950s%2Bgirls%2Bfashion%26fr%3Dyset_chr_cnewtab%26fr2%3Dpiv-web%26nost%3D1%26tab%3Dorganic%26ri%3D74&w=208&h=196&imgurl=www.thepeoplehistory.com%2Fimagesnewproject%2F52girlsdresses.jpg&rurl=http%3A%2F%2Fwww.keyword-suggestions.com%2FMTk1MHMgbGl0dGxlIGdpcmxzICBmYXNoaW9u%2F&size=+6.5KB&name=%3Cb%3E1950s%3C%2Fb%3E+Little+%3Cb%3EGirls%3C%2Fb%3E+%3Cb%3EFashion%3C%2Fb%3E+Related+Keywords+%26+Suggestions+-+%3Cb%3E1950s%3C%2Fb%3E+...&p=1950s+girls+fashion&oid=724659de9910dcd3d571b84ffc7912d7&fr2=piv-web&fr=yset_chr_cnewtab&tt=%3Cb%3E1950s%3C%2Fb%3E+Little+%3Cb%3EGirls%3C%2Fb%3E+%3Cb%3EFashion%3C%2Fb%3E+Related+Keywords+%26+Suggestions+-+%3Cb%3E1950s%3C%2Fb%3E+...&b=61&ni=21&no=74&ts=&tab=organic&sigr=128armmul&sigb=13sa8l2hh&sigi=11s83bfbg&sigt=1315n44a9&sign=1315n44a9&.crumb=EX1.VMAVBOz&fr=yset_chr_cnewtab&fr2=piv-web
http://www.edinphoto.org.uk/0_g_p/0_groups_and_outings_sciennes_school_1947-49_and_miss_clapperton.htm
https:://img1.etsystatic.com/104/1/7965113/il_570xN.1087780247_7tev.jpg
https://images.search.yahoo.com/images/view;_ylt=AwrB8pB7sLhYoQYARjGJzbkF;_ylu=X3oDMTIzMDRya3JpBHNlYwNzcgRzbGsDaW1nBG9pZAMyYjEzOGJiZmFlOGY4ZDlkYzNjNzFmYjg0ZGU5M2M5ZQRncG9zAzM3BGl0A2Jpbmc-?.origin=&back=https%3A%2F%2Fimages.search.yahoo.com%2Fsearch%2Fimages%3Fp%3Dchildren%2527s%2Bparty%2Bdresses1980%26n%3D60%26ei%3DUTF-8%26fr%3Dyset_chr_cnewtab%26fr2%3Dsb-top-images.search.yahoo.com%26tab%3Dorganic%26ri%3D37&w=416&h=500&imgurl=farm5.static.flickr.com%2F4050%2F4413841415_28aaa792c4.jpg&rurl=http%3A%2F%2Fwww.flickriver.com%2Fgroups%2F25317712%40N00%2Fpool%2Finteresting%2F&size=253.2KB&name=...+%3A+Most+interesting+photos+from+Vintage+%3Cb%3EChildren%26%2339%3Bs%3C%2Fb%3E+Patterns+pool&p=children%27s+party+dresses+1980&oid=2b138bbfae8f8d9dc3c71fb84de93c9e&fr2=sb-top-images.search.yahoo.com&fr=yset_chr_cnewtab&rw=children%27s+party+dresses+1980&tt=...+%3A+Most+interesting+photos+from+Vintage+%3Cb%3EChildren%26%2339%3Bs%3C%2Fb%3E+Patterns+pool&b=0&ni=160&no=37&ts=&tab=organic&sigr=11vg1vb4l&sigb=155nusmtt&sigi=11mcoupq3&sigt=12e4cvjd8&sign=12e4cvjd8&.crumb=NQtBVKCbtiI&fr=yset_chr_cnewtab&fr2=sb-top-images.search.yahoo.com
https://images.search.yahoo.com/images/view;_ylt=AwrB8pB7sLhYoQYAMTGJzbkF;_ylu=X3oDMTIzY2ZnZGtzBHNlYwNzcgRzbGsDaW1nBG9pZANlZTUxZTM4M2NiOTY3NTU3NDVjMDMzOTEyMjFiMzc2MgRncG9zAzE2BGl0A2Jpbmc-?.origin=&back=https%3A%2F%2Fimages.search.yahoo.com%2Fsearch%2Fimages%3Fp%3Dchildren%2527s%2Bparty%2Bdresses1980%26n%3D60%26ei%3DUTF-8%26fr%3Dyset_chr_cnewtab%26fr2%3Dsb-top-images.search.yahoo.com%26tab%3Dorganic%26ri%3D16&w=371&h=550&imgurl=cdn.shopify.com%2Fs%2Ffiles%2F1%2F0643%2F3311%2Fproducts%2Fbutterick_4102_1024x1024.jpg%3Fv%3D1411962407&rurl=http%3A%2F%2Fvintagestitching.com%2Fcollections%2F1980s-90s-childrens-sewing-patterns&size=41.0KB&name=...+%3Cb%3EDress%3C%2Fb%3E%2C+Long+Skirt%2C+PJ%26%2339%3Bs+plus+many+more+1970%26%2339%3Bs+fashions+for+%3Cb%3Echildren%3C%2Fb%3E&p=children%27s+party+dresses+1980&oid=ee51e383cb96755745c03391221b3762&fr2=sb-top-images.search.yahoo.com&fr=yset_chr_cnewtab&rw=children%27s+party+dresses+1980&tt=...+%3Cb%3EDress%3C%2Fb%3E%2C+Long+Skirt%2C+PJ%26%2339%3Bs+plus+many+more+1970%26%2339%3Bs+fashions+for+%3Cb%3Echildren%3C%2Fb%3E&b=0&ni=160&no=16&ts=&tab=organic&sigr=12blusvco&sigb=155mtl86a&sigi=12mngn03i&sigt=12tl2jnf3&sign=12tl2jnf3&.crumb=NQtBVKCbtiI&fr=yset_chr_cnewtab&fr2=sb-top-images.search.yahoo.com
https://images.search.yahoo.com/images/view;_ylt=AwrB8pHobLhYwHcAM.OJzbkF;_ylu=X3oDMTI0M21uN2lkBHNlYwNzcgRzbGsDaW1nBG9pZANiMzliNjhmMmFkYjkzYTViOWVjZWMwZmU1N2M2ZDZiZgRncG9zAzM5MwRpdANiaW5n?.origin=&back=https%3A%2F%2Fimages.search.yahoo.com%2Fsearch%2Fimages%3Fp%3D1980s%2Bgirls%2Bparty%2Bdress%26fr%3Ddss_yset_chr%26fr2%3Dpiv-web%26nost%3D1%26tab%3Dorganic%26ri%3D393&w=570&h=760&imgurl=img0.etsystatic.com%2F065%2F2%2F9875821%2Fil_570xN.773288056_kqck.jpg&rurl=https%3A%2F%2Fwww.etsy.com%2Flisting%2F233695871%2Fbaby-girl-clothestoddler-dress-blue&size=138.1KB&name=Baby+%3Cb%3EGirl%3C%2Fb%3E+Clothes%2CToddler+%3Cb%3EDress%3C%2Fb%3E%2C+Blue+%3Cb%3EDress%3C%2Fb%3E%2C+Vintage%2C+Size+2T%2C+%3Cb%3E1980%26%2339%3Bs%3C%2Fb%3E&p=1980s+girls+party+dress&oid=b39b68f2adb93a5b9ecec0fe57c6d6bf&fr2=piv-web&fr=dss_yset_chr&tt=Baby+%3Cb%3EGirl%3C%2Fb%3E+Clothes%2CToddler+%3Cb%3EDress%3C%2Fb%3E%2C+Blue+%3Cb%3EDress%3C%2Fb%3E%2C+Vintage%2C+Size+2T%2C+%3Cb%3E1980%26%2339%3Bs%3C%2Fb%3E&b=361&ni=21&no=393&ts=&tab=organic&sigr=12aj8ed8p&sigb=13titb8k7&sigi=11t8lvetr&sigt=135o4ah67&sign=135o4ah67&.crumb=MAMcYddW/NX&fr=dss_yset_chr&fr2=piv-web
https://images.search.yahoo.com/images/view;_ylt=AwrB8pHobLhYwHcAGOOJzbkF;_ylu=X3oDMTI0M2xtMjE5BHNlYwNzcgRzbGsDaW1nBG9pZANkM2ZhZDU2NWQ0OGM5YTFhZDEzOWViODBmMWUzZWQ1MQRncG9zAzM2NgRpdANiaW5n?.origin=&back=https%3A%2F%2Fimages.search.yahoo.com%2Fsearch%2Fimages%3Fp%3D1980s%2Bgirls%2Bparty%2Bdress%26fr%3Ddss_yset_chr%26fr2%3Dpiv-web%26nost%3D1%26tab%3Dorganic%26ri%3D366&w=570&h=751&imgurl=media-cache-ak0.pinimg.com%2F736x%2F45%2Fb5%2F2f%2F45b52f0a44437201b35d96f43731d745.jpg&rurl=http%3A%2F%2Fpinterest.com%2Fpin%2F417216352952927166%2F&size=90.8KB&name=%3Cb%3E1980s%3C%2Fb%3E+vintage+sewing+pattern+for+%3Cb%3Egirls%3C%2Fb%3E+ruffled+%3Cb%3Eparty%3C%2Fb%3E+%3Cb%3Edress%3C%2Fb%3E%2C+short+sle+...&p=1980s+girls+party+dress&oid=d3fad565d48c9a1ad139eb80f1e3ed51&fr2=piv-web&fr=dss_yset_chr&tt=%3Cb%3E1980s%3C%2Fb%3E+vintage+sewing+pattern+for+%3Cb%3Egirls%3C%2Fb%3E+ruffled+%3Cb%3Eparty%3C%2Fb%3E+%3Cb%3Edress%3C%2Fb%3E%2C+short+sle+...&b=361&ni=21&no=366&ts=&tab=organic&sigr=11cuhs6so&sigb=13tm9ucs5&sigi=12de445cl&sigt=1355kdl6g&sign=1355kdl6g&.crumb=MAMcYddW/NX&fr=dss_yset_chr&fr2=piv-web
https://images.search.yahoo.com/images/view;_ylt=AwrB8pzlbLhYRUwA_AyJzbkF;_ylu=X3oDMTI0ZTh1ZDU5BHNlYwNzcgRzbGsDaW1nBG9pZAMwYThmNTM2YTliZGNlYWNkZTYyYmY2OGU1ZGQ0NmRhZARncG9zAzM0OQRpdANiaW5n?.origin=&back=https%3A%2F%2Fimages.search.yahoo.com%2Fsearch%2Fimages%3Fp%3D1980s%2Bgirls%2Bparty%2Bdress%26fr%3Ddss_yset_chr%26fr2%3Dpiv-web%26nost%3D1%26tab%3Dorganic%26ri%3D349&w=570&h=857&imgurl=s-media-cache-ak0.pinimg.com%2F736x%2Ff5%2F32%2F3d%2Ff5323d2961e00c578029a0a4e1ecb5dd.jpg&rurl=https%3A%2F%2Fwww.pinterest.com%2Fsaeriellyn2%2Fembers-victorian-wardrobe%2F&size=66.3KB&name=...+Children%26%2339%3Bs+%3Cb%3EGirls%3C%2Fb%3E+Formal+%3Cb%3EParty%3C%2Fb%3E+%3Cb%3EDress%3C%2Fb%3E+with+Drop+Waist+%26+Sash+Size+3%2C4%2C5&p=1980s+girls+party+dress&oid=0a8f536a9bdceacde62bf68e5dd46dad&fr2=piv-web&fr=dss_yset_chr&tt=...+Children%26%2339%3Bs+%3Cb%3EGirls%3C%2Fb%3E+Formal+%3Cb%3EParty%3C%2Fb%3E+%3Cb%3EDress%3C%2Fb%3E+with+Drop+Waist+%26+Sash+Size+3%2C4%2C5&b=301&ni=21&no=349&ts=&tab=organic&sigr=1204mv39l&sigb=13tp4rb53&sigi=12fvr8boh&sigt=132qtt3oo&sign=132qtt3oo&.crumb=MAMcYddW/NX&fr=dss_yset_chr&fr2=piv-web
https://images.search.yahoo.com/images/view;_ylt=AwrB8pwfzrZYc1cA0PCJzbkF;_ylu=X3oDMTIydXEzbDhsBHNlYwNzcgRzbGsDaW1nBG9pZANiNWQ2ZWYxYTcxZThmNmQ3NjRjZTEzYzczM2U4MWY0ZQRncG9zAzEEaXQDYmluZw--?.origin=&back=https%3A%2F%2Fimages.search.yahoo.com%2Fsearch%2Fimages%3Fp%3D1950s%2Bstyle%2Brickrack%2Bdress%26fr%3Dyset_chr_cnewtab%26tab%3Dorganic%26ri%3D1&w=570&h=855&imgurl=img1.etsystatic.com%2F042%2F0%2F5248996%2Fil_570xN.594874875_96go.jpg&rurl=https%3A%2F%2Fwww.etsy.com%2Flisting%2F187539589%2F1950s-style-black-checked-rick-rack&size=182.8KB&name=%3Cb%3E1950%26%2339%3Bs%3C%2Fb%3E+%3Cb%3EStyle%3C%2Fb%3E+Black+Checked+%3Cb%3ERick+Rack%3C%2Fb%3E+%3Cb%3EDress%3C%2Fb%3E+children+child+girls+...&p=1950s+style+rick+rack+dress&oid=b5d6ef1a71e8f6d764ce13c733e81f4e&fr2=&fr=yset_chr_cnewtab&rw=1950s+style+rick+rack+dress&tt=%3Cb%3E1950%26%2339%3Bs%3C%2Fb%3E+%3Cb%3EStyle%3C%2Fb%3E+Black+Checked+%3Cb%3ERick+Rack%3C%2Fb%3E+%3Cb%3EDress%3C%2Fb%3E+children+child+girls+...&b=0&ni=160&no=1&ts=&tab=organic&sigr=12a578t3a&sigb=13fftlpjc&sigi=11tfuj4hs&sigt=1332u0l6s&sign=1332u0l6s&.crumb=NQtBVKCbtiI&fr=yset_chr_cnewtab
https://images.search.yahoo.com/images/view;_ylt=AwrB8pk_GrdYcEIAHx2JzbkF;_ylu=X3oDMTIzMTAybzh2BHNlYwNzcgRzbGsDaW1nBG9pZAM3NjFjZGY4MDNjOTJmNjkzNmVlMWFmMzRhNzQ1OGYyYwRncG9zAzIyBGl0A2Jpbmc-?.origin=&back=https%3A%2F%2Fimages.search.yahoo.com%2Fsearch%2Fimages%3Fp%3Dgirls%2Brickrack%2Bdress%26fr%3Ddss_yset_chr%26h%3D721%26tt%3D...%2Bat%2Bthis%2BRed%2B%2526%2BBlue%2BRickrack%2BDress%2B-%2BInfant%2B%2526%2BGirls%2Bon%2Bzulily%2Btoday%26w%3D600%26imgurl%3Dhttp%253A%252F%252Fmedia-cache-ak0.pinimg.com%252F736x%252Fcc%252Faf%252F47%252Fccaf47138dff9cdde8cc10f666f65306.jpg%26rurl%3Dhttp%253A%252F%252Fpinterest.com%252Fpin%252F43839796345860514%252F%26turl%3Dhttp%253A%252F%252Fts3.mm.bing.net%252Fth%253Fid%253DOIP.UoyPDKMyPfEZo5hNkqcUWwD5Es%2526pid%253D15.1%2526rs%253D1%2526c%253D1%2526qlt%253D95%2526w%253D95%2526h%253D116%26tw%3D95%26th%3D116%26sigr%3D11b7ft0p2%26sigi%3D12dabk2et%26sigt%3D126upqlmf%26sigit%3D12vfkmc51%26tab%3Dorganic%26ri%3D22&w=1471&h=1500&imgurl=img1.etsystatic.com%2F000%2F0%2F5473402%2Fil_fullxfull.344712925.jpg&rurl=http%3A%2F%2Fwww.etsy.com%2Flisting%2F101937451%2Fvintage-1950s-toddler-girl-dress-blue&size=214.7KB&name=Vintage+1950%26%2339%3Bs+Toddler+%3Cb%3EGirl%3C%2Fb%3E+%3Cb%3EDress%3C%2Fb%3E+Blue+%3Cb%3ERICK+RACK%3C%2Fb%3E+by+HartandSew&p=girls+rickrack+dress&oid=761cdf803c92f6936ee1af34a7458f2c&fr2=&fr=dss_yset_chr&tt=Vintage+1950%26%2339%3Bs+Toddler+%3Cb%3EGirl%3C%2Fb%3E+%3Cb%3EDress%3C%2Fb%3E+Blue+%3Cb%3ERICK+RACK%3C%2Fb%3E+by+HartandSew&b=0&ni=160&no=22&ts=&tab=organic&sigr=12bkbgc8b&sigb=1hs6508mj&sigi=11savfoac&sigt=12n6fginq&sign=12n6fginq&.crumb=MAMcYddW/NX&fr=dss_yset_chr
https://images.search.yahoo.com/search/images?p=girls+rickrack+dress&fr=dss_yset_chr&imgurl=http%3A%2F%2Fmedia-cache-ak0.pinimg.com%2F736x%2Fcc%2Faf%2F47%2Fccaf47138dff9cdde8cc10f666f65306.jpg#id=1&iurl=http%3A%2F%2Fmedia-cache-ak0.pinimg.com%2F736x%2Fcc%2Faf%2F47%2Fccaf47138dff9cdde8cc10f666f65306.jpg&action=click
https://images.search.yahoo.com/search/images?p=girls+rickrack+dress&fr=dss_yset_chr&imgurl=http%3A%2F%2Fmedia-cache-ak0.pinimg.com%2F736x%2Fcc%2Faf%2F47%2Fccaf47138dff9cdde8cc10f666f65306.jpg#id=1&iurl=http%3A%2F%2Fmedia-cache-ak0.pinimg.com%2F736x%2Fcc%2Faf%2F47%2Fccaf47138dff9cdde8cc10f666f65306.jpg&action=click
https://images.search.yahoo.com/images/view;_ylt=AwrB8pk_GrdYcEIAHx2JzbkF;_ylu=X3oDMTIzMTAybzh2BHNlYwNzcgRzbGsDaW1nBG9pZAM3NjFjZGY4MDNjOTJmNjkzNmVlMWFmMzRhNzQ1OGYyYwRncG9zAzIyBGl0A2Jpbmc-?.origin=&back=https%3A%2F%2Fimages.search.yahoo.com%2Fsearch%2Fimages%3Fp%3Dgirls%2Brickrack%2Bdress%26fr%3Ddss_yset_chr%26h%3D721%26tt%3D...%2Bat%2Bthis%2BRed%2B%2526%2BBlue%2BRickrack%2BDress%2B-%2BInfant%2B%2526%2BGirls%2Bon%2Bzulily%2Btoday%26w%3D600%26imgurl%3Dhttp%253A%252F%252Fmedia-cache-ak0.pinimg.com%252F736x%252Fcc%252Faf%252F47%252Fccaf47138dff9cdde8cc10f666f65306.jpg%26rurl%3Dhttp%253A%252F%252Fpinterest.com%252Fpin%252F43839796345860514%252F%26turl%3Dhttp%253A%252F%252Fts3.mm.bing.net%252Fth%253Fid%253DOIP.UoyPDKMyPfEZo5hNkqcUWwD5Es%2526pid%253D15.1%2526rs%253D1%2526c%253D1%2526qlt%253D95%2526w%253D95%2526h%253D116%26tw%3D95%26th%3D116%26sigr%3D11b7ft0p2%26sigi%3D12dabk2et%26sigt%3D126upqlmf%26sigit%3D12vfkmc51%26tab%3Dorganic%26ri%3D22&w=1471&h=1500&imgurl=img1.etsystatic.com%2F000%2F0%2F5473402%2Fil_fullxfull.344712925.jpg&rurl=http%3A%2F%2Fwww.etsy.com%2Flisting%2F101937451%2Fvintage-1950s-toddler-girl-dress-blue&size=214.7KB&name=Vintage+1950%26%2339%3Bs+Toddler+%3Cb%3EGirl%3C%2Fb%3E+%3Cb%3EDress%3C%2Fb%3E+Blue+%3Cb%3ERICK+RACK%3C%2Fb%3E+by+HartandSew&p=girls+rickrack+dress&oid=761cdf803c92f6936ee1af34a7458f2c&fr2=&fr=dss_yset_chr&tt=Vintage+1950%26%2339%3Bs+Toddler+%3Cb%3EGirl%3C%2Fb%3E+%3Cb%3EDress%3C%2Fb%3E+Blue+%3Cb%3ERICK+RACK%3C%2Fb%3E+by+HartandSew&b=0&ni=160&no=22&ts=&tab=organic&sigr=12bkbgc8b&sigb=1hs6508mj&sigi=11savfoac&sigt=12n6fginq&sign=12n6fginq&.crumb=MAMcYddW/NX&fr=dss_yset_chr
http://r.search.yahoo.com/_ylt=AwrB8qFMHLdYEigAclmjzbkF;_ylu=X3oDMTBxNG1oMmE2BHNlYwNmcC1hdHRyaWIEc2xrA3J1cmwEaXQD/RV=2/RE=1488424140/RO=11/RU=http%3a%2f%2fwww.etsy.com%2flisting%2f101937451%2fvintage-1950s-toddler-girl-dress-blue/RK=0/RS=SnGfu5jwDf0fVvTtKaAIUGJLqqU-
https:://s-media-cache-ak0.pinimg.com/564x/cd/30/24/cd3024101189b6cccbb511fd4cffce61.jpg
Barbier, Muriel & Boucher, Shazia (2003). The Story of Lingerie. Parkstone. ISBN 1-85995-804-4
Saint-Laurent, Cecil (1986). The Great Book of Lingerie. Academy editions. ISBN 0-85670-901-8
http://news.google.com/newspapers?id=BYIuAAAAIBAJ&sjid=q6AFAAAAIBAJ&pg=4318,2067675&dq=peasant+blouse+history+of&hl=en1970s
http://news.google.com/newspapers?id=ubwzAAAAIBAJ&sjid=L_gDAAAAIBAJ&pg=2532,1037393&dq=peasant+blouse+history+of&hl=en
http://pqasb.pqarchiver.com/latimes/access/595497762.html?dids=595497762:595497762&FMT=ABS&FMTS=ABS:AI&type=historic&date=May+08%2C+1969&author=&pub=Los+Angeles+Times&desc=Gypsy+Caravan+of+Fashion+Makes+Its+Way+Onto+Scene&pqatl=google=
http://www.latestbusinessreport.com/index.php?option=com_content&view=article&id=445700:hacktivist-claims-credit-for-wikileaks-attack-informationweek&catid=41:scitech&Itemid=58.
http://news.google.com/newspapers?id=cH8tAAAAIBAJ&sjid=FJkFAAAAIBAJ&pg=6893,2723999&dq=history+of+peasant+blouse&hl=en
http://news.google.com/newspapers?id=cH8tAAAAIBAJ&sjid=FJkFAAAAIBAJ&pg=6893,2723999&dq=history+of+peasant+blouse&hl=en
http://article.wn.com/view/2010/09/29/Sunblock_for_bald_men_correcting_the_myth_about_black_people/&usg=__NbYfijOG3YkqdVwztIagyqnm3DI=&h=315&w=468&sz=47&hl=en&start=67&zoom=1&tbnid=a0rEJ2TSS8CBfM:&tbnh=135&tbnw=201&prev=/images%3Fq%3Dwomen%2Bbald%2Bby%2Bsteroids%2Bchemotherapy%26um%3D1%26hl%3Den%26sa%3DN%26rlz%3D1T4GUEA_enGB374GB374%26biw%3D1580%26bih%3D649%26tbs%3Disch:10%2C1677&um=1&itbs=1&ei=2fInTaOfENOq4Aa62-SICg&biw=1580&bih=649&iact=rc&dur=168&oei=7_EnTbs2w8KEB8qUibkO&esq=3&page=4&ndsp=24&ved=1t:429,r:19,s:67&tx=144&ty=80
http://wn.com/crude_oil_pollution_exposure_kills_whole_families_with_cancer_in_russia_news_report_april_2,_2010?orderby=relevance
http://www.csmonitor.com/var/ezflow_site/storage/images/media/images/2008/0416/enviro-prize-irks-chevron/picture1.jpg/5254086-1-eng-US/picture1.jpg_full_600.jpg
http://article.wn.com/view/2010/09/29/Sunblock_for_bald_men_correcting_the_myth_about_black_people/&usg=__NbYfijOG3YkqdVwztIagyqnm3DI=&h=315&w=468&sz=47&hl=en&start=67&zoom=1&tbnid=a0rEJ2TSS8CBfM:&tbnh=135&tbnw=201&prev=/images%3Fq%3Dwomen%2Bbald%2Bby%2Bsteroids%2Bchemotherapy%26um%3D1%26hl%3Den%26sa%3DN%26rlz%3D1T4GUEA_enGB374GB374%26biw%3D1580%26bih%3D649%26tbs%3Disch:10%2C1677&um=1&itbs=1&ei=2fInTaOfENOq4Aa62-SICg&biw=1580&bih=649&iact=rc&dur=168&oei=7_EnTbs2w8KEB8qUibkO&esq=3&page=4&ndsp=24&ved=1t:429,r:19,s:67&tx=144&ty=80
http://wn.com/crude_oil_pollution_exposure_kills_whole_families_with_cancer_in_russia_news_report_april_2,_2010?orderby=relevance
http://www.csmonitor.com/var/ezflow_site/storage/images/media/images/2008/0416/enviro-prize-irks-chevron/picture1.jpg/5254086-1-eng-US/picture1.jpg_full_600.jpg
http://pqasb.pqarchiver.com/latimes/access/664149402.html?dids=664149402:664149402&FMT=CITE&FMTS=CITE:AI&type=historic&date=Mar+18%2C+1982&author=&pub=Los+Angeles+Times&desc=Display+Ad+94+--+No+Title&pqatl=google
http://pqasb.pqarchiver.com/smgpubs/access/60187503.html?dids=60187503:60187503&FMT=ABS&FMTS=ABS:FT&type=current&date=Apr+25%2C+1998&author=John+Davidson&pub=The+Herald&desc=gypsy+rose&pqatl=google
http://womensfashion.suite101.com/article.cfm/plus-size-boho-tops---cute-hippie-style-peasant-blouses--tunicshttp://www.highbeam.com/doc/1N1-0FF67A971ABD0CCE.html.
http://news.google.com/newspapers?id=cH8tAAAAIBAJ&sjid=FJkFAAAAIBAJ&pg=6893,2723999&dq=history+of+peasant+blouse&hl=en
http://news.google.com/newspapers?id=cH8tAAAAIBAJ&sjid=FJkFAAAAIBAJ&pg=6893,2723999&dq=history+of+peasant+blouse&hl=en.
http://pqasb.pqarchiver.com/smgpubs/access/60187503.html?dids=60187503:60187503&FMT=ABS&FMTS=ABS:FT&type=current&date=Apr+25%2C+1998&author=John+Davidson&pub=The+Herald&desc=gypsy+rose&pqatl=googleto
George-Warren, Holly, and Michelle Freedman: How the West Was Worn, Harry N. Abrams (2001), ISBN 0-8109-0615
https://www.amazon.co.uk/s/?ie=UTF8&keywords=polishing+bonnets&tag=mh0a9-21&index=aps&hvadid=3170742363&hvqmt=b&hvbmt=bb&hvdev=c&ref=pd_sl_4shaw3ccv_b
http://www.williamsburgmarketplace.com/webapp/wcs/stores/servlet/ProductView?catalogId=12122&storeId=10001&categoryId=14961&parentCategoryId=26107
http://www.germany.travel/en/towns-cities-culture/traditions-and-customs/arts-and-crafts/traditional-sorbian-costume.html
https://www.questia.com/newspaper/1P2-32576597/a-tiny-minority-fights-extinction-the-sorbs-germany-s
http://4.bp.blogspot.com/-vzZfT3HO88g/Uh9QYrOQFTI/AAAAAAAAVGY/6vRJfbpocB4/s1600/Sharpstein+School+Kindergarten,+1950-51.JPG
https://answers.yahoo.com/question/index;_ylt=AwrBT8lhldVYexsARnpXNyoA;_ylu=X3oDMTEyYWtmbnVyBGNvbG8DYmYxBHBvcwM2BHZ0aWQDQjM2MDRfMQRzZWMDc3I-?qid=20090421165631AARJFu5&p=male%20petticoating%20cild%20disipin
http://www.britishlibrary.typepad.co.uk/untoldlives/2013/07/punishing-children-in-victorian-england.html
http://www.victorianschool.co.uk/shop/shop_costume/images/authentic%20schoolgirl%20%5bVS%20webimage%5d.jpg
https://images.search.yahoo.com/images/view;_ylt=AwrB8p5e4BFZcXsAaYuJzbkF;_ylu=X3oDMTI0aDEzYmJuBHNlYwNzcgRzbGsDaW1nBG9pZANmZmZjYjdhMjE4NTJmZTJlMTc1NjFjZjRmYTBjOTFlYwRncG9zAzEzNQRpdANiaW5n?.origin=&back=https%3A%2F%2Fimages.search.yahoo.com%2Fsearch%2Fimages%3Fp%3Dfifties%2Bfashion%2B1950s%2Bgirls%2Bfashion%26fr%3Dyset_chr_cnewtab%26fr2%3Dpiv-web%26nost%3D1%26tab%3Dorganic%26ri%3D135&w=1750&h=2500&imgurl=images.halloweencostumes.com%2Fproducts%2F23522%2F1-1%2Fadult-50s-sweetheart-costume.jpg&rurl=http%3A%2F%2Fwww.halloweencostumes.com%2Fadult-50s-sweetheart-costume.html&size=387.7KB&name=Pinterest+Google%2B+Twitter+Facebook&p=fifties+fashion+1950s+girls+fashion&oid=fffcb7a21852fe2e17561cf4fa0c91ec&fr2=piv-web&fr=yset_chr_cnewtab&tt=Pinterest+Google%2B+Twitter+Facebook&b=121&ni=21&no=135&ts=&tab=organic&sigr=1226ct1do&sigb=14dpk265d&sigi=12g9bfe0e&sigt=112rsesar&sign=112rsesar&.crumb=CJGkpDzDNOA&fr=yset_chr_cnewtab&fr2=piv-web
https://images.search.yahoo.com/images/view;_ylt=AwrB8o5T4BFZz2AABPCJzbkF;_ylu=X3oDMTI0bGZjNjZyBHNlYwNzcgRzbGsDaW1nBG9pZANjNzc1MzlkMGM2OGQwMTY5NzNjZTY1MmYwY2VjNWZhYQRncG9zAzEwMARpdANiaW5n?.origin=&back=https%3A%2F%2Fimages.search.yahoo.com%2Fsearch%2Fimages%3Fp%3Dfifties%2Bfashion%2B1950s%2Bgirls%2Bfashion%26fr%3Dyset_chr_cnewtab%26fr2%3Dpiv-web%26nost%3D1%26tab%3Dorganic%26ri%3D100&w=634&h=582&imgurl=i.dailymail.co.uk%2Fi%2Fpix%2F2013%2F09%2F06%2Farticle-2414004-1BA5232B000005DC-378_634x582.jpg&rurl=http%3A%2F%2Fshorthairstyle2013.net%2F2013%2F2013-clothing-styles-for-women-in-their-50s.html&size=78.1KB&name=2013+%3Cb%3EClothing%3C%2Fb%3E+Styles+For+%3Cb%3EWomen%3C%2Fb%3E+In+Their+%3Cb%3E50s%3C%2Fb%3E+%7C+Short+Hairstyle+2013&p=fifties+fashion+1950s+girls+fashion&oid=c77539d0c68d016973ce652f0cec5faa&fr2=piv-web&fr=yset_chr_cnewtab&tt=2013+%3Cb%3EClothing%3C%2Fb%3E+Styles+For+%3Cb%3EWomen%3C%2Fb%3E+In+Their+%3Cb%3E50s%3C%2Fb%3E+%7C+Short+Hairstyle+2013&b=61&ni=21&no=100&ts=&tab=organic&sigr=12jfdke3g&sigb=14d9ao6lf&sigi=12jngspa1&sigt=12nfgdq46&sign=12nfgdq46&.crumb=CJGkpDzDNOA&fr=yset_chr_cnewtab&fr2=piv-web
https://images.search.yahoo.com/images/view;_ylt=AwrB8pTq3xFZgGIA7xmJzbkF;_ylu=X3oDMTIzdG5rdmczBHNlYwNzcgRzbGsDaW1nBG9pZAMwNTRjOTVjMzhiZDhjMGU3N2Y1MDA4NWJlNWVmZjlmZQRncG9zAzI2BGl0A2Jpbmc-?.origin=&back=https%3A%2F%2Fimages.search.yahoo.com%2Fsearch%2Fimages%3Fp%3Dfifties%2Bfashion%2B1950s%2Bgirls%2Bfashion%26fr%3Dyset_chr_cnewtab%26fr2%3Dpiv-web%26tab%3Dorganic%26ri%3D26&w=430&h=354&imgurl=ny-image1.etsy.com%2Fil_430xN.88551337.jpg&rurl=http%3A%2F%2Fwww.keyword-suggestions.com%2FMTk1MHMgZ2lybHMgZmFzaGlvbg%2F&size=24.8KB&name=%3Cb%3E1950s%3C%2Fb%3E+%3Cb%3EGirls%3C%2Fb%3E+%3Cb%3EFashion%3C%2Fb%3E+Related+Keywords+%26+Suggestions+-+%3Cb%3E1950s%3C%2Fb%3E+%3Cb%3EGirls%3C%2Fb%3E+...&p=fifties+fashion+1950s+girls+fashion&oid=054c95c38bd8c0e77f50085be5eff9fe&fr2=piv-web&fr=yset_chr_cnewtab&tt=%3Cb%3E1950s%3C%2Fb%3E+%3Cb%3EGirls%3C%2Fb%3E+%3Cb%3EFashion%3C%2Fb%3E+Related+Keywords+%26+Suggestions+-+%3Cb%3E1950s%3C%2Fb%3E+%3Cb%3EGirls%3C%2Fb%3E+...&b=0&ni=21&no=26&ts=&tab=organic&sigr=11u3kbcsh&sigb=145d3fufi&sigi=118icd1i7&sigt=13782dtks&sign=13782dtks&.crumb=CJGkpDzDNOA&fr=yset_chr_cnewtab&fr2=piv-web
https://images.search.yahoo.com/images/view;_ylt=AwrB8pTq3xFZgGIA_BmJzbkF;_ylu=X3oDMTIzZjY0aHZjBHNlYwNzcgRzbGsDaW1nBG9pZANiZWZhZjhlNTc3MDdiNGYwODlhYjk1YTIyZDhkNDk5OARncG9zAzM5BGl0A2Jpbmc-?.origin=&back=https%3A%2F%2Fimages.search.yahoo.com%2Fsearch%2Fimages%3Fp%3Dfifties%2Bfashion%2B1950s%2Bgirls%2Bfashion%26fr%3Dyset_chr_cnewtab%26fr2%3Dpiv-web%26tab%3Dorganic%26ri%3D39&w=412&h=565&imgurl=fashion.lilithezine.com%2Fimages%2F1950s-Fashion-06.jpg&rurl=https%3A%2F%2Fwww.thinglink.com%2Fscene%2F645321462445506560&size=45.8KB&name=%3Cb%3E1950%26%2339%3Bs%3C%2Fb%3E+%3Cb%3EFashion%3C%2Fb%3E+-+ThingLink&p=fifties+fashion+1950s+girls+fashion&oid=befaf8e57707b4f089ab95a22d8d4998&fr2=piv-web&fr=yset_chr_cnewtab&tt=%3Cb%3E1950%26%2339%3Bs%3C%2Fb%3E+%3Cb%3EFashion%3C%2Fb%3E+-+ThingLink&b=0&ni=21&no=39&ts=&tab=organic&sigr=11ile3ci3&sigb=145cjde69&sigi=11je9ui6t&sigt=11c4unm2b&sign=11c4unm2b&.crumb=CJGkpDzDNOA&fr=yset_chr_cnewtab&fr2=piv-web
https://images.search.yahoo.com/images/view;_ylt=AwrB8pTq3xFZgGIAAxqJzbkF;_ylu=X3oDMTIzY2I5c25yBHNlYwNzcgRzbGsDaW1nBG9pZANmMDE1MmY4YWNhMzZkNDI5NDk5OTAzYjcxMGZjYWYwNwRncG9zAzQ2BGl0A2Jpbmc-?.origin=&back=https%3A%2F%2Fimages.search.yahoo.com%2Fsearch%2Fimages%3Fp%3Dfifties%2Bfashion%2B1950s%2Bgirls%2Bfashion%26fr%3Dyset_chr_cnewtab%26fr2%3Dpiv-web%26tab%3Dorganic%26ri%3D46&w=630&h=1001&imgurl=www.mrcostumes.com%2Fimages%2Fpz%2F1976%2F56287-polka-dot-50s-skirt.jpg&rurl=http%3A%2F%2Fwww.mrcostumes.com%2FGrand-Heritage-Womens-Polka-Dot-50s-Costume-P101541.aspx&size=122.8KB&name=Home+%26gt%3B%26gt%3B+%3Cb%3E50s%3C%2Fb%3E+Costumes+%26gt%3B%26gt%3B+Grand+Heritage+%3Cb%3EWomens%3C%2Fb%3E+Polka+Dot+%3Cb%3E50s%3C%2Fb%3E+Costume&p=fifties+fashion+1950s+girls+fashion&oid=f0152f8aca36d429499903b710fcaf07&fr2=piv-web&fr=yset_chr_cnewtab&tt=Home+%26gt%3B%26gt%3B+%3Cb%3E50s%3C%2Fb%3E+Costumes+%26gt%3B%26gt%3B+Grand+Heritage+%3Cb%3EWomens%3C%2Fb%3E+Polka+Dot+%3Cb%3E50s%3C%2Fb%3E+Costume&b=0&ni=21&no=46&ts=&tab=organic&sigr=12irod8vb&sigb=145jnvs1h&sigi=11vcek283&sigt=134st2hmp&sign=134st2hmp&.crumb=CJGkpDzDNOA&fr=yset_chr_cnewtab&fr2=piv-web
https://images.search.yahoo.com/images/view;_ylt=AwrB8o5T4BFZz2AA9u.JzbkF;_ylu=X3oDMTIzNWZwdXZrBHNlYwNzcgRzbGsDaW1nBG9pZAM4OWJjNDczOTJlZGI5M2RjOTg3NWFhNmNmZjQwODc5MARncG9zAzg2BGl0A2Jpbmc-?.origin=&back=https%3A%2F%2Fimages.search.yahoo.com%2Fsearch%2Fimages%3Fp%3Dfifties%2Bfashion%2B1950s%2Bgirls%2Bfashion%26fr%3Dyset_chr_cnewtab%26fr2%3Dpiv-web%26nost%3D1%26tab%3Dorganic%26ri%3D86&w=469&h=600&imgurl=25.media.tumblr.com%2Ftumblr_lrojwkUAGY1qbkn6io1_500.jpg&rurl=http%3A%2F%2Fyeoldefashion.tumblr.com%2Fpage%2F45&size=39.3KB&name=17+september+2011+181+notes+1940s+%3Cb%3E1950s%3C%2Fb%3E+mexico+%3Cb%3Efashion%3C%2Fb%3E+%3Cb%3Efashion%3C%2Fb%3E+history+...&p=fifties+fashion+1950s+girls+fashion&oid=89bc47392edb93dc9875aa6cff408790&fr2=piv-web&fr=yset_chr_cnewtab&tt=17+september+2011+181+notes+1940s+%3Cb%3E1950s%3C%2Fb%3E+mexico+%3Cb%3Efashion%3C%2Fb%3E+%3Cb%3Efashion%3C%2Fb%3E+history+...&b=61&ni=21&no=86&ts=&tab=organic&sigr=117083ia8&sigb=14chqstod&sigi=11msm5tr8&sigt=12va5n504&sign=12va5n504&.crumb=CJGkpDzDNOA&fr=yset_chr_cnewtab&fr2=piv-web
https://images.search.yahoo.com/images/view;_ylt=AwrB8o5T4BFZz2AA9u.JzbkF;_ylu=X3oDMTIzNWZwdXZrBHNlYwNzcgRzbGsDaW1nBG9pZAM4OWJjNDczOTJlZGI5M2RjOTg3NWFhNmNmZjQwODc5MARncG9zAzg2BGl0A2Jpbmc-?.origin=&back=https%3A%2F%2Fimages.search.yahoo.com%2Fsearch%2Fimages%3Fp%3Dfifties%2Bfashion%2B1950s%2Bgirls%2Bfashion%26fr%3Dyset_chr_cnewtab%26fr2%3Dpiv-web%26nost%3D1%26tab%3Dorganic%26ri%3D86&w=469&h=600&imgurl=25.media.tumblr.com%2Ftumblr_lrojwkUAGY1qbkn6io1_500.jpg&rurl=http%3A%2F%2Fyeoldefashion.tumblr.com%2Fpage%2F45&size=39.3KB&name=17+september+2011+181+notes+1940s+%3Cb%3E1950s%3C%2Fb%3E+mexico+%3Cb%3Efashion%3C%2Fb%3E+%3Cb%3Efashion%3C%2Fb%3E+history+...&p=fifties+fashion+1950s+girls+fashion&oid=89bc47392edb93dc9875aa6cff408790&fr2=piv-web&fr=yset_chr_cnewtab&tt=17+september+2011+181+notes+1940s+%3Cb%3E1950s%3C%2Fb%3E+mexico+%3Cb%3Efashion%3C%2Fb%3E+%3Cb%3Efashion%3C%2Fb%3E+history+...&b=61&ni=21&no=86&ts=&tab=organic&sigr=117083ia8&sigb=14chqstod&sigi=11msm5tr8&sigt=12va5n504&sign=12va5n504&.crumb=CJGkpDzDNOA&fr=yset_chr_cnewtab&fr2=piv-web
https://images.search.yahoo.com/images/view;_ylt=AwrB8p5e4BFZcXsAXIuJzbkF;_ylu=X3oDMTI0cjJsbmpqBHNlYwNzcgRzbGsDaW1nBG9pZANhZDM3MjYwMzk2ZjUzMDE3NmZjMjBjNWMxYzE4NDNiZARncG9zAzEyMgRpdANiaW5n?.origin=&back=https%3A%2F%2Fimages.search.yahoo.com%2Fsearch%2Fimages%3Fp%3Dfifties%2Bfashion%2B1950s%2Bgirls%2Bfashion%26fr%3Dyset_chr_cnewtab%26fr2%3Dpiv-web%26nost%3D1%26tab%3Dorganic%26ri%3D122&w=189&h=334&imgurl=www.fiftiesweb.com%2Ffashion%2Fgirls3.jpg&rurl=http%3A%2F%2Ffiftiesweb.com%2Ffashion%2Fgirls-clothes%2F&size=17.5KB&name=%3Cb%3EFashion%3C%2Fb%3E+-%3Cb%3EGirls%3C%2Fb%3E+%3Cb%3EClothes%3C%2Fb%3E+-+Pre-Teens+and+Teens%7C+FiftiesWeb&p=fifties+fashion+1950s+girls+fashion&oid=ad37260396f530176fc20c5c1c1843bd&fr2=piv-web&fr=yset_chr_cnewtab&tt=%3Cb%3EFashion%3C%2Fb%3E+-%3Cb%3EGirls%3C%2Fb%3E+%3Cb%3EClothes%3C%2Fb%3E+-+Pre-Teens+and+Teens%7C+FiftiesWeb&b=121&ni=21&no=122&ts=&tab=organic&sigr=11cjb3tp9&sigb=14daav8hu&sigi=1157l43j8&sigt=12d9bgu54&sign=12d9bgu54&.crumb=CJGkpDzDNOA&fr=yset_chr_cnewtab&fr2=piv-web
https://images.search.yahoo.com/images/view;_ylt=AwrB8o5T4BFZz2AA3e.JzbkF;_ylu=X3oDMTIzbG80czhrBHNlYwNzcgRzbGsDaW1nBG9pZAMxYmZmMzMzNDIxMWNjODMzMmQ1MjEwYzI3MGQxMWQ4MQRncG9zAzYxBGl0A2Jpbmc-?.origin=&back=https%3A%2F%2Fimages.search.yahoo.com%2Fsearch%2Fimages%3Fp%3Dfifties%2Bfashion%2B1950s%2Bgirls%2Bfashion%26fr%3Dyset_chr_cnewtab%26fr2%3Dpiv-web%26nost%3D1%26tab%3Dorganic%26ri%3D61&w=656&h=902&imgurl=img0.etsystatic.com%2F000%2F0%2F5783207%2Fil_fullxfull.119193938.jpg&rurl=http%3A%2F%2Fwww.etsy.com%2Flisting%2F39460505%2Ffashion-frocks-style-card-1950s-little&size=131.0KB&name=%3Cb%3EFashion%3C%2Fb%3E+Frocks+%3Cb%3EStyle%3C%2Fb%3E+Card+%3Cb%3E1950s%3C%2Fb%3E+Little+%3Cb%3EGirls%3C%2Fb%3E%26%2339%3B+Dresses+Sold&p=fifties+fashion+1950s+girls+fashion&oid=1bff3334211cc8332d5210c270d11d81&fr2=piv-web&fr=yset_chr_cnewtab&tt=%3Cb%3EFashion%3C%2Fb%3E+Frocks+%3Cb%3EStyle%3C%2Fb%3E+Card+%3Cb%3E1950s%3C%2Fb%3E+Little+%3Cb%3EGirls%3C%2Fb%3E%26%2339%3B+Dresses+Sold&b=61&ni=21&no=61&ts=&tab=organic&sigr=12b763u62&sigb=14cr9pc5o&sigi=11sbr4klq&sigt=12qfejrd1&sign=12qfejrd1&.crumb=CJGkpDzDNOA&fr=yset_chr_cnewtab&fr2=piv-web
https://images.search.yahoo.com/images/view;_ylt=AwrB8pv44BFZ1FwA2TCjzbkF;_ylu=X3oDMTJhZmt0djFpBHNlYwNmcC10aHVtYnMEc2xrA2ltZwRvaWQDNzdmMTNlNDM5MDRlNDg5NTVmNDNiYmI2YmQxMWViMDMEZ3BvcwM0MgRpdANiaW5n?.origin=&back=https%3A%2F%2Fimages.search.yahoo.com%2Fsearch%2Fimages%3Fp%3Dfifties%2Bfashion%2B1950s%2Bgirls%2Bfashion%26fr%3Dyset_chr_cnewtab%26fr2%3Dpiv-web%26tab%3Dorganic%26ri%3D38&w=590&h=901&imgurl=s-media-cache-ak0.pinimg.com%2F736x%2Fc8%2F27%2F12%2Fc8271277b4a14ffe72a1737cde751620.jpg&rurl=https%3A%2F%2Fwww.pinterest.com%2Fpin%2F571042427722437442%2F&size=42.6KB&name=rockabilly+%3Cb%3Eclothes%3C%2Fb%3E+%7C+See+the+following+pictures+of+Bernie+Dexter%2C+a+...&p=fifties+fashion+1950s+girls+fashion&oid=77f13e43904e48955f43bbb6bd11eb03&fr2=piv-web&fr=yset_chr_cnewtab&tt=rockabilly+%3Cb%3Eclothes%3C%2Fb%3E+%7C+See+the+following+pictures+of+Bernie+Dexter%2C+a+...&b=0&ni=21&no=42&ts=&tab=organic&sigr=11hjmgtji&sigb=145tb48dt&sigi=12f3g60uc&sigt=12ehu3ovg&sign=12ehu3ovg&.crumb=CJGkpDzDNOA&fr=yset_chr_cnewtab&fr2=piv-web
https://images.search.yahoo.com/images/view;_ylt=AwrB8pTq3xFZgGIA.xmJzbkF;_ylu=X3oDMTIzYmU4cnJhBHNlYwNzcgRzbGsDaW1nBG9pZANkYjliNjU4OGMwM2Q2NDAxZDRjZjM3ZWNlMjg3MmZkYQRncG9zAzM4BGl0A2Jpbmc-?.origin=&back=https%3A%2F%2Fimages.search.yahoo.com%2Fsearch%2Fimages%3Fp%3Dfifties%2Bfashion%2B1950s%2Bgirls%2Bfashion%26fr%3Dyset_chr_cnewtab%26fr2%3Dpiv-web%26tab%3Dorganic%26ri%3D38&w=1750&h=2500&imgurl=images.costume.net%2Fproducts%2F1439%2F1-1%2Fgirls-50s-poodle-skirt.jpg&rurl=http%3A%2F%2Fgalleryhip.com%2F1950s-fashion-for-little-girls.html&size=397.8KB&name=%3Cb%3E1950s%3C%2Fb%3E+%3Cb%3EFashion%3C%2Fb%3E+For+Little+%3Cb%3EGirls%3C%2Fb%3E+%3Cb%3EGirls%3C%2Fb%3E+%3Cb%3E50s%3C%2Fb%3E+poodle+skirt&p=fifties+fashion+1950s+girls+fashion&oid=db9b6588c03d6401d4cf37ece2872fda&fr2=piv-web&fr=yset_chr_cnewtab&tt=%3Cb%3E1950s%3C%2Fb%3E+%3Cb%3EFashion%3C%2Fb%3E+For+Little+%3Cb%3EGirls%3C%2Fb%3E+%3Cb%3EGirls%3C%2Fb%3E+%3Cb%3E50s%3C%2Fb%3E+poodle+skirt&b=0&ni=21&no=38&ts=&tab=organic&sigr=11pb4uetq&sigb=145tb48dt&sigi=11vln00an&sigt=12otnmn4o&sign=12otnmn4o&.crumb=CJGkpDzDNOA&fr=yset_chr_cnewtab&fr2=piv-web
https://images.search.yahoo.com/images/view;_ylt=AwrB8pTq3xFZgGIACBqJzbkF;_ylu=X3oDMTIzMXM5aTBuBHNlYwNzcgRzbGsDaW1nBG9pZAMwMDljNzkxNjc4Yjk1M2RiNmRmOGY5MjE5Zjc4NDlhYwRncG9zAzUxBGl0A2Jpbmc-?.origin=&back=https%3A%2F%2Fimages.search.yahoo.com%2Fsearch%2Fimages%3Fp%3Dfifties%2Bfashion%2B1950s%2Bgirls%2Bfashion%26fr%3Dyset_chr_cnewtab%26fr2%3Dpiv-web%26tab%3Dorganic%26ri%3D51&w=600&h=830&imgurl=cdn.retrowaste.com%2Fwp-content%2Fgallery%2F1950s-dresses%2F1950s-dresses-1959-girls-01.jpg&rurl=http%3A%2F%2Fwww.retrowaste.com%2F1950s%2Ffashion-in-the-1950s%2F1950s-dresses-skirts-styles-trends-pictures%2F&size=102.7KB&name=Share+your+love+for+%3Cb%3E1950s%3C%2Fb%3E+Dresses+%26+Skirts%3A+Styles%2C+Trends+%26+Pictures&p=fifties+fashion+1950s+girls+fashion&oid=009c791678b953db6df8f9219f7849ac&fr2=piv-web&fr=yset_chr_cnewtab&tt=Share+your+love+for+%3Cb%3E1950s%3C%2Fb%3E+Dresses+%26+Skirts%3A+Styles%2C+Trends+%26+Pictures&b=0&ni=21&no=51&ts=&tab=organic&sigr=131vr9qbm&sigb=145ha3igp&sigi=12j4usitc&sigt=12c2rtqu0&sign=12c2rtqu0&.crumb=CJGkpDzDNOA&fr=yset_chr_cnewtab&fr2=piv-web
https://images.search.yahoo.com/images/view;_ylt=AwrB8pTq3xFZgGIAAxqJzbkF;_ylu=X3oDMTIzY2I5c25yBHNlYwNzcgRzbGsDaW1nBG9pZANmMDE1MmY4YWNhMzZkNDI5NDk5OTAzYjcxMGZjYWYwNwRncG9zAzQ2BGl0A2Jpbmc-?.origin=&back=https%3A%2F%2Fimages.search.yahoo.com%2Fsearch%2Fimages%3Fp%3Dfifties%2Bfashion%2B1950s%2Bgirls%2Bfashion%26fr%3Dyset_chr_cnewtab%26fr2%3Dpiv-web%26tab%3Dorganic%26ri%3D46&w=630&h=1001&imgurl=www.mrcostumes.com%2Fimages%2Fpz%2F1976%2F56287-polka-dot-50s-skirt.jpg&rurl=http%3A%2F%2Fwww.mrcostumes.com%2FGrand-Heritage-Womens-Polka-Dot-50s-Costume-P101541.aspx&size=122.8KB&name=Home+%26gt%3B%26gt%3B+%3Cb%3E50s%3C%2Fb%3E+Costumes+%26gt%3B%26gt%3B+Grand+Heritage+%3Cb%3EWomens%3C%2Fb%3E+Polka+Dot+%3Cb%3E50s%3C%2Fb%3E+Costume&p=fifties+fashion+1950s+girls+fashion&oid=f0152f8aca36d429499903b710fcaf07&fr2=piv-web&fr=yset_chr_cnewtab&tt=Home+%26gt%3B%26gt%3B+%3Cb%3E50s%3C%2Fb%3E+Costumes+%26gt%3B%26gt%3B+Grand+Heritage+%3Cb%3EWomens%3C%2Fb%3E+Polka+Dot+%3Cb%3E50s%3C%2Fb%3E+Costume&b=0&ni=21&no=46&ts=&tab=organic&sigr=12irod8vb&sigb=145jnvs1h&sigi=11vcek283&sigt=134st2hmp&sign=134st2hmp&.crumb=CJGkpDzDNOA&fr=yset_chr_cnewtab&fr2=piv-web
https://images.search.yahoo.com/images/view;_ylt=AwrB8pTq3xFZgGIA7xmJzbkF;_ylu=X3oDMTIzdG5rdmczBHNlYwNzcgRzbGsDaW1nBG9pZAMwNTRjOTVjMzhiZDhjMGU3N2Y1MDA4NWJlNWVmZjlmZQRncG9zAzI2BGl0A2Jpbmc-?.origin=&back=https%3A%2F%2Fimages.search.yahoo.com%2Fsearch%2Fimages%3Fp%3Dfifties%2Bfashion%2B1950s%2Bgirls%2Bfashion%26fr%3Dyset_chr_cnewtab%26fr2%3Dpiv-web%26tab%3Dorganic%26ri%3D26&w=430&h=354&imgurl=ny-image1.etsy.com%2Fil_430xN.88551337.jpg&rurl=http%3A%2F%2Fwww.keyword-suggestions.com%2FMTk1MHMgZ2lybHMgZmFzaGlvbg%2F&size=24.8KB&name=%3Cb%3E1950s%3C%2Fb%3E+%3Cb%3EGirls%3C%2Fb%3E+%3Cb%3EFashion%3C%2Fb%3E+Related+Keywords+%26+Suggestions+-+%3Cb%3E1950s%3C%2Fb%3E+%3Cb%3EGirls%3C%2Fb%3E+...&p=fifties+fashion+1950s+girls+fashion&oid=054c95c38bd8c0e77f50085be5eff9fe&fr2=piv-web&fr=yset_chr_cnewtab&tt=%3Cb%3E1950s%3C%2Fb%3E+%3Cb%3EGirls%3C%2Fb%3E+%3Cb%3EFashion%3C%2Fb%3E+Related+Keywords+%26+Suggestions+-+%3Cb%3E1950s%3C%2Fb%3E+%3Cb%3EGirls%3C%2Fb%3E+...&b=0&ni=21&no=26&ts=&tab=organic&sigr=11u3kbcsh&sigb=145d3fufi&sigi=118icd1i7&sigt=13782dtks&sign=13782dtks&.crumb=CJGkpDzDNOA&fr=yset_chr_cnewtab&fr2=piv-web
https://images.search.yahoo.com/images/view;_ylt=AwrB8p5e4BFZcXsAaYuJzbkF;_ylu=X3oDMTI0aDEzYmJuBHNlYwNzcgRzbGsDaW1nBG9pZANmZmZjYjdhMjE4NTJmZTJlMTc1NjFjZjRmYTBjOTFlYwRncG9zAzEzNQRpdANiaW5n?.origin=&back=https%3A%2F%2Fimages.search.yahoo.com%2Fsearch%2Fimages%3Fp%3Dfifties%2Bfashion%2B1950s%2Bgirls%2Bfashion%26fr%3Dyset_chr_cnewtab%26fr2%3Dpiv-web%26nost%3D1%26tab%3Dorganic%26ri%3D135&w=1750&h=2500&imgurl=images.halloweencostumes.com%2Fproducts%2F23522%2F1-1%2Fadult-50s-sweetheart-costume.jpg&rurl=http%3A%2F%2Fwww.halloweencostumes.com%2Fadult-50s-sweetheart-costume.html&size=387.7KB&name=Pinterest+Google%2B+Twitter+Facebook&p=fifties+fashion+1950s+girls+fashion&oid=fffcb7a21852fe2e17561cf4fa0c91ec&fr2=piv-web&fr=yset_chr_cnewtab&tt=Pinterest+Google%2B+Twitter+Facebook&b=121&ni=21&no=135&ts=&tab=organic&sigr=1226ct1do&sigb=14dpk265d&sigi=12g9bfe0e&sigt=112rsesar&sign=112rsesar&.crumb=CJGkpDzDNOA&fr=yset_chr_cnewtab&fr2=piv-web