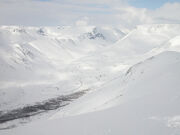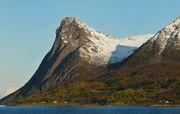 Exercise
[
]
Exercise Teamwork was a a major NATO biennial exercise in defence of Norway against a Soviet Maritime threat (Operation Northern Norway) against allied sea-lanes and force US commanders to reconsider tactics in the conduct of Harpoon missile striker, mine-laying missions, and air-to-air combat. It was founded between Norway, Denmark, the UK and the USAF in 1982 and has grown since. Teamwork '88 allowed NATO to evaluate there ability to conduct a maritime campaign in the Norwegian Sea and project forces ashore in northern Norway, as well as to generally upgrade the battle plans and war strategies for the region.
At one point the British Secretary of State for Defence asked if a amphibious landing rehearsal would be happening in the United Kingdom during the 1988 exercise, Teamwork '88, by his fellow MPs since it was seen as by some unnecessary by that time.
Duration
[
]
I don't know how long the large-scale event was, but it seems like a few weeks by what I know about it.
Participants
[
]
The USS Conyngham Visit to Aalborg in Denmark, July 1988 a major exercise in the Norwegian Sea. USS Conyngham then sailed straight from Cobh in Ireland to the Teamwork '88 NATO exercise in the Norwegian Sea. After the exercise, the ship then visited Trondheim in Norway.
America's Carrier Air Wing Eight (CVW-8) sent some ships and aircraft to it The air wing embarked on USS Theodore Roosevelt during the August of 1988 for Teamwork 88, the largest multi-national exercise of 1980s decade and operated in the North Atlantic with a port call in Wilhelmshaven, West Germany.
That December, CVW-8 embarked the Theodore Roosevelt on a new Mediterranean deployment, where they participated in a total of 10 NATO different exercises. The air wing had distinguished itself during this deployment by flying over 22,000 flight hours and 10,000 sorties without any major accidents or errors.
Other participants were the USS Saginaw (LST-1188), USS William V. Pratt (DDG-44), USS Detroit (AOE-4), USAF VF-84 (Fighter Squadron 84) and the Royal Norwegian Air Force. USS Puget Sound (AD-38)
Also see
[
]
Links
[
]