| | |
| --- | --- |
| | This page is under construction and is still being written! Any major unauthorized edits will be reverted, but some minor, grammar and spelling fixes are freely allowed if you find any errors of this type. |
| | |
| --- | --- |
| | IMPORTANT:This page has used Creative Commons Licensed content from Wikipedia in either a refactored, modified, abridged, expanded, built on or 'strait from' text content! |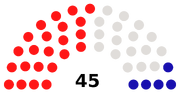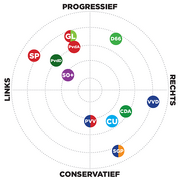 The scope of the artificial
This covers on the election day frauds like ballot stuffing and ballot counting fraud, reduced access to poling stations, destroying votes, turnout figures, phiscal violence on and about the voting day, voter bribary, corrupted hustings and a bias press coverage.
It dose not cover long term cronyism, slush funds, penetration by organized crime, coups, gerrymandering, corruption, purges, Nepotisum, 1 party states, non-royal dynastic regimes (N. Korea and Syria), or intrinsically unfair voting systems such as Apartheid S. Africa's Whites only elections.
What is political logic
Candidate types= no one votes for boring old gits, hypocrites, crooks and\or fools.
Local political trends= every one in the local pub hates the MP and brags the fact or conversely every one in the local pub likes the MP and brags the fact.
The parliamentary seat's history= Whig MPs from 1700 to 1850, Peelites until 1860, Liberal MPs until 1900 and Labour MPs there after, save for a one-off SDP victory in the 1980s = Conservatives don't stand a chance.
No one likes a persecutor= The party closed the local factory and local hospital as a policy and the local MP bragged about it repeatedly, which every one resents.
What are political mores
The patterns of conventional behavior in a society, or mores, are an effective means for preventing electoral fraud and corruption in general. A good example is Sweden, where the culture has a strong tendency toward positive values, resulting in a low incidence of political corruption. Until recently Canada had a similar reputation. The In and Out scandal of 2008 and the Robocall scandal of 2011 has tarnished Canada's electoral integrity.
An advantage of cultivating positive mores as a prevention strategy is that it is effective across all electoral systems and devices. A disadvantage is that it makes other prevention and detection efforts more difficult to implement because members of society generally have more trust and less of a sense for fraudulent methods.
There are also reconised laws and standards to ensure elections go ahead in a free, fair and honest manner.
Purpose of ballot fraud
The selfish gaining of the power to rule over an electorate by unfair, corrupt, violent and\or dishonest means.
How it is done
In many countries with weak rule of law , the most common reason why elections do not meet international standards of being "free and fair" is interference from the incumbent government.
Dictator s may use the powers of the executive (police, martial law, censorship, physical implementation of the election mechanism, etc.) to remain in power despite popular opinion in favor of removal. Members of a particular faction in a legislature may use the power of the majority or supermajority (passing criminal laws, defining the electoral mechanisms including eligibility and district boundaries) to prevent the balance of power in the body from shifting to a rival faction due to an election.
Non-governmental entities can also interfere with elections, through physical force, verbal intimidation, or fraud, which can result in improper casting or counting of votes. Monitoring for and minimizing electoral fraud is also an ongoing task in countries with strong traditions of free and fair elections. Problems that prevent an election from being "free and fair" take various forms.
Lack of open political debate or an informed electorate
The electorate may be poorly informed about issues or candidates due to lack of freedom of the press , lack of objectivity in the press due to state or corporate control, and/or lack of access to news and political media. Freedom of speech may be curtailed by the state, favoring certain viewpoints or state propaganda .
Unfair rules
Gerrymandering, exclusion of opposition candidates from eligibility for office, needlessly high restrictions on who may be a candidate, like ballot access rules, and manipulating thresholds for electoral success are some of the ways the structure of an election can be changed to favor a specific faction or candidate.
Interference with campaigns
Those in power may arrest or assassinate candidates, suppress or even criminalize campaigning, close campaign headquarters, harass or beat campaign workers, or intimidate voters with violence.
Tampering with the election mechanism
This can include confusing or misleading voters about how to vote, violation of the secret ballot , ballot stuffing , tampering with voting machines, destruction of legitimately cast ballots, voter suppression , voter registration fraud, failure to validate voter residency, fraudulent tabulation of results, and use of physical force or verbal intimation at polling places.
Other examples include persuading candidates into not standing against them, such as through blackmailing, bribery, intimidation or physical violence.
Sings it has happened
Voter turnouts
Ultra low turnouts
A sudden and stupendous fall in turn out when the election result is called, but with apparently loads of people wanting to take part when you ask them and\or they tell you in the run up to the election, then there has probably been vote destruction and\or counting fraud.
Ultra high turnouts
A sudden and stupendous rise in turn out when the election result is called, but with apparently no one wanting to take part when you ask them and\or they tell you in the run up to the election, then there has probably been ballot stuffing and\or counting fraud.
Over 100% turnouts
If the total results for all the candidates added together equals more than the total electorate in the voting district (a turn out of over 100%), then it is obvious that ballot stuffing and\or counting fraud has occurred and no one has even bothered to cover it up.
Cuing-up at the voting station
If the cues are long and persistent, expect a high turnout.
If the cues are short and intermittent, expect a low turnout.
If they look scared, then they were probably intimidated.
Stuffed and emptied ballot boxes
Press coverage
Bias press
Gagged press
False news sites
It is not propaganda, satire, a hoax or a parody. It is a deliberate disinformation campaign to warp people's common knowledge or cause a unfunny mass moral panic or heath scare just for the hell of it.
It is mostly the naive and daft people that fall for False news sites. In addition to this the European Populists, Eurosceptics, Trumpists, Brexitears and UKIP voters have recently shown they are particularly prone to taking anything that matches their political dogma and personal experiences at face value. They see 'truth' as a mirror of their beliefs and not a plausible scenario or reliable source issuing the information. They are obsessed beyond reason with story about immigration, celeb gossip, Islamic plots, communist (AKA- anything left of fascist) and\or Chinese conspiracy stories; thus risk crossing paths with the sort of topics and stories false news issue.
Manifestos and party literature
Bad polling
Bias polling
Polls are not really accurate, but when they do not match ether logic or the mood on the streets to the extreme, start to worry, since they could just be a work of fiction or propaganda. Many polls are poorly thought out and the wrong sort of people may be polled with the wrong type of question.
Polls not matching ballot results
Polls are not really accurate, but when they do not match the outcome of the election results to the extreme, start to worry, since the results could be fraudulent.
Bribes
Counting fraud
Poling station numbers and locations
Voting machines
Californian electric ones
One version of the California-based Sequoia touchscreen voting machine has a yellow button on the back side which, when pressed, allows repeated voting. It is designed so that pressing the button triggers two audible beeps so as to warn the poling stations staff that the voter was cheating.
Floridian paper punching ones
Whilst paper punching appears to be a simple task, the punch must be struck as hard as posible to ensure the minimalising of dimpled, dented and hanging chads.
'Man in the middle attacks' on the machines
In cryptography and computer security, a man-in-the-middle attack (often abbreviated MitM, MiM attack, MitMA or the same using all capital letters) is an attack where the attacker secretly relays and possibly alters the communication between two parties who believe they are directly communicating with each other. A man-in-the-middle attack can be used against many cryptographic protocols.
One example of man-in-the-middle attacks is active eavesdropping, in which the attacker makes independent connections with the victims and relays messages between them to make them believe they are talking directly to each other over a private connection, when in fact the entire conversation is controlled by the attacker. The attacker must be able to intercept all relevant messages passing between the two victims and inject new ones. This is straightforward in many circumstances; for example, an attacker within reception range of an unencrypted Wi-Fi wireless access point can insert himself as a man-in-the-middle.
As an attack that aims at circumventing mutual authentication, or lack thereof, a man-in-the-middle attack can succeed only when the attacker can impersonate each endpoint to their satisfaction as expected from the legitimate other end. Most cryptographic protocols include some form of endpoint authentication specifically to prevent MITM attacks. For example, TLS can authenticate one or both parties using a mutually trusted certificate authority.
Also see
Sources
Sources
Community content is available under
CC-BY-SA
unless otherwise noted.