Stats
[
]
Immola Airfield.
Category.
Statistic.
Location.
Finland.
Opened in.
1936.
Closed in.
Still open.
Operated by.
Finnish Air force.
Owned by.
Finnish Air force.
Outside link
http://aerodromes.eu/EFIM, https://images.search.yahoo.com/search/images;_ylt=A0LEVyvXOMhY2S4ASnFXNyoA;_ylu=X3oDMTEzMXBobHNmBGNvbG8DYmYxBHBvcwMxBHZ0aWQDVUkwMkM0XzEEc2VjA3Nj?p=Immola+Airfield&fr=dss_yset_chr, https://fi.wikipedia.org/wiki/Immolan_lentokentt%C3%A4?oldformat=true, http://www.raja.fi/rvl/k-sr/home.nsf/pages/7FD2428D777510FCC2256FF1003AC2A1?opendocument, http://aerodromes.eu/EFIM, https://images.search.yahoo.com/search/images;_ylt=A0LEVyvXOMhY2S4ASnFXNyoA;_ylu=X3oDMTEzMXBobHNmBGNvbG8DYmYxBHBvcwMxBHZ0aWQDVUkwMkM0XzEEc2VjA3Nj?p=Immola+Airfield&fr=dss_yset_chr, https://fi.wikipedia.org/wiki/Immolan_lentokentt%C3%A4?oldformat=true, http://www.lentopaikat.fi/immola-efim/, http://www.imatranik.net/, http://www.raja.fi/rvl/k-sr/home.nsf/pages/7FD2428D777510FCC2256FF1003AC2A1?opendocument, https://ais.fi/ais/vfr/aerodromes/EFIM.html, https://commons.wikimedia.org/wiki/Category:Immola_Airfield, http://aerodromes.eu/EFIM, https://www.wikidata.org/wiki/Q3016782, https://www.wikidata.org/wiki/Wikidata:Main_Page

https://en.wikipedia.org/wiki/Immola_Airfield, https://airplanemanager.com/Airports/EFIM http://www.maplandia.com/finland/airports/immola-airport/, https://en.wikipedia.org/wiki/Immola_Airfield, https://ais.fi/ais/vfr/aerodromes/EFIM.html, http://www.raja.fi/rvl/k-sr/home.nsf/pages/7FD2428D777510FCC2256FF1003AC2A1?opendocument, https://ais.fi/ais/vfr/aerodromes/EFIM.html, http://www.lentopaikat.net/efim.shtml, http://www.kondruss.biz/mad/finland/air-bases.html and http://www.kondruss.biz/mad/finland/air-bases.html#353217
History
[
]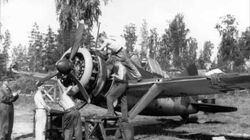 It was planned out in 1933, but in 1936 and used until 1944. The frontline airfield was expanded to handle civil use in Cold War era.
The old runway and part of the new one are one of the many rural gravel runways of the world.
It is the home of the Field Imatra Aviation Club and Skydive Karjala ry -laskuvarjokerhon.
It is near the Southeast Finland Border Guard Headquarters and the Border and Coast Guard Academy Imatra Training Center.
Finnish Border Guard operate helicopters from the airfield.
See also
[
]