| | |
| --- | --- |
| | IMPORTANT:This page has used Creative Commons Licensed content from Wikipedia in either a refactored, modified, abridged, expanded, built on or 'strait from' text content! |
The Kent State shootings (also known as the May 4 massacre, Kent State shootings, Kent State University vs. Ohio National Guardsmen, Kent State University Shootings, or the Kent State massacre) occurred at Kent State University in Kent, Ohio, in the United States and involved the shooting of unarmed college students by the Ohio National Guard on Monday, May 4, 1970. The guardsmen fired 67 rounds over a period of 13 seconds, killing four students and wounding nine others, one of whom suffered permanent paralysis.
Some of the students who were shot had been protesting the Cambodian Campaign, which President Richard Nixon announced during a television address on April 30. Other students who were shot had been walking nearby or observing the protest from a distance.
There was a significant national response to the shootings: hundreds of universities, colleges, and high schools closed throughout the United States due to a student strike of four million students, and the event further affected public opinion—at an already socially contentious time—over the role of the United States in the Vietnam War.
Background
Edit
Richard Nixon was elected President of the United States in 1968, promising to end the Vietnam War. In November 1969, the My Lai Massacre by American troops of between 347 and 504 civilians in a Vietnamese village was exposed, leading to increased public opposition in the United States to the war. The nature of the draft also changed in December 1969, with the first draft lottery since World War II. This eliminated deferments allowed in the prior draft process, affecting many college students and teachers.
The war had appeared to be winding down throughout 1969, so the new invasion of Cambodia angered those who believed it only exacerbated the conflict. Across the country, campuses erupted in protests in what the well read and trusted Time magazine called "a nation-wide student strike", setting the stage for the events of early May 1970.
To this day it is still beveled many thought Ho Chi Min was a hero, what ever, Che Guevara was a popular Anglo-American folk hero at this time.
The problem
Edit
The collage campus protests and the insuring crisis had 10 fundamental causes:-
The apparently unwinnable and moral dubious war in Vietnam.
American plans to invade and at least in part occupy Cambodia.
Rumors, later proven to be true, of covert America block bombing in parts of Laos.
Political agitation by the New Left, Viet Cong and Che Guevara lovers.
The Generation Gap.
The increasingly brutal and bizarre presidency of Richard Nixon.
Youth culture and the Yippy movement.
Dropout culture and the Hippy movement.
A General distrust in Americas government by America's youth of that time.
Disgust at the events of the My Lai Massacre .
Dodging the draft also changed in December 1969, which was the first draft lottery since Word War 1.
The event
Edit
Thursday, April 30
Edit
President Nixon announced to the nation that the "Cambodian Incursion" had been launched by United States combat forces.
Friday, May 1
Edit
At Kent State University a demonstration with about 500 students was held on May 1 on the Commons (a grassy knoll in the center of campus traditionally used as a gathering place for rallies or protests).
A group of history students buried a copy of the United States Constitution to symbolize that Nixon had killed it.
Trouble exploded in town around midnight, when people left a bar and began throwing beer bottles at police cars and breaking downtown storefronts. By the time police arrived, a crowd of 120 had already gathered. Some people from the crowd had already lit a small bonfire in the street. The crowd appeared to be a rowdy mix of bikers, students, and transient people.
Kent Mayor LeRoy Satrom declared a state of emergency, called Ohio Governor Jim Rhodes' office to seek assistance, and ordered all of the bars closed.
Saturday, May 2
Edit
City officials and downtown businesses received threats, while rumors proliferated that radical revolutionaries were in Kent to destroy the city and university. Mayor Satrom met with Kent city officials and a representative of the Ohio Army National Guard feeling local authorities had lost control of the situation.
The protesters arson the campus Reserve Officers' Training Corps (ROTC) building as over a thousand protesters surrounded the building and cheered its burning. Several Kent firemen and police officers were struck by rocks and other objects while attempting to extinguish the blaze. Several fire engine companies had to be called in because protesters carried the fire hose into the Commons and slashed it. The National Guard made numerous arrests and used tear gas; at least one student was slightly wounded with a bayonet.
Sunday, May 3
Edit
During a press conference at the Kent firehouse, an emotional Governor Rhodes pounded on the desk[17] and called the student protesters un-American, referring to them as revolutionaries set on destroying higher education in Ohio.
Rhodes also claimed he would obtain a court order declaring a state of emergency that would ban further demonstrations and gave the impression that a situation akin to martial law had been declared; however, he never attempted to obtain such an order. During the day, some students came into downtown Kent to help with cleanup efforts after the rioting, which was met with mixed reactions from local businessmen. Mayor Satrom, under pressure from frightened citizens, ordered a 11:00 p.m. curfew until further notice.
Another rally was held on the campus Commons that earning and with in 45 minuets, the Guardsmen used tear gas to disperse the crowd. The students reassembled at the intersection of Lincoln and Main, holding a sit-in with the hopes of gaining a meeting with Mayor Satrom and the university president, Robert White. The National Guard announced that a curfew had gone into effect at the due time and began forcing the students back to their dorms, during which a few students were bayoneted by Guardsmen.
Monday, May 4
Edit
On Monday, May 4, a protest was scheduled to be held at noon, as had been planned three days earlier. University officials attempted to ban the gathering, handing out 12,000 leaflets stating that the event was canceled. Despite these efforts, an estimated 2,000 people gathered on the university's Commons, near Taylor Hall. The protest began with the ringing of the campus's iron Victory Bell (which had historically been used to signal victories in football games) to mark the beginning of the rally, and the first protester began to speak.
Companies A and C, 1/145th Infantry and Troop G of the 2/107th Armored Cavalry, Ohio National Guard (ARNG), the units on the campus grounds, attempted to disperse the students. The legality of the dispersal was later debated at a subsequent wrongful death and injury trial. On appeal, the United States Court of Appeals for the Sixth Circuit ruled that authorities did indeed have the right to disperse the crowd. 
The dispersal process began late in the morning with campus patrolman Harold Riceriding in a National Guard Jeep, approaching the students to read them an order to disperse or face arrest. The protesters responded by throwing rocks, striking one campus patrolman and forcing the Jeep to retreat. Just before noon, the Guard returned and again ordered the angry crowd to disperse. When most of the crowd refused, the Guard used tear gas.
When it became clear that the crowd was not going to disperse, a group of 77 National Guard troops from A Company and Troop G, with bayonets fixed on their M1 Garand rifles, began to advance upon the hundreds of unarmed protesters. As the guardsmen advanced, the protesters retreated up and over Blanket Hill, heading out of the Commons area. Once over the hill, the students, in a loose group, moved northeast along the front of Taylor Hall, with some continuing toward a parking lot in front of Prentice Hall (slightly northeast of and perpendicular to Taylor Hall). The guardsmen pursued the protesters over the hill, but rather than veering left as the protesters had, they continued straight, heading down toward an athletic practice field enclosed by a chain link fence, with some fleeing. They then confuted each other on the Commons about 10 minuets later.
At 12:24 p.m., according to eyewitnesses, Sgt. Myron Pryor turned and began firing at the students with his 0.45 pistol. In all, 29 of the 77 guardsmen claimed to have fired their weapons, using a final total of 67 rounds of ammunition. The shooting was determined to have lasted only 13 seconds, although John Kifner reported in The New York Times that "it appeared to go on, as a solid volley, for perhaps a full minute or a little longer." The question of why the shots were fired remains widely debated.
The adjutant general of the Ohio National Guard told reporters that a sniper had fired on the guardsmen, which remains a debated allegation. Many guardsmen later testified that they were in fear for their lives, which was questioned partly because of the distance between them and the students killed or wounded. Time magazine later concluded that "triggers were not pulled accidentally at Kent State." The President's Commission on Campus Unrest avoided probing the question of why the shootings happened. Instead, it harshly criticised both the protesters and the Guardsmen, but it concluded that "the indiscriminate firing of rifles into a crowd of students and the deaths that followed were unnecessary, unwarranted, and inexcusable." 
The shootings killed four students and wounded nine. Two of the four students killed, Allison Krause and Jeffrey Miller, had participated in the protest, and the other two, Sandra Scheuer and William Knox Schroeder, had been walking from one class to the next at the time of their deaths. Schroeder was also a member of the campus ROTC battalion.
Location- Kent State University, Kent, Ohio, United States.
Date May 4, 1970 at 12:24 p.m. (Eastern: UTC-5).
Target- Rebling Kent State University students.
Weapons- M1 Garand rifles, 0.45 caliber pistol, 0.30 pistol and a 12-gauge shotgun.
Deaths- 4.
Non-fatal injuries- 9.
Perpetrators- Ohio Army National Guard.
False rumors
Edit
A false rumor circulated shortly afterwards among some leftist and youth circles that a light armored vehicle, such as a Cadillac Gage Commando, had fire a shell at the crowd which had exploded on impact and thus caused several minor injuries to the rebelling students.
Mary Ann Vecchio
Edit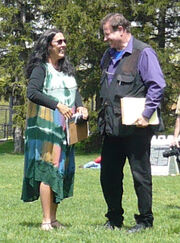 Mary Ann Vecchio (born December 4, 1955) was the subject of a Pulitzer Prize-winning photograph by photojournalism student John Filo in the aftermath of the Kent State shootings on May 4, 1970.
John Filo's Pulitzer Prize-winning photograph of Mary Ann Vecchio, shows the 14-year-old ex-runaway Vecchio kneeling over the body of Jeffrey Miller, who had been shot by the Ohio National Guard moments earlier. Vecchio had joined the protest while visiting the campus, where she had befriended two of the other students who were hit by gunfire that day: Sandra Scheuer, who was killed; and Alan Canfora, who was wounded. It would soon become one of the best bits of anti-government photo-propaganda mankind had ever made.
Florida governor Claude Kirk labelled Vecchio a 'dissident communist'.
Aftermath
Edit
Photographs of the dead and wounded at Kent State that were distributed in newspapers and periodicals worldwide amplified sentiment against the United States' invasion of Cambodia and the Vietnam War in general, creating martyrs for the anti-Vietnam War movement. The Kent State campus remained closed for six weeks. Hippies, Yippies, anti-war types, youth culture lovers, the New Left, radical Liberals, Nixon haters, anti-establishment elements and Che Guevara lovers all spun it for all the PR business could milk it for.
The shootings led to protests on college campuses throughout the United States, and a student strike, causing over 4 million students protested and more than 450 campuses across the country to close with both violent and non-violent demonstrations. A common sentiment was expressed by students at New York University with a banner hung out of a window that read, "They Can't Kill Us All."
On May 8, eleven people were bayonetted at the University of New Mexico by the New Mexico National Guard in a confrontation with student protesters and an anti-war protest at New York's Federal Hall held at least partly in reaction to the Kent State killings was met with a counter-rally of pro-Nixon construction workers (organized by Peter J. Brennan, later appointed U.S. Labor Secretary by President Nixon), resulting in the Hard Hat Riot.
Just five days after the shootings, 100,000 people demonstrated in Washington, D.C., against the war and the killing of unarmed student protesters. Ray Price, Nixon's chief speechwriter from 1969–1974, recalled the Washington demonstrations saying, "The city was an armed camp. The mobs were smashing windows, slashing tires, dragging parked cars into intersections, even throwing bed springs off overpasses into the traffic down below. This was the quote, student protest. That's not student protest, that's civil war."
Not only was Nixon taken to Camp David for two days for his own protection, but Charles Colson (Counsel to President Nixon from 1969 to 1973) stated that the military was called up to protect the administration from the angry students; he recalled that "The 82nd Airborne was in the basement of the executive office building, so I went down just to talk to some of the guys and walk among them, and they're lying on the floor leaning on their packs and their helmets and their cartridge belts and their rifles cocked and you're thinking, 'This can't be the United States of America. This is not the greatest free democracy in the world. This is a nation at war with itself.'" 101st Airborne Division (United States), a US Army Division nicknamed the "Screaming Eagles" had also pledged its loyalty to the president and had put some of its troops on standby for imminent action at this time.
President Nixon and his administration's were not concerned by the moral situation. National Security Advisor Henry Kissinger and renowned U.S. historian Stanley Karnow were deserted by it. After the student protests, Nixon asked H. R. Haldeman to consider the Huston Plan, which would have used illegal procedures to gather information on the leaders of the anti-war movement. Only the resistance of J. Edgar Hoover stopped the plan.
The Huston Plan was a 43-page report and outline of proposed security operations put together by White House aide Tom Charles Huston in 1970. It first came to light during the 1973 Watergate hearings headed by Senator Sam Ervin, who was a Democrat from North Carolina.
Among other things the plan called for domestic burglary, illegal electronic surveillance and opening the mail of domestic "radicals". At one time it also called for the creation of camps in Western states where anti-war protesters would be detained. Only the official resistance of J. Edgar Hoover stopped President Nixon's plan for mass illegal surveillance of the public going ahead.
Nixon's press secretary, Ron Ziegler, whose statements were carefully programmed, referred to the deaths as a reminder that 'when dissent turns to violence, it invites tragedy.'" Three days before the shootings, Nixon had talked of "bums" who were antiwar protesters on United States campuses, to which the father of Allison Krause stated on national TV "My child was not a bum."
President Richard Milhous Nixon was the 37th President of the United States, serving from 1969 to 1974 when he became the only U.S. president to resign the office.
In 1972, Senator Humphrey once again ran for the Democratic nomination for president. He drew upon continuing support from organized labour and the African-American and Jewish communities, but remained unpopular with college students because of his association with the Vietnam War, even though he had altered his position in the years since his 1968 defeat.
Memorials
Edit
Each May 4 from 1971 to 1975 the Kent State University administration sponsored an official commemoration of the events. Many memorials were erected over the years.
Governor Rhodes, on May 3rd-
"We've seen here at the city of Kent especially, probably the most vicious form of campus oriented violence yet perpetrated by dissident groups. They make definite plans of burning, destroying, and throwing rocks at police, and at the National Guard and the Highway Patrol. This is when we're going to use every part of the law enforcement agency of Ohio to drive them out of Kent. We are going to eradicate the problem. We're not going to treat the symptoms. And these people just move from one campus to the other and terrorize the community. They're worse than the brown shirts and the communist element and also the night riders and the vigilantes"
Governor Rhodes, on May 3rd-
"They're the worst type of people that we harbor in America. Now I want to say this. They are not going to take over [the] campus. I think that we're up against the strongest, well-trained, militant, revolutionary group that has ever assembled in America."
Allison Krause, a few days afterwards-
"My child was not a bum."
"Bum" in this content can mean some along the lines of- A lazy, shiftless, idle, loafing around incompetent, insignificant or obnoxious person, especially to live solely by the support of other and\or by begging and scavenging from place to place or from the state. Spending a lot of time doing a particular recreational activity and (at that time) drug taking parties to.
The titular reason for not using the word "massacre" in the title
Edit
"Massacre" from dictionary.com:

The act or an instance of killing a large number of humans indiscriminately and cruelly.
The slaughter of a large number of animals.

"Massacre" from Wordnet:

The savage and excessive killing of many people

"Massacre" from Wikipedia:

The word massacre has a number of meanings, but most commonly refers to individual events of deliberate and direct mass killing, especially of non-combatant civilians or other innocents without any reasonable means of defense, that would often qualify as war crimes or atrocities...Additionally, the word massacre is often used for political or propaganda purposes, and the choice of whether to label an event a massacre may become a sensitive one; see, for example, the Kent State massacre.

Only 4 died and 9 were wounded, thus it is not a "massacre"!!!
Author's note
Edit
America's "generation gap" phenomenon occurred in the 1960s and 1970s.
The army officers, who were overwhelmingly White, right wing, power mad and regularly abused their office. The younger army troops were naturally rebellious, amateurish, paranoid and insubordinate.
At this juncture in time, the USA was de facto run by a gaggle of power thirsty, war wacky, paranoid, 40+ year old, White or Jewish men; whilst most of the rioting college students and anti-war youth protesters were White or Black, paranoid, left wing, Mao worshiping, 30- year old, narcissistic, druggy, insubordinate drop-outs.
External sourcing links
Edit
https://groups.google.com/forum/#!#http://www.teachingcleveland.org/index.php?option=com_content&view=article&id=1237:kent-state-shootings-from-wikipedia&catid=154:kent-state-shootings-may-4-1970&Itemid=247
Thomas W. Becker, A Season of Madness: Life and Death in the 1960's(2007) Chapter 9
"Kneeling With Death Haunted a Life". The New York Times. Associated Press. May 6, 1990. Retrieved June 19, 2013.
Brozan, Nadine (1995-04-25). "Chronicle" (hosted at May4Archive.org). The New York Times. p. B4. Retrieved 2007-05-01.
Kent May 4 Center. Archived from the original on 2003-08-13.
"Ethics". Michigan Press Photographers Association. Archived from the original on 2003-08-13. Retrieved 2007-05-01.
http://millercenter.org/presidentialclassroom/exhibits/a-rough-guide-to-richard-nixons-conspiracy-theories#Calm_Kissinger
http://millercenter.org/presidentialclassroom/exhibits/a-rough-guide-to-richard-nixons-conspiracy-theories#Calm_Kissinger
https://books.google.co.uk/books?id=5_Y2LhgrpToC&pg=PA1006&lpg=PA1006&dq=Humphrey+plans+to+oust+Nixon+Washington&source=bl&ots=MIycLxiyYi&sig=GqICBq7_PNJWhZkbzFe0tG1-y6s&hl=en&sa=X&ved=0ahUKEwjn65Px14zMAhWC1RoKHRsWCfwQ6AEIODAF#v=onepage&q=Humphrey%20plans%20to%20oust%20Nixon%20Washington&f=false
http://www.truth-out.org/progressivepicks/item/13994-how-richard-nixon-sabotaged-1968-vietnam-peace-talks-to-get-elected-president
https://books.google.co.uk/books?id=7nupjXLbA7UC&pg=PA1006&lpg=PA1006&dq=Humphrey+plans+to+oust+Nixon+Washington&source=bl&ots=uPYr8Bqe3C&sig=ufVV5Icwyy0RLoQnolGVqsv3V5Q&hl=en&sa=X&ved=0ahUKEwjn65Px14zMAhWC1RoKHRsWCfwQ6AEIMzAE#v=onepage&q=Humphrey%20plans%20to%20oust%20Nixon%20Washington&f=false
Community content is available under
CC-BY-SA
unless otherwise noted.