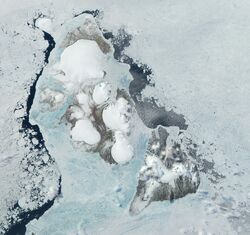 Location
[
]
Komsomolets Island (Russian: остров Комсомолец, Transliteration: Ostrov Komsomolets) is the northern most of the three main Severnaya Zemlya (Russian: Се́верная Земля́, Literally: Northern Land) islands in northern coastal Siberia.
Discovery
[
]
It was discovered by Boris Vilkitsky in 1913, but its insularity and thus island status, wasn't proven until 1931, when Georgy Ushakov and Nikolay Urvantsev charted the archipelago during their 1930–32 expedition.
Name sake
[
]
Komsomolets Island (Russian: остров Комсомолец, Transliteration: Ostrov Komsomolets) was named after the Komsomol (the "Communist Union of Youth") of the Bolshevik Party.
The island itself
[
]
The northernmost point of the island is called the Arctic Cape.
The area of this island has been estimated at 9,006 km².
It rises to a height of 780 m.
About 65% of the island is covered with glaciers, which are largely absent in the norther part and the Arctic Cape.
It is home to the largest ice cap in Russia, the Academy of Sciences Ice Cap.
Laying off the north western shores of Komsomolets Island lies a group of islets known as Ostrova Dem'yana Bednogo .
Climate
[
]
It has a a tundra and cold desert climate (Köppen ET bordering on EF). The mean annual temperature of −14.8 °C (5.4 °F) and mean annual precipitation of about 420 mm (16.5 in), with generally overcast skies and snow permanently lying on the ground.
Wildlife
[
]
It is a largely unforgiving environment with scattered with mosses and lichens on the stones, loose loam and sands. Some small arctic mammals, polar bear, arctic birds and seals visit the island to.
Tourism
[
]
It is a common starting point for trips to the North Pole at Arctic Cape, 990.8 km south of North Pole.
Also see
[
]
Sakhalin Island
Links
[
]