| | |
| --- | --- |
| | This page is under construction. and is still being written! Any major unauthorized edits will be reverted. |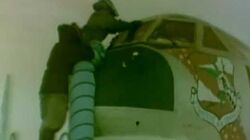 America and Canada wanted a way of limitedly retaliation against the USSR if an attack feat was detected coming over the North Pole on the DEW Line or when the bombs began falling in Florida, Germany and africa  
Plans were soon thought up by people like General Thomas S. Power in which which B-52 Stratofortress strategic bomber aircraft armed with thermonuclear weapons remained on continuous airborne alert, flying routes to points on the Soviet Union's border. The would loiter near strategic points outside the Soviet Union and Yugoslavia to provide rapid first strike or retaliation capability in case of a nuclear war.
The operation
Edit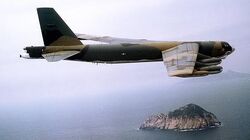 It started as the in 1958 Head Start Program, the full-scale Airborne Alert Indoctrination program known as Operation Chrome Dome which ran from from 1960 to 1968. Other related programs were called Hard Head Round Robin and Operation Giant Lance.
The United States Air Force had several which B-52 Stratofortress strategic bombers armed with nuclear weapons on continuous airborne alert, flew on routes from North America to bordering points on the Soviet Union border, at least 2 flights crossing Greenland a day with nuclear weapons for almost a decade.  All the ruote covered or all of the borders of Greenland, the USA and Canada.
A related offshoot saw similar fights go from the USA to Spain, Portugal, Malta and Italy in the mid to late 1960's.  
Accidents
Edit
Community content is available under
CC-BY-SA
unless otherwise noted.