Stats
[
]
History
[
]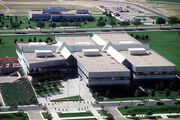 RAF Fylingdales gives it's data to US-Canadian run North American Aerospace Defense Command at Peterson Air Force Base in Colorado Springs, under the UK-USA Agreement. It is part of the Ballistic Missile Early Warning System. 
In 1940, the Lowry bombardier school at Denver and Camp Carson south of Colorado Springs was built (the HQ completed January 31, 1942).
The Air Force Space Command (AFSPC) is stationed there. It is also a major communications hub in the US military system.
See also
[
]