| | |
| --- | --- |
| | IMPORTANT:This page has used Creative Commons Licensed content from Wikipedia in either a refactored, modified, abridged, expanded, built on or 'strait from' text content! |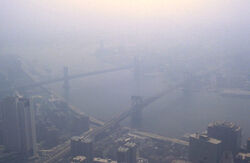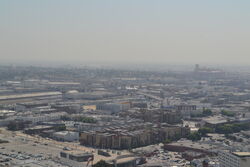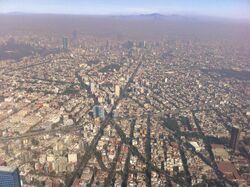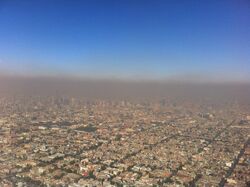 The phenomena
[
]
Smog is a type of air pollutant. The word "smog" was coined in the early 20th century as a portmanteau of the words smoke and fog to refer to smoky fog, its opacity, and odour. The word was then intended to refer to what was sometimes known as pea soup fog, a familiar and serious problem in London from the 19th century to the mid 20th century. This kind of visible air pollution is composed of nitrogen oxides, sulphur oxides, ozone, smoke or dirt particles and particulates among others (less visible pollutants include carbon monoxide and CFCs) Human-made smog is derived from coal emissions, vehicular emissions, industrial emissions, forest and agricultural fires and photochemical reactions of these emissions.
Modern photogenic\photochemical smog, as found for example in Los Angeles, is a type of air pollution derived from vehicular emission from internal combustion engines and industrial fumes that react in the atmosphere with sunlight to form secondary pollutants that also combine with the primary emissions to form photochemical smog. In certain other cities, such as Delhi, smog severity is often aggravated by stubble burning in neighboring agricultural areas. The atmospheric pollution levels of Los Angeles, Beijing, Delhi, Lahore, Mexico City, Tehran and other cities are increased by inversion that traps pollution close to the ground. It is usually highly toxic to humans and can cause severe sickness, shortened life span or death.
There are several ways to define and categorize types of smog, with some sources defining two main types of smog: smoky "London"-style smog and hazy "Los Angeles"-style smog.
Photochemical smog is the result of a chemical reaction of sunlight, nitrogen oxides  and volatile organic compounds in the atmosphere, which leaves airborne particles and ground-level ozone. This noxious mixture of air pollutants may include the following:
There are 5 mane types:
Traditional 'smokey' smog= Poor air circulation + heavy fog, smoke and ash.
Photogenic\photochemical smog= Poor air circulation + smoke and car fumes.
Photogenic\photochemical smog= Poor air circulation + ozone and car fumes.
Photogenic\photochemical smog= Poor air circulation + polen and car fumes.
Photogenic\photochemical smog= Poor air circulation + products of rotting plants like methane and car fumes.
A London smog describes particulate matter (for example sulfur dioxide, smoke, and soot) from stationary industrial sources (typically coal combustion from industrial chimneys) mixing with naturally occurring fog.
A Los Angeles smog, or photochemical smog, results from the combustion of petroleum (and other petrochemicals) and emission of exhaust gas, usually by motor vehicles and petrochemical plants. More precisely, photochemical smog is the product of "secondary" pollutants (ozone, oxidants) that form when hydrocarbons (or volatile organic compounds), carbon monoxide, nitrogen oxides, and other chemicals react together in sunlight. Photochemical smog arrived in modern cities in the 1940s and 1950s with the popularization of motor vehicles and development of new power plants.
Neither London smog nor Los Angeles smog is exclusive to the city that lends its name, and both can be commonly found in the same region. At the time of the 1966 smog and in the two decades prior, air pollution in New York City was caused by both stationary sources such as industrial coal-burning and mobile sources such as motor vehicles, and as such, combined the characteristics of both London smog and Los Angeles smog.
Although smog is a chronic condition, unfavorable weather conditions and excessive pollutants can cause intense concentrations of smog that can cause acute illness and death; because of their unusual visibility and lethality, these intense smog events have often been publicized in the media and are typically described as disasters or, more specifically, environmental disasters. An acute "smog event" may also be called simply "a smog", a smog "episode", or a "killer smog" (if it caused, or had the potential to cause, deaths).
Health problems
[
]
Smog is a serious problem in many cities and continues to harm human health. Ground-level ozone, sulfur dioxide, nitrogen dioxide and carbon monoxide are especially harmful for senior citizens, children, and people with heart and lung conditions such as emphysema, bronchitis, and asthma.
The 1966 New York City smog was an air-pollution event, with damaging levels of carbon monoxide, sulfur dioxide, smoke, and haze. Smog covered the city from November 23 to 26, which was that year's Thanksgiving holiday weekend. It was the third major smog in New York City, and followed events of similar scale in 1953 and 1963.
On November 23, a large mass of stagnant air over the East Coast trapped pollutants in the city's air. For three days, New York City had high levels of carbon monoxide, sulfur dioxide, smoke, and haze. Smaller pockets of air pollution pervaded the New York metropolitan area. On November 25, regional leaders announced a "first-stage alert". During the alert, leaders of local and state governments asked residents and industry to take voluntary steps to minimize emissions. Health officials advised people with respiratory or heart conditions to stay indoors. The city shut off garbage incinerators, requiring massive hauling of garbage to landfills. A cold front dispersed the smog on November 26 and the alert ended.
In the months that followed, scientists and doctors studied the smog's impact. It became clear that the smog had been a major environmental disaster with severe public health effects. One study estimated that 10% of the city's population suffered adverse health effects, such as stinging eyes, coughing, and respiratory distress. City health officials initially maintained that the smog had not caused any deaths. Later, a statistical analysis found that 168 people had likely died because of the smog.
The smog catalyzed greater national awareness of air pollution as a serious health problem and political issue. New York City updated its local laws on air pollution control. Prompted by the smog, President Lyndon B. Johnson and members of Congress worked to pass federal legislation regulating air pollution in the United States, culminating in the 1967 Air Quality Act and the 1970 Clean Air Act. The 1966 smog is a milestone that has been compared with other pollution events, including the health effects of pollution from the September 11 attacks and pollution in China.
Also see
[
]
Birmingham, Alabama smogs of the 1960s and 1970s
Sources
[
]