| | |
| --- | --- |
| | IMPORTANT:This page has used Creative Commons Licensed content from Wikipedia in either a refactored, modified, abridged, expanded, built on or 'strait from' text content! |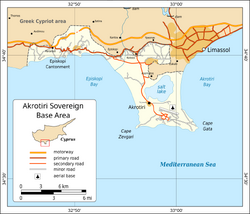 Data
[
]
Colonial rule
[
]
Royal Air Force Akrotiri or more simply RAF Akrotiri (IATA: AKT, ICAO: LCRA) is a large Royal Air Force station, on the Mediterranean island of Cyprus. It is located in the Western Sovereign Base Area, one of two areas which comprise Akrotiri and Dhekelia, a British Overseas Territory, administered as a Sovereign Base Area.
The station commander is 'double-hatted' and is also the officer commanding the Akrotiri Base Area\Western Sovereign Base Area, reporting to the commander of British Forces Cyprus who is also the Administrator.
Millitary history
[
]
It has been involved in may operations oer the years, including-
In August 1970 a detachment of "G" of the Central Intelligence Agency arrived at the airfield with U-2 aircraft to monitor the Egypt/Israel Suez Canal fighting and cease fire. Later permanent monitoring of Middle East Ceasefire after 1973 Yom Kippur War. It became the 100th Strategic Reconnaissance Wing OL "Olive Harvest" in 1974.
Between April 1983 and September 1984 RAF Chinooks deployed here to support British UN Forces in Lebanon.
During both major campaigns against Iraq, in 1991 and 2003, and also during the no-fly zone operations between, it operated as a staging post for British forces en route to the region.
Radio station
[
]
RAF Akrotiri was the location of the main transmitter of the well known numbers station, the Lincolnshire Poacher, although transmissions ceased in 2008.
See also
[
]