A radome (which is a portmanteau of radar and dome). Radar dishes/rods and radio masts/aerials were once routinely exposed to the elements, but it was soon found out that both sabotage, war and nature quickly damages the sensitive parts and they needed to be covered up. It also keeps spies visual observations away and stops the revolving antenna/dish/rod hitting passing people.
The device it's self
Edit
The "radome" is constructed of material that minimally attenuates the electromagnetic signal transmitted or received by the antenna. In other words, the radome is transparent to radar, micro or radio waves. They are strong, opaque, weather proof and mostly accident proof shells.
A "rotodome" stays attached to the radar antenna and spins round with it, as with it the highly efficient rotodome antenna is mounted on top of the carrier based E-2C Hawkeye radar surveillance aircraft.
The white or grey radome style buildings at places like thoce once at RAF Fylingdales were informally called 'Golf Balls'. Smaller radomes occur on aircraft, anti-aircraft installations, eaves dropping intelligence gathering facilities, airports, trucks and ships. It is the smaller type that are the truer definition of what is a radome's domes is.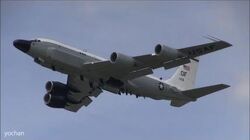 Outside links
Edit
Community content is available under
CC-BY-SA
unless otherwise noted.