Jurassic World: Dominion Dominates Fandom Wikis - The Loop
Play Sound
History
[
]
2 Wild Weasel pilots were awarded the Medal of Honor for attacking North Vietnamese surface-to-air missile sites, with one shooting down 2 MiG-17s the same day. The dangerous missions often required them to be the "first in, last out", suppressing enemy air defenses while strike aircraft accomplished their missions and then left the area.
When the Thunderchief entered service it was the largest single-seat, single-engine combat aircraft in history, weighing approximately 50,000 pounds (23,000 kg).
The data
[
]
Republic F-105 Thunderchief/"Thud"/"Squat Bomber"/"Lead Sled"/"Hyper Hog" and/or "Ultra Hog".
Category.
Statistic.
First flight on.
1955.
Retired on.
1984.
Major contractor(s).
Republic Aviation.
Dose it use nukes or cruse missiles.
70 kt to 1.45 mt, 70kt to 1 mt, 5 kt, 10 kt, 15 kt, 20 kt, 300 tn to 340 kt nukes.
Fight ceiling.
48,500 ft (14,800 m).
Top speed.
Mach 2.08 (1,372 mph, 2,208 km/h) at 36,000 ft (11,000 m).
VTOL.
No.
Range.
Ferry range: 2,210 mi (1,920 nmi, 3,550 km).
Crew.
1 (2 for F-105C/E/F/G variants).
Nationality(s).
American.
Class.
Fighter-bomber, suppression of enemy air defenses (SEAD) and

Wild Weasel missions

.
Rate of climb.
38,500 ft/min (195 m/s).
Links.
http://en.wikipedia.org/wiki/Republic_F-105_Thunderchief, https://web.archive.org/web/20161221233505/http://www.nationalmuseum.af.mil/Visit/MuseumExhibits/FactSheets/Display/tabid/509/Article/196054/republic-f-105d-thunderchief.aspx, https://m-selig.ae.illinois.edu/ads/aircraft.html and https://web.archive.org/web/20190326174850/https://m-selig.ae.illinois.edu/ads/aircraft.html.
Videos
[
]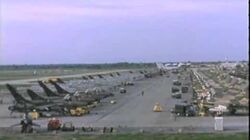 Images
[
]