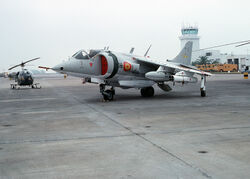 The engine
Edit
The Rolls Royce Pegasus is a turbofan engine originally designed by the Bristol Engine Co. and is now manufactured by Rolls-Royce. The engine powers all versions of the Hawker Siddeley Harrier multi-role military aircraft. The first prototype was made in 1958 and formal production began in 1959.
The stats
Edit
Made in: UK, USA, Italy, India, Spain and Thailand under licence.  
Type: Twin-spool turbofan.
Length: 137 in (3.480 m).
Diameter: 48 in (1.219 m).
Dry weight: 3,960 lb (1,796 kg).
Compressor: 3-stage low pressure, 8-stage high pressure axial flow.
Combustors: Annular.
Turbine: 2-stage high pressure, 2-stage low pressure.
Maximum thrust: 23,800 lbf (106 kN).
Overall pressure ratio: 16.3:1.
Specific fuel consumption: 0.76 lb/lbf-hr.
Thrust-to-weight ratio: 6:1.
First made in: 1958.
Nationality: British.
http://www.newindianexpress.com/cities/kochi/Navy-Overhauls-50th-Rolls-Royce-Pegasus-Engine/2014/12/23/article2584927.ece
Community content is available under
CC-BY-SA
unless otherwise noted.