Stats
[
]
History
[
]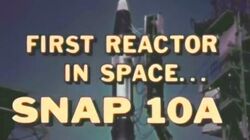 The plan was tn the 1950s and early 1960s. The Systems Nuclear Auxiliary Power Program (SNAP) reactor was developed i as part of the SNAPSHOT program overseen by the U.S. Atomic Energy Commission.
Idaho National Laboratory conducted 3 pre-launch destructive tests in Test Area North, including the SNAPTRAN-3 destructive experiment, on April 1, 1964. The test simulated a rocket crash into the ocean, radiating part of the Idaho desert in a deliberate fire ball.
There were other atomic satellites, including the Soviet RORSAT and Safe Affordable Fission Engine test satellites.
The plan was to create an endless or near endless power-supply for space vessels and satellites, since solar panels only worked in star-light and batteries would eventually run out.
See also
[
]