Shenyang J-8.
Category.
Statistic.
First flight on.
5th of July, 1969.
Retired on.
No, it is still in use.
Major contractor(s). 
Shenyang Aircraft Corporation.
Dose it use nukes or cruse missiles.
No.
Fight ceiling.  
3,280 ft+.
Top speed.
Mach 2.4+ estimate, but banned from more than Mach 2.2 for limited bursts.
VTOL.
No.
Range.
Combat radius: with 5 min Combat : 540 nm (1,000 km) (incl 5 min combat (Air to ground) : 486 nm (900 km))
Crew.
1.
Nationality(s).

PRC

.
Class.
High speed and altitude multi-role fighter and interceptor.
Rate of climb.
13,440 m/min( M 0.9, alt : 1,000 m (3,280 ft) (44,094 ft/min (M 0.9, alt : 1,000 m (3,280 ft)).
Links.
http://www.aeroflight.co.uk/aircraft/types/shenyang-j-8-finback.htm, http://wikinfo.org/w/index.php/Shenyang_J-8, http://aircraft.wikia.com/wiki/Shenyang_J-8, https://www.wikiwand.com/en/Shenyang_J-8 and https://en.wikipedia.org/wiki/Shenyang_J-8.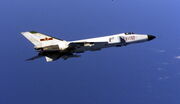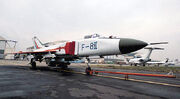 The J-8II series appear quite different from the original J-8, with a new forward fuselage, intake ramps with splitter plates and nose structure more reminiscent of the F-4 Phantom II or Sukhoi Su-15 to house a new, more powerful radar. J-8IIs are powered by Wopen-13A (WP-13A) engines.
It was hoped to equip the production J-8B with an American AN/APG-66(V) radar (to be dubbed the J-8C), but this proved politically impossible after the Tiananmen Square protests of 1989 so the indigenous Type 208A monopulse radar fire-control radar initially was used. Although the Type 208A was an improvement over the original J-8I radar, the Type 208A did not have true beyond visual range capabilities (The detection range of the Type 208 was 40 km) nor look-down/shoot-up ground attack capabilities, thereby falling short of the PLAAFs initial requirements and the redesign of the airframe. The J-8B was the early production batch of the new J-8II series. In addition to receiving a new radar, new engine and a completely redesigned noses, cockpit and intake, the J-8B also benefited from a new head-up display, integrated inertial navigation system/Global positioning satellite system and TACAN technology.