| | |
| --- | --- |
| | This page is under construction and is still being written! Any major unauthorized edits will be reverted, but some minor, grammar and spelling fixes are freely allowed if you find any errors of this type. |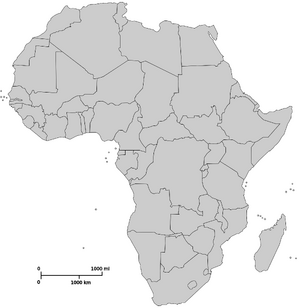 The issues
[
]
The nations south of the DRC/Zaire/Belgian Congo were in big trouble. Many wars and civil wars over the years due to the ongoing problems relating to the region's colonial legacy. The main problem was about the issues of communism, apartheid, the fall of the Portuguese empire, Rhodesia under Sir Ian Smith and the fate of White colonial ex-pats\business interests.
As a whole, the Portuguese Empire was hated by Africans for it's homicidal attitude. The Pijiguiti Massacre in 1959 saw Portuguese soldiers opened fire on protesting Bissau dockworkers, killing 50.
The anti-French 1947-48 Malagasy Uprising was bloodily crushed in 1948.
Gallery
[
]
Maps
[
]
Also see
[
]
North Africa

Horn of Africa

Bophuthatswana

1947-48 Malagasy Uprising

United Nations Security Council Resolution 282

United Nations Security Council Resolution 418

United Nations Security Council Resolution 591

United Nations Security Council Resolution 919

United Nations Security Council Resolution 216

United Nations Security Council Resolution 202

United Nations Security Council Resolution 300

United Nations Security Council Resolution 218

United Nations Security Council Resolution 204

United Nations Security Council Resolution 289
Links
[
]