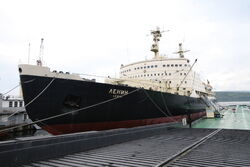 The vessel
Edit
Name: Lenin (Ленин).
Namesake: Vladimir Lenin.
Builder: Baltic Shipbuilding,
Built in: Leningrad, USSR. 
Launched: 1957.
Completed: 1959.
In service: 1959–1989.
Status: Preserved as a museum ship.
Draught: N\A, but probaly typical for it's time and class.
Nationalty: Soviet.
The primary mission
Edit
The Soviet Ice Breaker Lenin was both the world's first nuclear-powered surface ship and the first nuclear-powered civilian vessel, excluding a few earlier unsuccessful American and Soviet test ships, which came as a shock to the West, who thought the USSR was still too backward to make such as ship. entered operation in 1959 and worked clearing sea routes for cargo ships along Russia's northern coast for 3 decades.
Other missions
Edit
It went to the Arctic on a few occasions as well and was officially decommissioned in 1989.
This all helped to prove the Soviet's surface navel prowess at the time and the ability of humans to get anywhere they wanted to given the right technology and skills.
Several crew died in a nuclear accident in the Winter of 1966-1967.
Outside links
Edit
Community content is available under
CC-BY-SA
unless otherwise noted.