The location
Edit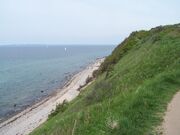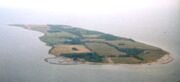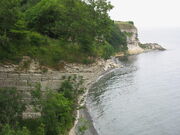 The nation of Denmark can be accessed directly from the rolling plains of the North German Plain or by a short sea journey from Malmö in Sweden. Denmark was seen as a stepping stone between Sweden and Norway at one end and Germany on the other. This fact had become aware to military planners in the Napoleonic Wars and WW2.
Denmark is a agricultural fertile and climactic temperate place which is formed by the mid and upper Jutland, along with the Danish archipelago of 443 named islands and many smaller named ones, of which around 70 of the name ones are inhabited. 
The Jutland Peninsula is by nature a flat heathland with a hilly eastern side, coastal plains on the western side and coastal bogs. It has a population of 2,528,129 (2008). Chalk is mined at the Thingbaek Chalk Mines in the north of the peninsular. The North Jutlandic Island, Vendsyssel-Thy, or simply Jutland north of the Limfjord are lesser-used names for the northernmost part of Denmark and of The area is 4,685 km² and the maximum leangth is 194 km.
The islands are characterised by flat, arable land and sandy coasts, low elevation and ether of sedimentary or morainic origin.
Zealand is a large island that's part of Denmark. It's home to the capital, Copenhagen, and the city of Roskilde. Small towns and villages occupy the north, south and west coasts, which are popular holiday areas with sandy beaches and fjords. In the south, the towering white Møn's Klint and Stevns Klint are fossil-rich cliffs.
The area is 7,031 km².Zealand Island is the most populous Danish island with a population of 2,491,090 (2012 est.), representing about 45% of the country's total population. Lolland Island has the nickname "pancake island" because of its flatness with the highest peak just outside the village of Horslunde standing at only 25 m (82 ft) high. The Nazis and Vikings had realised it's strategic value of the coast of Germany, as had the NATO and Warsaw Pact planners of the Cold War after them. 
Sugar beet fields cover Lolland Island, which also has many sandy beaches. Clay is found at commercially viable levels on the remote Bornholm Island. The Isle of Møn is made almost entirely of chalk. The tiny, ovoid and completely flat Vejrø island lies north of Lolland island. It covers an area of only 1.57 km² and has two inhabitants as of 2005. It had a privately run tourist site, cottages and marina as of 2005.
During World War II, Fanø Island was part of the Atlantic Wall and the remains of the 300 bunkers built by the Nazis can still be spotted along the coast line. Nordby and Sønderho with their maritime history, once among the most wealthy and influential in Denmark, and their vernacular architecture consisting of thatched-roof houses all oriented west-east, again because of the westerly winds.
As a fellow Nordic nation, Denmark shares strong cultural and historic ties with its overseas neighbours, Iceland, the Feraro Islands, Sweden and Norway that date back to Viking times and the Danish Language is both very closely related and mutually intelligible with Swedish and Norwegian. Fearoes is related like wise with Icelandic and some Norwegian dialects. 
The Fearoe Islands are owned by and akin to Denmark since they are for the most part the direct descendant the original Viking settlers. The climatically frigid islands are made up of rugged heathland, scrubland, sharp mountains and steep cliffs.
Denmark was seen as as stepping stone between Sweden and Norway at one end and Germany from Sweden and Norway on the other. This fact had become aware to military planners in the Napolienic War and WW2. Lolland Island would be due to the strategic fact that the island had control of Danish waters on the Fermern Belt between Lolland Island and Rügen Island. Copenhagen was historicity important as a port and had been fraught over in the 1801 Battle of Copenhagen and the 1807 Battle of Copenhagen. In some Soviet attack plans, Sjælland was seen as a large stop-over and nautical stationing point for Warsaw Pact forces going on to Sweden and eventually Norway and the Norwegian harbours. These harbours were on the strategically important North Atlantic Ocean coast and control over the North Atlantic meant control over the essential and vital link between Europe, the UK, Iceland and the U.S.A., as the Nazis had correctly assumed in WW2.
CS and CR gas attacks in Denmark
Edit
A mid level Soviet military planner (reportedly a Kazakh) and a short while later an E. German military official suggested a more softly-softly approach on Denmark, Luxembourg and the Netherlands. The E. German suggested in the late mid and 1980s a idea of a terrorist attack on Copenhagen the day before with CS and CR gas as a show of strength.
The GDR invades Lolland Island
Edit
The leading East German invasion on Lolland Island would be due to the strategic fact that the island had control of Danish waters on the Fermern Belt between Lolland Island and Rügen Island. The Islands of Møn and Falster were to be shelled by a E. German warship to help cover the E. German and Polish landings.
Poland and then the GDR invade Sjælland (Zealand) Island
Edit
The attack on Sjælland would be implemented primarily by Polish forces supported by the navy and Marines of the GDR. Later any spare Soviet reserve forces would join in. E. Germany's army and air force would be spending most of the time fighting in W. Germany. Polish Minister of Defence and later Communist  President of Poland, Wojciech Jaruzelski, singed of the last set of plans for invading Sjælland in 1970. The Poles knew there military units were undermanned and crappy which is really didn't think it was a feasible undertaking. Of particular concern was mixing the Polish and E. German naval amphibious forces' vessels with commandeered civilian shipping Poland and E. Germany, which in theory proved to beat best mediocre and in certain circumstances a potential for an abject failure.
Poland and the GDR enter south JutlandEdit
Places like Trønder would be taken by various joint GDR\Poland forces after fighting their way through northern W. Germany.
The Soviets take the Faroe Islands, North Jutland and Bornholm Island
Edit
Bornholm Island would be taken early on by Soviet paratroopers and marines.
North Jutland would be taken later on by Soviet paratroopers.
The Islands of Møn and Falster were to be taken over by a few E. German sailors from the ships that were already shelling it.
The Faroes would be taken later on by Soviet paratroopers and marines.
A Ekranoplan would also be used here if they had lived up to expectations.
The end game
Edit
North Jutland had only one Danish patrol boat and a few light aircraft on active duty. North Jutland was to be taken by Soviet paratroopers. Copenhagen, the American airbase at Karup and Esbjerg port would also be hit with conventional carpet bombing. 
After this, Denmark would be ordered to surrender after a couple of days if it had not already done so. More E. Germans and Soviets would arrive in order to back up the Poles and E. German advance guards. The American airbase at Aarbourg would targeted by a tactical nuke, but not Copenhagen as many thought.
The Soviets were more interested in conquering Denmark than wiping it out since the Danish were no major military threat and a major agricultural asset.
The Soviets move on
Edit
The Soviet invasion of Iceland and the Faroe Islands would then occur. Greenland, Finland and the Norway may have already fallen to other attacks. This was all a part of a major strategic plan for control of the North Sea.
Any attack on the tiny Faroe Islands would be easy. This would only require a few gunboats and paratroopers since the Icelandic Armed Coast guard, Faroese Police Force and the small detachment of American troops in Iceland would be easily overcome due to their lack of numbers. The Marine Station at Hoyvíksvegur and Tórshavn were on the target list.
Eventually the Soviet invasion of Greenland would occur to prevent a Danish government in exile forming, assuming the American air bases had not already secured the island for NATO. Greenland was stupendously important in WW1, WW2 and the Cold War due to it's location, minerals and political attachment to Denmark..
The forces
Edit
One of the main tasks for the Danish forces in peacetime was to monitor the Soviet shipping traffic through the Danish belts and the the Skagerrak which linked between the Baltic Sea and the Atlantic Ocean. It was also the colonial power in Greenland and the Faroe Islands.
Zealand (Sjælland) would in theory have held United Kingdom Mobile Force (UKMF) of 17,000 troops centred around a reinforced infantry brigade, 2 USMC brigades, at least 2 Danish mechanised or heavy brigades, 1 artillery regiment, 1 engineering regiment, 1 logistics regiment, a  patrol boat and circa 20,000 home guards guarding key infrastructure.
North Jutland had one Danish patrol boat and a few light aircraft on constant patrol.
Danish Brigade in Schleswig-Holstein and a minor Danish based unit of the British Army of the Rhine (BAOR). Their were also the American airbases at Arboug, Athurst and Karup.
Royal Danish Air Force was established in 1950 the area was named Air Base Karup.
During the post-war years Karup Air Base became a central part of Denmark's NATO defence plan and played a major role in the establishment of the Royal Danish Air Force (RDAF). In 1955 the Tactical Air Command were placed at Karup. Civil airport facilities opened in 1965 and military operations were partly transferred to other air bases in the 1970s and 1980s.
The WW1 era Almegårds Kaserne is Bornholm Island's local armed forces base.
Faroe Islands
Edit
The Island Command Faroes (ISCOMFAROES) was set up in 1961 to take the place of the 10 year old Faroes Marine District. It supported the local government with military advice as well as search and rescue capabilities. The Faroese Police Force was unarmed at this time and probably still is since crime is minimal on the islands.
Island Command Faroes was amalgamated with Island Command Greenland to a Joint Arctic Command on 31 October.
A NATO anti-aircraft radar base was operated on Mjørkadalur's cloudy and often very foggy mountain Sornfelli, at 749 meters above sea level, from 1963 to 2007. Marine Station at Hoyvíksvegur 58 was built in 1963.
Marine Station at Hoyvíksvegur 58 was built in 1963 as the new home of the Faroe Islands Command, which until 1979 consisted of command authority (Faroe Command), Marine Station Hoyvíksvegur 58 and Naval Radio Tórshavn.
By what I can gather, the converted trawler-come patrol Boat Saman was docked in Tórshavn from 1944 to 1947. It was scrapped shortly afterwards. 
Warsaw Pact
Edit
Poland and later the GDR attacks Sjælland (Zealand) Island.
1 GDR Marine regalement
1 Polish Landing Division 
1 Polish Airborne Division  
2 Soviet Army Divisions (if available)

Obviously several low grade Polish, GDR and USSR vessels for support and transport duties.
The GDR would attack Lolland Island.
1 GDR Marine regalement
1 GDR Engineering regiment
Møn and Falster Islands.
1 or 2 unspecified E. German war ships
South Jutland. Places like Trønder would be taken by various joint GDR\Poland forces after managing to fight there way through northern W. Germany.
The Soviets would attack North Jutland.
Unspecified Soviet paratroopers.
The Soviets would attack Bornholm Island.
Unspecified Soviet paratroopers and marines.
The Soviets would attack The Faroes.
Unspecified Soviet paratroopers and marines.

I also assume a couple of Soviet patrol boats would have helped out as well.
The first nukes
Edit
Assuming Denmark had not surrendered, which it would have done in the face of overwhelming odds like in WW2 and the Cold War nuke would have got in to the military equation at that point. After a few days Roskildein Denmark would be targeted for its cultural and historical significance demoralise them, while Esbjerg port would be targeted because it had a large harbour capable of facilitating delivery of large NATO reinforcements. The American airbases at Arboug, Athurst and Karup was also a target for either smaller nukes and/or conventional carpet bombing. Copenhagen would have only conventional carpet bombing.
The next 57 to 75 nukes
Edit
If Denmark had not folded up in a few days, some say about a week, then it was to be total eradicated due to it's strategic value to the NATO forces. The ownership of the waters of the Skagerrak, Fermern Belt and Baltic Sea was seen as a major strategic issue in a East-West War, just as it had been in World War 2. 
Better than expected Danish-Soviet relations
Edit
Danish-Soviet cold war history
Edit
The Soviet occupation of Bornholm Island was from 1945 to 1946.
On 7 July 1952, Denmark chose to hand over the Danish-built tanker Apsheron to the USSR, which faced protests from it's opponents in the USA.
Denmark and the Soviet Union signed a trade agreement on 24 October 1969.
Denmark economically sanctioned Poland and the Soviet Union after the declaring of the martial law in Poland in 1981, but in March 1983, Denmark was the first country in the then European Economic Community, to end the sanctions against the reforming Soviet Union.
Nikita Khrushchev's personal perspective on Denmark
Edit
Soviet leader Nikita Khrushchev visited Denmark from 16 June to 21 June 1964 and he fell in love with the nation. He liked the agricultural life style, nice scenery and benevolent people!
Online links
Edit
Community content is available under
CC-BY-SA
unless otherwise noted.