Aircraft data
Edit
Sukhoi Su-7.

| Category. | Statistic. |
| --- | --- |
| First flight on. | 1955. |
| Retired on. | 1990 (finally with Poland, Syria and Czechoslovakia). |
| Major contractor(s).  | Sukhoi OKB. |
| Dose it use nukes or cruse missiles. | 5kt, 10kt and 15kt Nukes. |
| Fight ceiling. | 17,600 m (57,740 ft). |
| Top speed. | ,150 km/h (620 kn, 715 mph, Mach 0.94) at sea level. |
| VTOL. | No. |
| Range. | 1,650 km (890 nmi, 1,025 mi). |
| Crew. | 1 or 2 (instructor and trainee) on training models. |
| Nationality(s). | Soviet. |
| Class. | Fighter-Bomber/Ground Attack. |
| Rate of climb. | 160 m/s (31,500 ft/min). |
| Links. | http://en.wikipedia.org/wiki/Sukhoi_Su-7, http://www.sukhoi.org/eng/planes/museum/su7/, https://wiki.baloogancampaign.com/index.php/DataWeapon?ID=1001501 and http://www.militaryfactory.com/aircraft/detail.asp?aircraft_id=69. |
On 14 May 1953, after Joseph Stalin's death, the Sukhoi OKB was reopened and by the summer, it began work on a swept-wing front-line fighter. The Su-7 was rugged in its simplicity, but its shortcomings included short range and low weapon load. It carried a 5kt nuke as well it's conventional armlement and guns.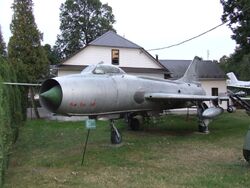 Community content is available under
CC-BY-SA
unless otherwise noted.