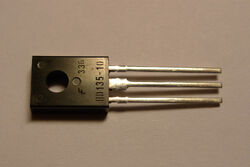 History and origin
[
]
It was created in the mid 1960s as a universal package for hot running small transistors, tyristors, small rectifiers and small amplifiers.
Construction and orientation
[
]
It is a oblong shape with 3 metal legs in the bottom. The case is epoxy or resin with a mettal back and a holedrilled in the top.
Usage
[
]
Hot running transistors, small rectifiers and amplifiers used it.
Heat sinks
[
]
It had a a hole drilled in the top so it could be attached to a heat sink with a small amount of silicone jell between it's metal back and the metal heat sink.
Also see
[
]
Sources
[
]