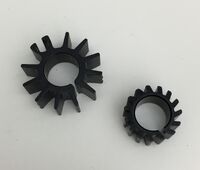 History and origin
Edit
It was created in the late 1950s as a universal package for small transistors, rectifiers, amplifiers and voltage regulators.
The "TO-" element of the name stands for "transistor outline" and the number then refers to specific item in a series of technical drawings produced by JEDEC.
Construction and orientation
Edit
It is a small, unpainted steel or aluminium can with 3 steel wires coming out of the steel base plate. The container was sealed with resin and filled with either resin, glass dust, epoxy or a puff of argon gas.
The H06C variant with 6 pins and the H08A variant has 8 pins with the marker tab over the last one. The pin's counting order is clockwise from taken from the bottom perspective, the tab marking the first in the count.
Pros and cons
Edit
Advantages
Edit
The case can dissipate heat better than the similarly sized plastic TO-92 package.
Disadvantages
Edit
The case is more expensive than the similarly sized plastic TO-92 package.
It was one of the 2 original universal package that took over from the various non-standardised units. It was retained in heat sensitive situations.
Heat sinks
Edit
A large circular heat sink was put around hotter running higher voltage units.
Community content is available under
CC-BY-SA
unless otherwise noted.