The Location
Edit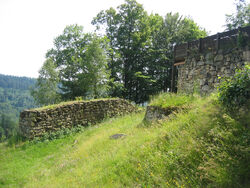 Hungary, Austria and Bavaria. Austria is a German-speaking country in Central Europe, characterized by its mountain villages, baroque city architecture, Imperial history and rugged alpine terrain. Vienna, its Danube River capital, is home to the Schonbrunn and Hofburg palaces, and has counted Mozart, Strauss and Sigmund Freud among its residents. The country's other notable regions include the northern Bohemian Forest, Lake Traun and eastern hillside vineyards. The mountainous western terrain would make this very difficult in the Tyrol and Alpine south Bavaria, but Hungary, northern Bavaria and north eastern Austria would be fairly easy going.
Bavaria is a state in southeastern Germany bordering Liechtenstein, Austria and the Czech Republic. State capital Munich is known for its annual Oktoberfest beer festival, art museums and ornate Nymphenburg Palace. The Romantic Road starts in northwestern Würzburg, winds south through pastoral villages and medieval towns and culminates in the foothills of the Alps near Germany's southern border. The south and south east are also mountainous.
It was a unlikely plan to invade Austria starting from the east with troops stationed in Hungary and then move in to Germany via Bavaria in the event of an East-West war. Hungarian and Czechoslovak units would invade Austria. Czechoslovak forces would head for and take Munich. Some Hungarians would pass in to northern Italy and take several places around Venice.
Sltzburg, Innesbruck, Trento, Linz, Bad Kotzing and Munich would fall to the Czechoslovak.
Vienna, Gratz, Tirestie, Venice, Urdine and Vicenza would go to Hungary.
The Austrian-Yugoslav (now Slovenian) border zone would be patroled by Romania.
The Czechoslovak forces would have come from places like the major army base near Topalcanny in today's Czech Republic.
.
Vienna was to be hit by two 500kt bombs if things were becoming extreme. Hungary was to capture Vienna weather it was nuked or not.
Community content is available under
CC-BY-SA
unless otherwise noted.