| | |
| --- | --- |
| | IMPORTANT:This page has used Creative Commons Licensed content from Wikipedia in either a refactored, modified, abridged, expanded, built on or 'strait from' text content! |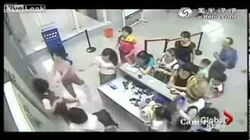 Overview
[
]
Air rage is the general term for disruptive, sexed up and/or violent behavior perpetrated by passenger s and air crew of aircraft , typically during flight.
In the first book on the subject "Air Rage: Crisis in the Skies", air rage is defined as "aberrant, abnormal, or violent behavior exhibited during the air travel process".
History
[
]
The first case of air rage was recorded in 1947 on a flight from Havana to Miami , when a drunk man assaulted another passenger and bit a flight attendant. Another early documented case involved a flight in Alaska in 1950.
At the time, applicable Jurisdiction was unclear, so offenders often escaped punishment. It wasn't until the 1963 Tokyo Convention that laws of the country where the aircraft is registered were agreed to take precedence.
Overview
[
]
Air rage comes in two different types: angry/hostile and angry/emotional.  It covers a wide variety of passenger behaviors caused by physiological and/or psychological stresses associated with air travel. When a passenger becomes unruly, angry and/or violent on board an aircraft, it typically qualifies as air rage. Excessive Alcoholic beverage consumption is often blamed by cabin crew and flight attendants.
Unlike ground vehicles, airplanes enter altitudes where changes in air pressure can help trigger temporary psychological changes, such as enhancing the psychoactive effects of chemicals like alcohol which is typically served on board.
Adding to the challenge, evicting offenders from the plane is often unpractical, as an unscheduled landing would further inconvenience the airline, the crew, and other passengers. Furthermore, as there is insufficient room on board to isolate offenders, they generally have to be restrained and bound to their seat. For that reason, long-haul airliners carry Plastic handcuffs|plastic shackles , and attendants receive special training.
Air rage can have serious security implications, especially if the offender tries to interfere with the aircraft's navigation and flight controls, or attempts to depressurize the cabin (i.e. by opening a door or breaking a window).
Air rage events have increased markedly since the September 11 attacks. No definite explanation for that trend has been established: heightened anguish for one's safety, increased irritation with Airport security repercussions due to the September 11 attacks, such as invasive security, or other normaly unremarkable causations.
Qualifying behaviors
[
]
Air rage is generally used to describe a large set of unsubmissive behaviors aboard commercial airliners. More recently, it has also defined disruptive attitude inside airport terminals.
Qualifying conduct may include:
Undue anger.
Gratuitous violence.
Temper tantrums.
Storming in or out of places and\or aircraft.
Narcissism.
Rioting.
Questioning authority.
Fighting over money.
Obsessive use of mobile phones.
Xenophobia.
Uncooperative conduct.
Threatening crew members and other passengers.
Public urination and defecation .
Undue anger.
Unruliness.
Obnoxiousness.
Threatening flight safety, or behaving in a way that gives suspicion of a threat. .
Failure to follow safety regulations.
Behaving in a way that gives suspicion of a threat to flight safety.
Claiming to have a bomb on the flight or falsely saying they are a terrorist with malignant not jockular intent.
Murder.
Disruptive behaviour.
Threatening the safety of the aircraft, crew members and other passengers.
Other related behavior that may interfere with the comfort of cabin crew or passengers include smoking on board the flight, viewing pornographic materials, performing sex acts ("mile high" club) in the aircraft cabin span and aircraft lavatory, making undue sexual advances towards other people, the inappropriate groping and touching of crew members, loud or drunken behaviors, spitting, swearing, bossing people around and wearing clothing that is inappropriate or offensive.
Sick jokes
[
]
It dose not include sick jokes like the group of 9 idiots that clamed on September 1st that they had a bomb on board after one of them shouted "Allahu Akbar" as a joke. They were taken off the Ryanair flight Zaventem airport in Brussels A Ryanair spokesman said: "The crew of this flight from Brussels to Madrid requested police assistance after a number of passengers became disruptive prior to departure."
Some notable examples in the media
[
]
These are notable examples in the media They are alleged to be 'air rage' as far as is known, but not necessarily legally proven as yet.
1999
[
]
UK
[
]
A British Airways pilot was sacked for shouting at an intoxicated female passenger who claimed there was a bomb on board a flight from London to Barbados. 
USA
[
]
At Newark International Airport in Newark, New Jersey, John C. Davis of Fredericksburg, Virginia attacked and seriously injured a Continental Airlines Gate/Ticket agent Angelo Sottile while awaiting to board a flight headed to Orlando, Florida for a vacation at Walt Disney World.
The flight was delayed for some two hours due to bad weather, in addition, Mr. Davis' daughter ran down the jetway. When he and his wife attempted to go after the child, Mr. Sottile allegedly shoved them back and sent another agent to go retrieve the child. Eventually, Mr. Davis was acquitted of charges but has been banned for life from flying on Continental Airlines. In addition, he was sued by Mr. Sottile and Continental in civil court even though Mr. Davis attempted to sue Continental over the incident himself. 
2001
[
]
France
[
]
A Frenchman was arrested and fined at Orly Airport in Paris after he claimed he had a bomb on board his flight to London during a fit of pique over being assigned a different seat instead of the one he had booked. 
2002
[
]
The Bahamas
[
]
During a flight from the Cayman Islands to Heathrow Airport, British actress Tracy Shaw, apparently intoxicated, hit her then husband, Mr. Ashworth, across the face eight times in the Business Class cabin, just after the Boeing 767 touched down in the Bahamas to refuel before continuing to the UK. 
Witnesses reported that she then stood in the aisle screaming and swearing at him until he managed to calm her down by grabbing hold of her wrist and yanking her back into her seat. She then moved to another seat nearby and began to sob.
A witness said "Everyone recognized them immediately and the crew were giving them plenty of attention," and "When they boarded the flight they were in high spirits." 
Tracy Shaw said the incident happened because they had both felt unwell since they had chosen to quit smoking and that they went on to deny they were drunk or there ever was a fight, claiming they were "just really tired" instead.
2008
[
]
Germany
[
]
Two women who had been drinking heavily aboard an XL Airways flight from the island of Kos to Manchester were held in their seats by security staff until their plane landed in Frankfurt in Germany.
They were then arrested by German police and held for two hours after being accused of smoking in the bathroom and threatening to open the cabin door to get "some fresh air" into the aircraft. They had also threatened and swore at staff that refused to sell them any more alcoholic drinks at the bar. One of them also tried to hit a flight attendant with a vodka bottle.
2010
[
]
Angola
[
]
A TAAG Angola Airlines E.P. steward was disciplined for shouting at an intoxicated male passenger who claimed there was a bomb on board a flight from Luanda's Quatro de Fevereiro International Airport to Brazzaville's Maya-Maya Airport.
2011
[
]
Angola
[
]
On 17 February three middle-aged South Africans (Winifred Moyles, her sister Arma and husband Derrick) were on a charter flight from Cape Town, South Africa to Abuja in Nigeria. Derrick, who was drunk, punched one of the flight attendants after she refused to take up his sexual advances at her. He then joked that he wanted the aircraft to be diverted to Nairobi in Kenya so as to allow him to "buy a new suit" for his birthday party.
Australia
[
]
On 17 February, Brian McFadden was questioned by police at Sydney Airport after reportedly 'running amok' on V Australia flight VA2 over the Pacific Ocean a day earlier. On the flight from Los Angeles to Australia, the singer, 30, was said to have been a former boy band star, was drinking heavily, shouting, being abusive to flight attendants and fellow passengers and allegedly even lit up a cigarette during the flight. He was then restrained by Australian TV talent show host Kyle Sandilands, who was traveling with him in the business class section.
He then dismissed the incident as a 'storm in a teacup' and said he was joking about lighting up his cigarette on board while his girlfriend at the time Delta Goodrem also denied he had smoked on the plane. The pilot radioed ahead for a police presence at Sydney airport. In addition, the cabin crew reported McFadden's behaviour to ground staff in Sydney Airport and Federal Police detained him for questioning. The two men were interviewed by officers but Virgin Airways made no formal complaint. They were released without charge.
Melbourne's 3AW radio station reiterated McFadden had been drinking and smoking before storming into the economy class section. Once out of business class he pointlessly scolded the economy class passengers before being led back to his seat by Kyle Sandilands.
Jamaica
[
]
On 4 May, two British nationals who brawled on a Virgin Atlantic flight from the UK to Jamaica, allegedly resulted in £25,000 worth of damage to interior of the aircraft. They stood trial in the Jamaican Corporate Area Resident Magistrate's Court, a day after they were arrested and charged with malicious destruction of property and air rage disorderly conduct, among others.
The two intoxicated Londoners, Jason Dixon and Danielle Bishop, who were denied landing privileges as a result of the incident, appeared before Senior Magistrate Judith Pusey. Ms. Bishop alleged that the fight started when Mr Dixon attacked in a drunken fit of pique after she shunned his unwanted sexual advances.
She claimed that her fellow traveler had been drinking heavily during the flight and at some point started to ask her rude questions and making derogatory comments to describe what he wanted to do to her, which she did not like. She also alleged he had ripped her clothes and yanked out strands of her hair. The two never knew each other before they had met on the flight.
After the fight was broken up, it was realized that several seats in the cabin had been damaged. The two were arrested and charged at the Norman Manley International Airport in Kingston, Jamaica.
Ms. Bishop pleaded guilty to the charges, but after hearing her explanation, the plea was rejected and the matter set for trial. Mr. Dixon, however, said, without a lawyer's aid, that he was not guilty and was using his legal right to defend himself against Ms. Bishop. 
USA
[
]
On June 1, F-16 fighter jets escorted Ghana-bound United Airlines Flight 990 back to Dulles Airport after a fight broke out between two passengers regarding a reclined seat.
As the 144 passengers on the United Airlines jet bound for Ghana settled down for the overnight flight from the USA, tempers flared as one man reclined his seat into the other person's lap, not long after they had taken off at 10:44pm according to witnesses. The plane was then escorted by a pair of F-16 fighter jets and was forced to circle Dulles for 25 minutes to burn off $50,000 worth of excess fuel and decrease its weight for safety reasons.
Local Police met the flight at the gate but charges were not pressed, said the Washington Airports Authority, but unruly passengers were thought to have cost the airline a significant amount of money due to the losses of fuel and the delay incurred to the flight.
Barbados
[
]
On June 9, Zoe King and her husband Martin, both in their 40's, and her 76 year old father Derek Edmond, were arrested after a fight that took the cabin crew over 30 minutes to break up on Virgin Atlantic flight VS29 from Gatwick Airport to Barbados. Mrs. King, who was celebrating her birthday, was drinking along with her family for much of the six hours that had elapsed up to this point during the eight hour flight. The Kings and Mr. Edmond, ordered by the police to appear in court, were charged with disruptive behaviour on an aircraft.
A Danish family first complained to flight attendants and then to the raucous group of 10 passengers about the noise. After the complaint was made, both Mr. and Mrs. King threw hot coffee at and then swapped punches with another family sitting in front of them as the flight crew tried to pull them apart.
In addition, a few children were running in the aircraft aisle and one had gotten airsick. As the child's father tried to comfort the boy, he accidentally bumped into a couple of the drunken men in the drinking party at the back of the Boeing 747-400. ne man put the boy's father in a headlock while his friend started punching the man in the face. Eventually, the man was able to resist the attack and fought back, according to the 34 year old Market Harborough energy consultant, James Longley. Eventually the man knocked the assailant out and cursed at him. A female passenger in the group then shouted "You swore in front of my child" about six times and "It's my birthday" once. There was five minutes of shouting while people gathered around, according to 70 year old fellow passenger, Elsa Brandford. Other eye witnesses recalled how the fight took place among a group of passengers who had been drinking heavily and that most of the people were standing on their seats while throwing punches and jumping on each other.
Another man in the group then became agitated and made a racist comment to an Afro-Caribbean passenger, who they later found out was an off-duty Saint Lucian policeman. Mr. King restrained both of them and made him withdraw the remark that he had just made to the Saint Lucian national.
It took flight attendants 30 minutes to quell the fighting and almost an hour to get everyone seated near the back of the plane. The pilot then banned everyone from leaving their seats and radioed ahead asking police to meet the aircraft, the report said. The Kings and Mr. Edmond were arrested when it landed at Grantley Adams Airport. More than a dozen officers met the plane and ten people, including crew members, were taken for questioning. Mrs. King left the plane with her arm in a sling, while her husband had a black eye.
Inspector David Welch, of the Royal Barbados Police Force, commented, "There appeared to be a birthday celebration that got too noisy. A Danish national on the flight complained and the fracas started from there." By June 11, the Kings, from Coulsdon, Surrey and Mr. Edmond, from Woodhall Spa, Lincolnshire, all pleaded guilty in a local court to one count each of causing a disruption on an aircraft. A judge in Barbados fined the three £2,300 ($3,700) each, court officials said. All three individuals are permanently banned from flying Virgin Atlantic. A Virgin Atlantic spokesperson said "The safety and welfare of our crew and passengers is Virgin Atlantic's top priority and at no point was the safety or security of the aircraft compromised."
France
[
]
Aboard an Air France flight that was about to depart from Paris, renowned French actor Gérard Depardieu, after being told he couldn't use the lavatory during take off, reportedly urinated nonetheless - albeit on the aisle floor. Depardieu was subsequently evicted from the plane.
UK
[
]
A second British Airways pilot was sacked for shouting at an intoxicated female passenger who claimed there was a bomb on board a flight from London to Barbados.
2012
[
]
China
[
]
31 passengers from a long-delayed flight forced their way onto the tarmac and occupying a taxiway at Kunming airport, for half an hour that August, state-run Xinhua news agency reported.
50 passengers from a canceled flight stormed several gates atat Kunming airport, in an attempt to prevent other travelers from boarding their flights that February. Police had to disperse the angry crowd with pepper spray, according to Xinhua.
Guam
[
]
A Chinese couple was kicked off their United flight from Guam to Shanghai that February, after they repeatedly yelled at a flight attendant and told her to "shut up" when she said thire luggage was getting in the way as she tried to move their luggage in the overhead bin to to help accommodate other passengers.
Switzerland
[
]
A Swiss flight bound for Beijing was forced to return to Zurich when a fight broke out between two Chinese men over a reclined seat that September.
2013
[
]
China
[
]
More than 30 passengers broke through security and stormed the runway at Nanchang airport on July 18, 2013, after being delayed for seven hours by bad weather.
A passenger Shanghai tried to rip off an attendant's name badge before hitting her in the head, leading to a fight, after which 2 airport staff were hospitalised and three passengers arrested.
2014
[
]
China
[
]
A fight erupted between two groups of Chinese passengers before their flight could take off from Phuket airport in the February of 2014, resulting in 29 people being ejected the plane.
Thailand
[
]
Thai Airways 'red-eye flight' from Bangkok to Beijing had a brawl involving three Chinese passengers in the April of 2014, in thai airspace.
A Thai AirAsia flight to China return to Bangkok on December 9th, after a female Chinese passenger threw hot water on a flight attendant during a argument between her boyfriend and the cabin crew over service issues, according to what witnesses told China's state media.
Shortly after flight FD9101 took off from Don Mueang Airport in Bangkok for the eastern Chinese city of Nanjing, a male Chinese passenger asked a flight attendant for boiling water that he wanted to use to activate his girlfriend's instant noodles
He was told that he to wait for the plane to reach cruising altitude for safty resons, the young man reportedly dumped food on the aisle, stomped on it and yelled at other passengers who tried to calm him down.
His rage grew as a flight attendant of the budget airline charged him 60 Thai baht ($2) for the cup of hot.
He then demanded Chinese currency for change and official receipt. As this was going on, his girlfriend threw the hot water on the back of a flight attendant.
When the purser came and demanded the woman apologise, the boyfriend went crazy and shouted at him in Mandarin: "You don't think I have money? ...You caused all the problems and I'm going to blow up the plane!" Several frightened passengers recorded it on thire video-phones.
When the two louts twiged the flight was being turned back, the woman then becam hysterical, hitting windows and threatened to jump off the plane, according to state media, although this is yet to be formaly proven by eye witness accounts.
The plane was carrying 174 passengers and six crew members at the time.
Thai authorities had reportedly questioned both the Chinese couple and two of their friends who were also involved in the incident
The Thai officals ordered them to pay the flight attendant 50,000 baht ($1,500). The woman was also fined 200 baht ($6) and the other three passengers 100 baht ($3) each for disturbing public order.
USA
[
]
Heather Cho, whose Korean name is Cho Hyun-ah, disrupted and delayed a flight on December 6th, after she ordered a flight to be turned back to the gate ay New York's JFK airport and for a flight attendant to go off the plane because she was served nuts in a bag instead of on a plate. The flight due to take off for the South Korean city of Incheon.
She resigned from Korean Air's catering and in-flight sales business, and its cabin service and hotel business divisions, an Korean Air spokesman said on December 9th.
2015
[
]
China
[
]
Passengers on a Boeing 737-800 jet departing Kunming Changshui International Airport was canceled on January 12, angry with the crew for turning off the air-conditioning during the de-icing process, some of the 153 passengers the decide to opened three emergency exits just as their plane was pushing back from the departure gate. 25 passengers were removed and detained. The heavily delayed China Eastern Airlines flight MU2036, began to go through a de-iceing prosess at Kunming airport. It was bound for Beijing. It started when the air-conditioning stopped and an elderly passenger complained about discomfort due to the stuffy cabin, according to airport police.
Dissatisfied with the pilot's explanation about the need for air-conditioning to be off during the 30-minute de-icing process, members of a tour group, who had been already delayed by 2 hours, started quarreling with the crew, according to police.
The bloke and the female tour guide who prompted his opening of two exits on the right side, as illiterated on social media images, were sent to jail for 15 days. Airport police still continue to look for the person who opened the exit on the left side.
2017
[
]
UK
[
]
Just prior to the aircraft landing a middle aged woman started mid-air brawl on a Ryanair flight from Newcastle to Alicante fight. Fellow passenger Lucy Norris, of Blyth, filmed it on her video phone and told the Chronicle Live that the brawler was drunk, shouting, screaming and show of. She was also said to be rude to several people before the fight. The flight crew had requested police assistance, but it was not needed in the end.
See also
[
]
External links
[
]