| | |
| --- | --- |
| | IMPORTANT:This page has used Creative Commons Licensed content from Wikipedia in either a refactored, modified, abridged, expanded, built on or 'strait from' text content! |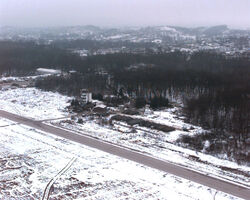 Data
[
]
Tuzla Air Base (AKA:Rock City (U.S. peace keepers)).

| Category. | Statistic. |
| --- | --- |
| Location. | Bosnia. |
| Opened in. | Early Cold War. |
| Closed in. | 2008 (it's runway became a part of a neighboring civilian airport) |
| Operated by. | SFR Yugoslav Air Force (early Cold War-1990), FR Yugoslavia Airforce (1991-92), Bosnian airforce (early 1992), UNPROFOR peace keepers (early 1992-1995), NATO Air Force (1995-2007) and Bosnian airforce (2007-2008). |
| Owned by. | SFR Yugoslav (early Cold War-1990), FR Yugoslavia (1991-92), Bosnia (early 1992), UN (early 1992-1995), NATO (1995-2007) and Bosnia-Hertzogovina (2007-2008). |
| Outside link. | http://www.tfeagle.army.mil/units/Eagle/eabg/default.asp, http://www.globalsecurity.org/military/facility/tuzla.htm, https://fr.wikipedia.org/wiki/Tuzla_Air_Base, https://en.wikipedia.org/wiki/Tuzla, http://www.booking.com/city/ba/tuzla.en.html?aid=801942;label=yahoogemini-city-tuzla-J6aeaMOZiqfA7MeB_KrwGg&utm_source=yahoo-gemini&utm_medium=cpc&utm_campaign=Bosnia-and-Herzegovina-Tuzla---UFI--99066&utm_term=hotel-in-tuzla-b, https://en.wikipedia.org/wiki/Tuzla_International_Airport, http://military.wikia.com/wiki/Tuzla_Air_Base, https://www.washingtonpost.com/news/fact-checker/wp/2016/05/23/recalling-hillary-clintons-claim-of-landing-under-sniper-fire-in-bosnia/, http://military.wikia.com/wiki/Tuzla_Air_Base, https://www.washingtonpost.com/news/fact-checker/wp/2016/05/23/recalling-hillary-clintons-claim-of-landing-under-sniper-fire-in-bosnia/, https://en.wikipedia.org/wiki/Tuzla_Air_Base, http://virtualglobetrotting.com/map/, https://www.panjury.com/trials/Tuzla-Air-Base, https://www.panjury.com/trials/Tuzla-Air-Base, http://military.wikia.com/wiki/Tuzla_Air_Base, http://www.globalsecurity.org/military/facility/tuzla.htm, http://search.farespotter.net/?;2CPCN_GgpouwUBR2CDOCCnywHIQiQ, https://www.hometogo.co.uk/search/content=10519733684, http://us.wow.com/search?s_pt=source2&s_it=aolsem&s_chn=7&q=tuzla%20airbase, http://virtualglobetrotting.com/map, https://en.wikipedia.org/wiki/Tuzla_Air_Base, http://virtualglobetrotting.com/map/tuzla, https://www.panjury.com/trials/Tuzla-Air-Base, https://www.panjury.com/trials/Tuzla-Air-Base, http://military.wikia.com/wiki/Tuzla_Air_Base, http://www.globalsecurity.org/military/facility/tuzla.htm, http://search.farespotter.net/?;2CPCN, https://www.hometogo.co.uk/search/5411f41318c73?a, http://us.wow.com/search?s_pt=source2&s_it=aolsem&s_chn=7&q=tuzla%20airbase, http://virtualglobetrotting.com/map/tuzla |
Overview
[
]
Tuzla Air Base was a military airport near Tuzla, Bosnia and Herzegovina. Tuzla Air Base was under control base the US Army and United States Air Forces in Europe located in Bosnia and Herzegovina within the walls of the Tuzla International Airport between 1995 and 2007. It is located 6.4 miles (10 km) south-southeast of Tuzla, Bosnia and Herzegovina. It also shares the runway with the Tuzla International Airport.
History
[
]
Cold War
[
]
Tuzla International was once the largest military airport of the former Yugoslavia. The 350th Reconnaissance Aviation Squadron was active there for a time.
Bosnian civil war
[
]
It was placed under the control of the United Nations Protection Force in 1992, and from 1996 onwards it became the main hub for the Implementation Force (IFOR), which was charged with supervising the implementation of the General Framework Agreement for Peace in Bosnia and Herzegovina.
It was used by the United States, Russian, and allied NATO forces, beginning in 1995 as part of the NATO Stabilization Forces (SFOR), which brought peace to Bosnia and Herzegovina. The United States Air Force established the 401st Expeditionary Air Base Group at the base for facilities control and the management of the airfield. The 401st EABG was withdrawn in 2008.
In 1998, the canton of Tuzla turned Tuzla International to a civil airport. Tuzla International Airport opened on 10 October 1998 as a civilian airport and military airfield.
U.S. First Lady Hillary Clinton visited the airport on March 25, 1996, and later claimed that she landed under sniper fire and had to skip the welcoming ceremony, which later proved untrue.
Current status
[
]
In 1998, the canton of Tuzla created Tuzla International civil airport around the base. Tuzla International opened on 10 October 1998 as a civilian airport and military airfield. One of the most significant infrastructure improvements was the opening of Tuzla Air Base in Bosnia to strategic air traffic in October 1998.
In December 2004 when a European Union-led stabilization force took over the Bosnian peacekeeping mission from NATO. On 1 July 2007, the United States transferred responsibility for the airfield to the Bosnians.
Nickname
[
]
American troops dubbed it "Rock City" for use of crushed rocks that cover parts of it as an ad hoc anti-mud device.
See also
[
]