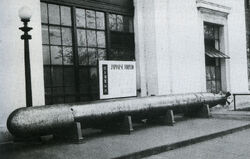 Data
[
]
Overview
[
]
Whilst it did not fight in the Cold War, it did help to significantly upgrade the known torpedo technology knowledge base in the UK, Australia, New Zealand and the USA. The Horton Wing aircraft, 53.3 cm (21") G7a T1, Type XXI submarine (Elektroboote), Type 93 Long Lance Torpedo, V2 Rocket and V1 Rocket also had similar sort of technical upgrading influences in several countries to.
Development
[
]
The Type 95 and Type 93 began development in Japan during n 1928. The torpedo design was inspired by the British navy's oxygen-enriched torpedoes, which it used on their Nelson-class battleships.
The United States Navy's Pacific Fleet was the most powerful opponent of Imperial Japan at the time. Both sides considered a clash in and around either Guam and\or the Philippines as inevitable in the near future.
Also see
[
]
Horton Wing aircraft

53.3 cm (21") G7a T1

,

V2 Rocket

V1 Rocket