Type XXI submarine (AKA-"Elektroboote" (German: "electric boat")).
Category.
Statistic.
Name.
Type XXI submarine.
Builder.
Blohm & Voss of Hamburg, AG Weser of Bremen, and Schichau-Werke of Danzig.
Nationality.
Nazi Germany.
Drought.
6.32 m (20 ft 9 in).
Dose it have nukes.
No.
Top speed.
Surface at N\A, but above average for class, configeration and era. Submerged at about 5 knots (9.3 km/h; 5.8 mph).
Fist Laid down.
1943.
First Launched.
1943.
First Completed.
1943.
First Commissioned.
1943.
Last Decommissioned.
1968.
Range.
15,500 nmi (28,700 km; 17,800 mi) at 10 knots (19 km/h; 12 mph) surfaced.

340 nmi (630 km; 390 mi) at 5 knots (9.3 km/h; 5.8 mph) submerged.

Test depth.
240 m (787 ft).
Crew.
5 officers, 52 enlisted men.
Armament.
6 × 53.3 cm (21 in) torpedo tubes (bow), 23 torpedoes (or 17 torpedoes and 12 mines) and 1 or 2 4 x 2 cm (0.8 in) anti-aircraft guns.
Displacement.
1,621 t (1,595 long tons) surfaced. 1,819 t (1,790 long tons) submerged.
Last Struck.
1984. The Wilhelm Bauer is a German museum ship.
Power source.
Diesel/Electric.
Sensors and processing systems.
Active and\or passive sonar(?) and radar..
Installed power.
4,000 PS (3,900 shp; 2,900 kW), 5,000 PS (4,900 shp; 3,700 kW) or 226 PS (223 shp; 166 kW).
Sources.
http://www.uboataces.com/uboat-type-xxi.shtml, http://www.uboat.net/types/xxi.htm, , https://en.wikipedia.org/wiki/Type_XXI_submarine, https://images.search.yahoo.com/search/images;_ylt=AwrBT8Mi_9dY3V8Aq4xXNyoA;_ylu=X3oDMTEydWxicGdtBGNvbG8DYmYxBHBvcwMxBHZ0aWQDQjM2MDRfMQRzZWMDc2M-?p=Type+XXI+submarine+%28Nazi+Germany%29&fr=yset_chr_cnewtab, http://www.militaryfactory.com/ships/detail.asp?ship_id=Type-XXI-Uboat and https://en.wikipedia.org/wiki/Type_XXI_submarine.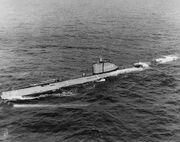 Whilst it did not fight in the Cold War, it did help to significantly upgrade the known torpedo technology knowledge base in the UK, Australia, New Zealand and the USA. The Horton Wing aircraft, 53.3 cm (21") G7a T1, Type XXI submarine (Elektroboote), Type 93 Long Lance Torpedo, V2 Rocket and V1 Rocket also had similar sort of technical upgrading influences in several countries to.
It's tech was used in thes subs
Edit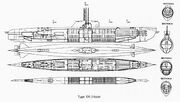 The design still remains the basis for most diesel-electric submarines!
Kriegsmarine (main user)
French Navy
German Navy
Royal Navy
Soviet Navy
United States Navy
Community content is available under
CC-BY-SA
unless otherwise noted.