| | |
| --- | --- |
| | This page is under construction. and is still being written! Any major unauthorized edits will be reverted. |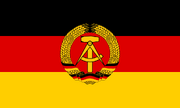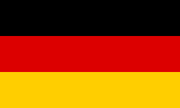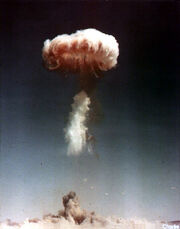 Background
[
]
A few major industrial, government and military places were listed in the late 1960s by the MoD and Home Office at the behest of Prime Minister, Sir Harold Wilson, over the long standing question of the UK surviving a Cold War atomic attack. During the Cold War, a significant effort by government and academia was made to assess the effects of a nuclear attack on the UK.
Preparations for an attack
[
]
Civil defence
[
]
During the Cold War, various governments developed civil defence programmes aimed to prepare civilian and local government infrastructure for a nuclear strike on the UK. A series of seven Civil Defence Bulletin films were produced in 1964, and in the 1980s the most famous such programme was probably the series of booklets and public information films entitled Protect and Survive.
If the country was ever faced with an immediate threat of nuclear threat or complete annihilation, a copy of this booklet would be distributed to every household as part of a public information campaign which would include announcements on television and radio and in the press. The booklet has been designed for free and general distribution in that event. It is being placed on sale now for those who wish to know what they would be advised to do at such a time.
The booklet contained information on building a nuclear refuge within a so-called "fall-out room" at home, sanitation, limiting fire hazards, and descriptions of the audio signals for attack warning, fall-out warning and all clear. It was anticipated that families might need to stay in their fall-out room for up to 14 days after an attack almost without leaving it at all.
The government also prepared a recorded announcement which was to have been broadcast by the BBC if a nuclear attack ever did occur.
Sirens left over from the London Blitz during World War II were also to be used to warn the public. The system was mostly dismantled in 1993.
The UK's Warning systems
[
]
The solid-state phased array radar at RAF Fylingdales in North Yorkshire is a UK-controlled early warning station and part of the American-controlled Ballistic Missile Early Warning System. The UK has relied on the Ballistic Missile Early Warning System (BMEWS) and, in later years, Defense Support Program (DSP) satellites for warning of a nuclear attack. Both of these systems are owned and controlled by the United States, although the UK has joint control over UK-based systems. One of the four component radars for the BMEWS is based at RAF Fylingdales in North Yorkshire.
In 2003 the UK government stated that it will consent to a request from the US to upgrade the radar at Fylingdales for use in the US National Missile Defense system.
Nevertheless, missile defence is not currently a significant political issue within the UK. The ballistic missile threat is perceived to be less severe, and consequently less of a priority, than other threats to its security.
The 1950's attack scenarios
[
]
The Ministry of Food's report
[
]
Reflecting on both a strong port and storage history, Purfleet was listed by the Ministry of Food as one of 14 sensitive A-bomb targets in 1955. The rest of the informal government list of 14 top and 16 lower priority targets are now lost, but Wendsbury, Dudley, Cardiff docks, Swansea, Southampton docks, Manchester, The Clydebank shipyards,d HM Oil Fuel Depot – Old Kilpatrickand and the Royal Navy oil tank farms at Mountblow\Dalnottar\near Dunnottar Churchyard were rumored to be on the high priority list to. Also, Central London, Slough Trading Estate, Dartford and Tilbury Docks were rumored to be on the lower priority list as well.
The Strath Committee
[
]
The Strath Committee was the also up by the British Ministry of Defence to consider the implications of thermonuclear weapons for the United Kingdom.
The Strath Report, issued in 1955, and finally declassified in 2002, estimated the type of damage and casualties Great Britain would suffer from what the Committee considered a "limited" thermonuclear attack of 10 hydrogen bombs dropped on UK cities. The result of the attack, according to the Committee's Report, would be "utter devastation". There would be up to 12 million deaths, 3 million from radiation poisoning. The Committee estimated a further four million serious casualties, which would overwhelm the British medical system. Half of Britain's industry would be destroyed, logistics and distribution systems would break down, and food and water would be contaminated, leaving the 40 million survivors in "siege conditions.", ie: food riots, panicked refugees, e-coli plagues, horrifically high radiation levels and rotting corpses.
"The Report found it impossible to predict whether Britain could recover with the social and economic fabric of the country destroyed - in even such a limited attack."
The Committee's Report was discussed in a DEFE (Chiefs of Staff, Ministry of Defence) paper entitled "An Appreciation of the Likely Form and Duration of a Future Major War: With Reference to the Problem of Stockpiling in the United Kingdom" (DEFE 5/80, COS (57) 278, 18 Dec 1957).
The 1960's attack scenarios
[
]
Exercise Grass Seed (1966)

[

]
A few major industrial, government and military places were listed in the late 1960s by the MoD and Home Office at the behest of Prime Minister, Sir Harold Wilson over the long standing question of the UK surviving a cold war atomic attack. During the Cold War, a significant effort by government and academia was made to assess the effects of a nuclear attack on the UK.
The list of 10 (later 12) targets were:
Central London- 2x 250kt or 400kt, possibly even 1x 1.6m or 2.5mt.

London Docklands- 2x 250kt or 400kt.
Whitehall's Cabinet War Rooms- 2x 42kt.

RAF Northolt

- 2x 42kt.

RAF Warboys- 2x 42kt.
RAF Woodbridge- 2x 42kt.
RAF Upper Heyford- 2x 42kt.
Bristol docks- 2x 42kt, possibly even 2x 250kt or 400kt.

Bristol- 2x 250kt or 400kt.

Liverpool docks- 2x 250kt or 400kt.
Glasgow docks- 2x 250kt or 400kt.
Devonport naval base- 2x 42kt.
Portsmouth naval base- 2x 42kt.
The Black Country- 2x 250kt or 400kt.
Klievden Hatch RSG-  2x 42kt (It was added in a soon following civil service review).
Coryton Refinery, Stanlow Refinery and Fawley Refinery-  2x 42kt (They were added soon added following oil industry's commentary on the civil service review).
The [1966] "Death of Bristol" scenario

[

]
It was a MoD supposium on atomic war, the effects of nuclear war and the civil defence response to it.
A Tu-95 bomber of the Soviet Air Force had taken off from its base in northern Russia and after 10 hours dropped a H-bomb on the Gloucestershire village of Almondsbury, 5 miles north of Bristol. It left with the blast almost knocking the aircfat from the sky. The blast was huge and left a crater 2,000 feet across and 150 feet deep! Over the next 2 days 6 more hit South West England, with the total yield of 13Mt. 80,000 in Bristol and 450,000 elsewhere died instantly when the bombs went off and many others, including 100,000 in Bristol, died in it's wake!
The 1970's attack scenarios
[
]
Operation Home Defense (1971-72)

[

]
The British PM, Sir Edward 'Ted' Heath, planned out an informal list of possible targets in 1970 and 1971 with the help of a few military leaders and civil experts. It was meant to build on the few major industrial and military places had already been listed in the late 1960s by his predecessor, Sir Harold Wilson. Both the lists was largely praised for thire strategic savvy, understanding of what the Soviets could do militarily (as much as they knew of it back then), logic and common sense.
The major only complaints about Sir Edward 'Ted' Heath's informal list were that it went a bit soft on Northern Ireland by only destroying Belfast Docks with a relatively small nuke, rather than either using a bigger one or dropping a second small one on Belfast city itself. Tilbury dock was also missed off the list.
An annex to air commodore Brian Stanbridge's 1972 memo on the plans quoted an estimate from the joint intelligence committee that the Soviet Union could launch an initial nuclear strike against the UK with both about 150 land-based missiles and an unknown number of submarine-launched missiles. "They are unlikely to be inhibited by the question of overkill," it warned.
Operation Home Defense (1971-72) was also considered to be so demoralising that there wasn't any public release of the form, which did not happen until the 1990s, since it did not hide the assumed mass nuking of London and Birmingham.
Its official 1971-1972 version Operation Home Defence targets were as follows:
24 Towns and cities: Glasgow, Birmingham, Liverpool, Cardiff, Manchester, Southampton, Leeds, Newcastle/Gateshead, Bristol, Sheffield, Swansea, Hull, Teesside, Coventry, Wolverhampton, Leicester, Stoke-on-Tent, Belfast, Huddersfield, Sunderland, Gillingham, Rochester, Chatham, Maidstone.
14 Centres of government: Central London, Cheltenham, Edinburgh, Nottingham, Catterick, York, Preston, Cambridge, Dover, Reading, Salcombe, Brecon, Kidderminster, Armagh.
23 RAF bases: Scampton, Waddington, Honington, Wittering, Marham, Coningsby, Lossimouth, Finningley, Bedford, Kinloss, Manston, Wattisham, Cottesmore, Wyton, St Mawgan, Machrihanish, Leeming, Valley, Brawdy, Coltishall, Yeovilton, Leuchars, Binbrook.
14 USAF bases: Alconbury, Bentwaters, Woodbridge, Wethersfield, Lakenheath, Upper Heyford, Fairford, Boscombe Down, Pershore, Greenham Common, MIldenhall, Sculthorpe, Cranwell, Lyneham.
10 Radar stations: Flylingdales, Boulmer, Patrington, Bawdsey, Neatished, Buchan, Saxa Vord, Staxton Wold, Feltwell, Orford Ness.
8 Military control centres: Northwood, Plymouth, Pitreavie, Fort Southwick, High Wycombe, Ruislip, Bawtry, West Drayton.
7 Naval communications centres: Rugby, Criggion, Anthorn, Inskip, New Waltham, Londonderry, Thurso.
6 Naval bases: Faslane, Coulport, Holy Loch, Rosyth, Portsmouth, Devonport.
Later official criticism
[
]
In this case Belfast City was now adequately hit, rather than just the docks next to it being hit.
It was nonetheless still was criticized by some for not hitting atomic research facilities and power plants, parts of London and major infrastructure, such as Heathrow Airport. Experts also did question the size of some of the nukings at the time.
Glasgow, Birmingham and Manchester were slated for 1 or 2 airbursts of up to 5 mt, which was considered overkill. A 5mt blast is 333 time more than the 15kt bomb that blew up Hiroshima in 1945!
Swansea and Leicester were slated for a 3mt ground burst. A memo Home Office pointed out that Home Office scientific advisers "find it difficult to see why an enemy would wish to deliver a 3mt attack on Swansea and on Leicester when, in their view, 1 mt on each target would be sufficient to cause almost complete destruction of those cities."
Central London was not fully listed. It was slated for multiple 1 mt air-bursts, but the number was not definitively named. It was also reckon that 2 1mt blast, either on the ground or in the air, would definitely happen. London as a whole got 4 5 mt air bursts any how, since this was also seen as inevitable.

MoD Pig's Bay

, Southend,

Southend Airport

,

Tilbury Dock

, 

RAF Woolfox Lodge

,

RAF Rattlesden

,

RAF Marham

, Oxford, Brighton, Aberdeen and RAF Warboys were not hit.
The smallest blasts were set at 400kt and the largest were set at 5mt when in reality in would have most likely been in the 100s of kt.
Exercise Inside Right (1975)

[

]
Exercise Inside Right took place on 6–26 October 1975 (1973 Jan' 01 to Dec' 31 1975 including preparation and assessment afterwards). It was a military mobilisation in several locations with civil departments notified through bulletins and papers.
Exercise Scrum Half (1978)

[

]
Exercise Scrum Half was conducted in 1978, (1973 Jan' 01 to Dec' 31 1978 including preparation and assessment afterwards).
The 1980s exercises
[
]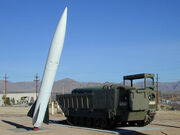 Basic assumptions
[
]
The Soviet deployment of the technically superior SS-20 missile from 1975 caused major concern in the NATO alliance.
In the early 1980s it was thought the UK could be wiped out with use of ~15% of the total Soviet nuclear arsenal. It was also assumed there would be a nuclear, chemical and conventional war across Europe and Turkey.
America chose to deploy in Europe from 1983 up to 464 USAF Gryphon Ground Launched Cruise Missile (GLCMs) that were based on the US Navy BGM-109 Tomahawk cruise missile, as well as 108 US Army Pershing II ballistic missiles. Some SLCM and ALCM were also deployed. RAF Molesworth and Greenham Air Base were the recipients of the non submarine launched missiles.
The theoretical OSL attack
[
]
Operation Square Leg was a 1980 British government home defence Command Post, MoD command and in field exercise which tested the Transition to War and Home Defence roles of the MoD and Government and a mock nuclear attack on the British Isles which assumed that 131 500Kt to 3Mt nuclear weapons would fall on Britain with a total yield of ~205 megatons with 69 ground bursts and 62 air burst occurring. Whist this was thought to be the most likely outcome some thought it could be worse, so the report also stated that a total strike in excess of 1,000Mt may also occur. This in fact was nothing like the Soviet's Seven days to the River Rhine (1979) war plan.
The human toll was estimated at-
Dead- 29 million (53%)
Serious injuries 7 million (12%)
Short-term survivors 19 million (35%).

Long terms survivors 5 million (9%)
Later official criticism
[
]
The exercise was later critiqued because of-
The exclusive use of megaton yield weapons with an average of 1.5 megatons, when in reality the Soviets warheads would be mixed and mostly in the low hundred kiloton range.
Some thought an attack totaling 200Mt in yield was too low and it had to be assumed be much higher.
No targets were chosen in Inner London are thus not attacked, such as the government offices at Whitehall, or RAF Northolt and Heathrow airport.
Eastbourne, a stretch of empty County Armagh farmland and a small village in County Derry/Londonderry were hit for no obvious reason.
According to some civil servants, the whole theory was apparently written up by panic-mongers, alarmists, sensationalists, doom-mongers, scare-mongers, warmongers, war-wackys, anti-communist fanatics, political skeptics and political cynics.
The theoretical OHR attack
[
]
A combined communications and civil defence exercise planned for September and October 1982.
Operation Exercise Hard Rock assumed a conventional war in Europe lasting 2–3 days was occurring, during which the UK was to be attacked with conventional weapons followed up with a limited nuclear exchange with 54 warheads being used against various military targets at the end. After many public protests and CND's criticism of the scenario the exercise was postponed indefinitely.
It was predicted there would be 7.9 million dead and 5 million injured.
Later official criticism
[
]
The exercise was later critiqued because of-
The scenario was ridiculed by the Campaign for Nuclear Disarmament for it's severity.
The New Statesman later claimed the targets were picked by political motivated MPs and not professionals working for the Ministry of Defence.
The nuclear submarine base HMNB Clyde was not hit.
The media
[
]
Operation Square Leg was one of many military exercises used to estimate the results of the Soviet nuclear attack in the 1984 BBC drama Threads.
The New Statesman later claimed the targets in Operation Exercise Hard Rock were picked by political motivated MPs and not professionals working for the Ministry of Defence.
Public opinion
[
]
Naturally, the people of places like Newbury, which was near the Greenham Air Base were terrified and knew under any scenario, they were to die as end up piles of radioactive ash. This only helped prove CND's case for banning the bomb. People hated living with the concept of mutual assured destruction (MAD) which had become de jure since the Cuban Missile Crisis and de facto since the early 1970s.  
In September 1981 after a Welsh group, Women for Life on Earth, arrived at Greenham to protest against the decision of the British government to allow cruise missiles to be based there. The camp stayed in suite until 2000. It became ugly and violent as left winger agitators, members of the British Labour Party and local yobs tried to hijack it and the UK miners' strike of 1984–1985 so as to cause trouble for the British establishment during the early and mid 1980s. The British government then played on the apparent breakdown in public order and portrayed them all unfairly as an anti-establishment rabble and 'leftist' traitors.
250,000 worried people protested against Operation Exercise Hard Rock fearing it would provoke the Soviets and/or was a ruse to hide a covert attack on the USSR. 24 mostly Labour run councils refused to participate largely as part of a Labour party attempt to politicly undermine the government. Many people scaremongering Americans 'occupying' the UK under apparently false pretences in the 1950s, but neither did they like the 1980s anti-establishment rabble who did not understand that NATO needed to see off the Soviets once relations had broken down. They would have had proto-Glasnost after the Berlin Airlift, not mutually assured bloody mindedness!...
The United States and the Soviet Union signed the Intermediate-Range Nuclear Forces Treaty in 1987, which led to the removal of all nuclear missiles from the base which was completed by in March 1991, and the 501st TMW inactivated on 4 June 1991. The base closed soon afterwards, became a park in 1997 and a memorial was then erected in 2000. The base was never used to deploy nukes in anger, so was in the end a rather costly waste of time.
RAF Upper Heyford peace camp, was inspired by the Greenham Common Women's Peace Camp, peace camp was established on Easter Sunday 1982 and remained for over two years with activities designed to highlight the fact that the base had F-111 aircraft armed with nuclear weapons on fast response. It had earlier had nuclear armed British V-bombers. More than 4,000 people took part over four day protest-come-riot in 1983, with a total of 752 people were arrested.
RAF Upper Heyford closed in 1994 and was partly turned in to a housing instate and retail park in the 1990's. It was used at least for non nuclear wartime reposes.
Overkill?
[
]
As with all wars there are limitations to it's practicality, milltary necessity, the risk of over kill, the destruction of what is supposed to be captured and killing both one's own forces and their allies.
Overkill?

| Mission | Target. | Yield. | Nuke. | Dead. | Wounded. | Outer edge of 3rd degree burns. | Ground or air birst |
| --- | --- | --- | --- | --- | --- | --- | --- |
| Wipe out most of a major metropalis | Broadway-Lafayette Subway Station, NY. | Russian SS-25 Topol | 800kt | 1,180,300 | 1,401,440 | 60% in to SCX South Kerny Yard, NY. | Air burst |
| Destroy a major military base and support centre | Chambers Field NAS, Norfolk, VA | French TN80/81 | 300kt | 16,550 | 46,980 | Bud Metheny Baseball Facility, Old Dominion University, Norfolk, VA | Ground burst |
| Completely and pointlessly annihilate Spokane, Washington, and it's out-lying suberbs like Airway Highs. | Unerhill Park, Spokane WA | Chinese Dong Fen 5 | 5mt | 170,330 | 116,030 | 25% in to Meadow Wood Golf Course | Air burst |
| Devastate a major city with in a metropalis | The SCX South Kerny Yard, NY. | US W-87 warhead | 300kt | 96,030 | 219,460 | Hudson City Savings Bank, John F. Kennedy Blvd, near the junction with Jewett Ave, NY. | Ground burst |
| Destroy a major railroad marshalling yard | The SCX South Kerny Yard, NY. | Largest Indian atomic missile | 60kt | 4,540 | 54,740 | The junction of the Belleville Turnpike and the New Jersey Turnpike, NY. | Ground burst |
| Destroy 42nd Street Port Authority Bus Terminal, PABA bus terminal (ACE), Time Sq-42nd St station, Av/w 41st station, The Manhattan Thearter Centrer and The Times Centre. | 42nd Street Port Authority Bus Terminal, PABA bus terminal (ACE) | American Davy Crockett battle field nuke. | 20 tones | 18,590 | 11,540 | The New York Times Building, but there is a even larger radiation zone with this one and it reached the Conde Nast Building, NY. | Ground burst |
| Destroy 42nd Street Port Authority Bus Terminal, PABA bus terminal (ACE), Time Sq-42nd St station, Av/w 41st station, The Manhattan Thearter Centrer and The Times Centre. | 42nd Street Port Authority Bus Terminal, PABA bus terminal (ACE) | American Davy Crockett battle field nuke. | 20 tones | 18,560 | 15,550 | Madame Tuasudes NY, but there is a even larger radiation zone with this one and it reached Golder Mayer Sq, NY. | Air burst |
| Destroy 42nd Street Port Authority Bus Terminal, PABA bus terminal (ACE), Time Sq-42nd St station, Av/w 41st station, The Manhattan Thearter Centrer and The Times Centre. | 42nd Street Port Authority Bus Terminal, PABA bus terminal (ACE) | American Davy Crockett battle field nuke. | 100 tones | 34,870 | 68,050 | The New Amsterdam Theater NY, but there is a even larger radiation zone with this one and it reached Mr. Broadway Kosher Restaurant, near the junction of Broadway and W37th Street, NY. | Air burst |
| Destroy central, Ocala, Fl | Chazal Park, Ocala | N. Korean highest A-bomb blast | 10kt | 2,160 | 7,260 | Uncle Roy's Mobile Home Sales, NW 4th Ave | |
Also see
[
]
French nuclear plans and the Force de Dissuasion

Nicaraguan Civil War

Korean Demilitarized Zone

Greece, Turkey and southern Italy

Cobra Mist

Protect and survive

Duck and cover
Sources
[
]
https://www.theguardian.com/world/2014/jun/05/uk-government-top-secret-list-probable-nuclear-targets-1970s
https://www.theguardian.com/world/2014/jun/05/uk-government-top-secret-list-probable-nuclear-targets-1970s
https://scotlandsplaces.gov.uk/record/hes/105838/dalnottar-mountblow-royal-navy-oil-storage-tanks/rcahms
Baylis, John (1995). Ambiguity and Deterrence. Oxford: Clarendon Press. p. 190.
https://www.yorkshirepost.co.uk/news/yorkshire-towns-and-cities-named-hit-list-russias-nuclear-targets-uk-1762457
https://www.yorkshirepost.co.uk/news/yorkshire-towns-and-cities-named-hit-list-russias-nuclear-targets-uk-1762457
https://www.birminghammail.co.uk/news/midlands-news/hs2-archaeologists-birmingham-unearth-one-19705741
https://www.birminghammail.co.uk/news/midlands-news/hs2-archaeologists-birmingham-unearth-one-19705741
https://www.birminghammail.co.uk/news/midlands-news/soviet-nuclear-threat-birmingham-revealed-7231246
https://www.itv.com/news/westcountry/2020-08-06/peace-protesters-in-bristol-mark-the-75th-anniversary-of-the-atomic-bombing-of-hiroshima
https://www.portsmouth.co.uk/news/politics/ww3-here-what-would-happen-if-nuclear-bomb-dropped-birmingham-during-world-war-three-72483
https://www2.le.ac.uk/projects/social-worlds/all-articles/politics-and-international-relations/nuclear-bomb
https://www2.le.ac.uk/projects/social-worlds/all-articles/politics-and-international-relations/nuclear-bomb
https://www2.le.ac.uk/projects/social-worlds/all-articles/politics-and-international-relations/nuclear-bomb
https://www2.le.ac.uk/projects/social-worlds/all-articles/politics-and-international-relations/nuclear-bomb
https://web.archive.org/web/20080726192010/http://www.post-blitzclydebank.co.uk/downloads.php#war_memorial_solidarity_plaza
https://web.archive.org/web/20080726192010/http://www.post-blitzclydebank.co.uk/downloads.php#war_memorial_solidarity_plaza
https://www.nukewatch.org.uk/nuclear-bombs-sneak-through-glasgow-after-midnight-4-arrested-in-protest/
https://www.hillingdontimes.co.uk/news/national/18632147.hiroshima-became-victim-weapon-mass-destruction/
https://www.hillingdontimes.co.uk/news/19040296.rapid-tests-hertfordshire-reveal-people-no-symptoms-covid/
https://outrider.org/nuclear-weapons/interactive/bomb-blast/?airburst=false&bomb=2&lat=51.69152&location=OX39%204RR%2C%20Chinnor%2C%20Oxfordshire%2C%20England%2C%20United%20Kingdom&long=-0.9240575999999999
https://www.hillingdontimes.co.uk/news/18985089.hillingdon-opens-second-rapid-covid-testing-site-beck-theatre/
https://www.hillingdontimes.co.uk/news/national/18638548.nagasaki-chosen-target-second-atomic-bombing/
https://www.hillingdontimes.co.uk/news/19040296.rapid-tests-hertfordshire-reveal-people-no-symptoms-covid/
https://outrider.org/nuclear-weapons/interactive/bomb-blast/?airburst=false&bomb=2&lat=51.69152&location=OX39%204RR%2C%20Chinnor%2C%20Oxfordshire%2C%20England%2C%20United%20Kingdom&long=-0.9240575999999999
https://www.hillingdontimes.co.uk/news/18985089.hillingdon-opens-second-rapid-covid-testing-site-beck-theatre/
https://www.hillingdontimes.co.uk/news/national/18638548.nagasaki-chosen-target-second-atomic-bombing/
https://www.irishtimes.com/life-and-style/people/life-goes-on-at-the-most-bombed-hotel-in-the-world-1.2901861
https://www.belfasttelegraph.co.uk/news/northern-ireland/doomsday-attack-files-reveal-how-northern-ireland-was-to-cope-with-nuclear-strike-28697121.html
https://www.thesun.co.uk/living/1518917/what-would-happen-if-a-nuclear-bomb-hit-britain-look-at-this-map-to-find-out/