Vangaurd TV3.

| Category. | Statistic. |
| --- | --- |
| Launch vehicle. | Vangard rocket. |
| Launch date. | December 6, 1957, 16:44:34 UTC. |
| Launch site. | Cape Canaveral LC-18A. |
| Ceased operations. | Blew up on launch. |
| Owner(s). | Naval Research Laboratory (NRL). |
| Major contractor(s)  | Naval Research Laboratory (NRL). |
| Is it still in orbit. | No, it bew up on launch. |
| Nationality(s). | American. |
| Launch mass. | 1.36 kilograms (3.0 lb). |
| Satellite type. | Earth science. |
| Links. | http://en.wikipedia.org/wiki/Vanguard_TV3. |
==History==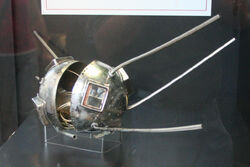 It was nicknamed at the time Flopnik, Kaputnik, Excusenick, Oopsnik and Stayputnik as a ironic play on the name of the successfully Soviet satellite Sputnik.
It looked at the time as if the U.S. navy should have stuck with making military missiles like LBD Gargoyle anti-ship missile/guided bomb and stayed out of making space rockets in the first place. The Jet Propulsion Laboratory (JPL) would also reveal a better rocket design in it's wake. 
Community content is available under
CC-BY-SA
unless otherwise noted.