| | |
| --- | --- |
| | IMPORTANT:This page has used Creative Commons Licensed content from Wikipedia in either a refactored, modified, abridged, expanded, built on or 'strait from' text content! |
| | |
| --- | --- |
| | This page is under construction. and is still being written! Any major unauthorized edits will be reverted. |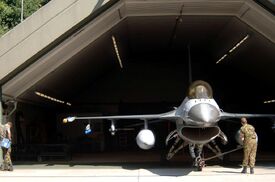 Volkel Air Base.

| Category. | Statistic. |
| --- | --- |
| Location. | Netherlands. |
| Opened in. | 1943. |
| Closed in. | Still open. |
| Operated by. | Luftwaffe 1940-43, RAF 1944-1949, Dutch Naval Aviation Service 1949-1950 (for training purposes), Royal Netherlands Air Force 1950-1960s, the Royal Netherlands Air Force\USAF 1960s-1991 and Royal Netherlands Air Force 1991 to date. |
| Owned by. | Nazi German MoD 1940-43, British MoD 1944-1949, Dutch MoD 1949 to date. |
| Outside link. | https://en.wikipedia.org/wiki/Volkel_Air_Base, https://www.defensie.nl/organisatie/luchtmacht/inhoud/vliegbases-en-luchtmachtonderdelen/volkel, http://www.sgvolkel.nl, http://www.airliners.net/search/photo.search?placesearch=Uden%20-%20Volkel%20%28UDE%20%2F%20EHVK%29&distinct_entry=true, https://www.basedirectory.com/volkel-air-base-directory, https://www.defensie.nl/english/organisation/air-force/contents/bases-and-units/volkel, http://military.wikia.com/wiki/Volkel_Air_Base, https://www.facebook.com/pages/Volkel-Air-Base/143771445638205, https://images.search.yahoo.com/search/images;_ylt=A0LEV0WUKlpZPD0AOO5XNyoA;_ylu=X3oDMTByMjB0aG5zBGNvbG8DYmYxBHBvcwMxBHZ0aWQDBHNlYwNzYw--?p=Volkel+Air+Base&fr=yset_chr_cnewtab, http://militarywom.com/find-an-installation/european-installations/volkel-air-base/, http://www.militaryinstallations.dod.mil/MOS/f?p=MI:CONTENT:1302799299603::NO::P4_INST_ID:20170, https://www.vombudsman.com/base-services/base/volkel-air-base, https://www.revolvy.com/topic/Volkel%20Air%20Base&item_type=topic, https://www.ebay.com/sch/i.html?_nkw=volkel, https://www.panjury.com/trials/Volkel-Air-Base, http://www.telegraph.co.uk/news/worldnews/europe/netherlands/10110527/22-pointless-US-nuclear-bombs-at-Dutch-airbase.html, https://theaviationist.com/2013/04/28/volkel/, https://www.ahrn.com/volkel.php, https://infogalactic.com/info/Volkel_Air_Base, https://en.wikipedia.org/wiki/Volkel_Air_Base, https://www.upcscavenger.com/wiki/b61_nuclear_bomb/, http://slidegur.com/doc/1586611/%E2%80%9Cnato-s-new-strategic-doctrine-that-isn-t, https://infogalactic.com/info/Netherlands_and_weapons_of_mass_destruction and http://research.omicsgroup.org/index.php/B61_nuclear_bomb. |
It is in the southeastern province of Noord Brabant and borders the town of Uden, population 30,000, near s-Hertogenbosch (pop. 100,000), Eindhoven (pop. 150,000) and Nijmegen (pop. 130,000). The locals knew that if atomic war came they were 'toast'.
Topical book
Edit
WW2 French ace Pierre Clostermann, at the time a flight commander in No 122 Wing, provides a detailed description of operations from Volkel in early 1945 in his book The Big Show.
There were 3 in 1950, the 1970s, 1982 and 1984. A military airport existed between the early 1970s and the early 1980s, which was reopened after the Cold War finished.
It has both a periodic live airshow and a permanent static display of various military and civilian aircraft.
Nuclear weapons
Edit
It was believed that since the early 1960s, USAF nuclear weapons were stored at Volkel Air Base, to be used by the host nation's aircraft. Formerly, storage took place in a weapon storage area on the north side of the base, and in a heavily defended quick reaction alert (QRA) area - but since 1991, eleven WS3 Weapon Storage and Security System vaults are operational in the floors of the aircraft shelters.
The USAF 703rd Munitions Support Squadron (703rd MUNSS) is in charge of maintaining and securing the weapons  As of 2008, 22 B61 nuclear bombs are believed to be in storage at Volkel, to be used by the Dutch 311 and 312 F-16 squadrons at the base. The F-16s based at Volkel can at times be seen with BDU-38 dummy bombs, which are used to simulate the B61.  Despite the evidence for this, the Dutch Ministry of Defence never officially acknowledges or denies the presence of nuclear weapons at Volkel. In a book published by former air force pilot Steve Netto it is revealed that some fifty B28 nuclear bombs were in storage there around the time of the Cuban Missile Crisis, which if needed were to be deployed by aircraft of the Royal Netherlands Air Force.
In a document leaked as a part of the United States diplomatic cables leak the presence of nuclear weapons in the Netherlands is confirmed, though no specific location is given. On 10 June 2013, former prime minister Ruud Lubbers confirmed the existence of 22 nuclear weapons at the airfield. 
Community content is available under
CC-BY-SA
unless otherwise noted.