Westland Whirlwind (helicopter).

| Category. | Statistic. |
| --- | --- |
| First flight on. | 1953. |
| Retired on.  | Most have been retired, but several are still in civil cargo and military support roles. |
| Major contractor(s).  | Westland Helicopters Ltd. |
| Passengers and cargo capacity. | N\A, but probably akin to aircraft of comparable role, configuration and era. |
| Fight ceiling. | 13,000 ft (3,960 m). |
| Top speed. | 109 mph (95 knots, 175 km/h) at an unknown level or 110mph at sea level. |
| Dose it use nukes. | No. |
| Range. | 334 miles (290 NM, 534 km). |
| Crew. | 2. |
| Nationality(s). | British. |
| Class. | Utility helicopter. |
| Rate of climb. | 910 ft/min (4.6 m/s). |
| Disc loading. | 3.5 lb/ft2 (17.3 kg/m2). |
| Number of rotor main blades. | 3. |
| Links. | https://www.wikiwand.com/en/Westland_Whirlwind_(helicopter), https://en.wikipedia.org/wiki/Westland_affair, https://commons.wikimedia.org/wiki/Category:Westland_Whirlwind_(helicopter), http://www.fleetairarm.com/exhibit/Westland-Whirlwind-HAR1-XA864/6-30-57.aspx, https://video.search.yahoo.com/search/video?fr=yset_chr_cnewtab&p=Westland+Whirlwind+%28helicopter%29#id=2&vid=598167672b8c9b5cc6151faff7ad4f09&action=view, https://en.wikipedia.org/wiki/Westland_Whirlwind_%28helicopter%29, http://www.helis.com/database/model/151/, https://images.search.yahoo.com/search/images;_ylt=AwrBT8VRY.ZYdW8AKlZXNyoA;_ylu=X3oDMTByMDgyYjJiBGNvbG8DYmYxBHBvcwMyBHZ0aWQDBHNlYwNzYw--?p=Westland+Whirlwind+%28helicopter%29&fr=yset_chr_cnewtab, http://military.wikia.com/wiki/Westland_Whirlwind_(helicopter) and http://aircraft.wikia.com/wiki/Westland_Whirlwind_(helicopter). |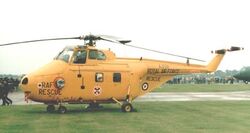 The Westland Whirlwind (AKA: "Westland's" or "Westlands") was a British licence-built version of the U.S. Sikorsky S-55/H-19 Chickasaw. It was used in the UK by Royal Navy's Fleet Air Arm in anti-submarine and search and rescue roles, RAF search and rescuers, Bristow Helicopters and British European Airways. It was sold to several overseas military.
Westland Aircraft was building the American Sikorsky S-51 under license as the Westland Dragonfly by 1950 and purchased both the rights to manufacture and sell Sikorsky's larger Sikorsky S-55 helicopter under a diferent name after converting the design to meet British standards, including the provision of a revised main-rotor gearbox.
The first prototype British aircraft was registered under the I.D. number "G-AMJT". It was powered by the 600 hp Pratt & Whitney R-1340-40 Wasp engine did not fly until August 1953. This was followed by ten Whirlwind HAR.1s and had a larger 700 hp Wright R-1300-3 Cyclone 7 engine.
Westland Helicopters was economically dieing in the 1980s and was the victim of the 1985–86 Westland affair. Italy's Agusta Helicopters finally bought Westland Helicopters and was it's self later bought out by Italy's Leonardo-Finmeccanica.
Aircraft ownership in the breakup of Yugoslavia:
Edit
Some stored out of use in Bosnia (factional control unknown).
Some stored out of use in Serbia.
Some stored out of use in Croatia.
.
.
Community content is available under
CC-BY-SA
unless otherwise noted.