Stats
[
]
County- Oxfordshire. UK.
Electorate- 78,220 (December 2010).
Major settlements- Witney, Carterton, Chipping Norton and Charlbury.
Current constituency created- 1983.
Member of parliament- Robert Courts (Conservative).
Number of members- One.
Created from- Mid Oxfordshire and Banbury.
Ethnic majority- Overwhelming White English overall majority.
Urban\rural split- Rural.
MPs
[
]
Total political rule by each party- Conservative 32 and Labour 2.
Map
[
]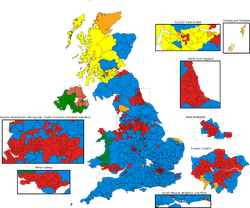 Also see
[
]
Sources
[
]